believe it or not, i started this post less than three weeks after my last entry thinking that i had such a spate of trips and work issues coming up that i'll not have a good chance to record it all. well. we see how that went. now, i have to somehow recount the forever-changing state of my life, the upended world of fashion, and the mind-blowing state of our body politic and the funny way that the concept of identity has touched them all -- not to mention the fleeting idea of sport -- in, i don't know, ten thousand words or less. since i last wrote, i have gone to new york city, then had a long weekend in orlando, had my friends pop down for our semi-annual get-together, then i went to atlanta for business and pleasure, and finally wound up in toronto to celebrate my new someone's birthday. and yes, i'm going to keep the appellation of "new someone" with my fingers crossed any my heart on guard because we remain in a state of the unknown which should surprise no one. in the world of fashion, i began wanting to write about how the pendulum of fashion had finally returned to my personal aesthetic -- and, thankfully, it has remained -- but now we've seen it begin to swing toward a sportier and more athletic bent that i both loathe and love with equal measures -- while i hate the idea of the secretary in sneakers with a passion just by rote, i must admit that between the haute couturiers chanel and dior sending their girls down the runway in running shoes and hyper-elite menswear houses tom ford and berluti following suit -- or should i say, with suits -- i found myself with too many things to buy. so, let's see if i can recap what i have to do as an outline: (1) the introduction of new york city to my sister, (2) the best of times and the worst of times in orlando, (3) the coming of age and the moment of truth in tampa, (4) the reckoning of my professional and personal lives in atlanta, (5) things coming to their natural conclusion for the first time with the new someone in toronto, (6) the political correction of race and sexuality in basketball, (7) how one nfl player kissing his significant other gets more press than another dragging his across ground, (8) and the list of things i absolutely need in my closet by the end of the year (though which year, i won't say).

first, as my sister has started to have monumental birthdays one year before i have my own by virtue of our nine year age difference, we agreed to pack up and head to a snowy new york city. we stayed with my good friend jen and, though she stayed in bed the entire trip, i got to show my sister my favorite city on the planet and for me to experience that city as a newcomer. one of the most frightening and aging aspects of the modern age has come in the notion of the "selfie" and the "pics or it didn't happen" mentality of the younger generation. it's quite frustrating for those of us who have lived full lives because we can't show pictures of the time we visited the twin towers or met maya angelou or partied in the hollywood hills because we didn't tote cameras around with us like that back then. sure, we had phones, but they didn't have cameras and you only brought cameras to those top tier events. and even when you did, one move or one job ending meant that you could leave the proof -- that is, the actual photographs or film -- behind and thereby find oneself subject to the doubt of people who think your stories just too good to be true. it makes one feel the need. well, it make me feel the need to recreate those times so that it's recorded for the modern age. so it means that a world trade picture now requires a world trade selfie. it means that a trip to chicago requires an actual picture with the bean or at the bar or on top of the now-called willis tower. it creates a need to re-visit old places like los angeles or puerto rico just to get those pictures again. one's word isn't enough. as a result, this trip to new york required thousands of pictures and in those pictures, the city unfolded itself to me in a new way and impacted me in a deeper way. on our first night, we headed down to chinatown and creeped through the cool haunts that dot that neighborhood including pulqueria and then headed up to soho and the east village to hit up old stand-bys like mister h, verlaine, beauty and essex, fat baby, and so many others that i would probably never go to alone but felt like i needed to show my sister because she had never been -- and because i had never taken pictures! the next day, we started the day at a typical new york city diner and then went siteseeing all day with the world trade and shopping in soho and then we came home and got ready for her big birthday night out. of course, i took her to my favorite haunt in the city, andre saraiva's "le bain" at the standard hotel which played host to the bcbg after-after party of sorts (did i mention it was new york fashion week? yeah....best friend gets married during fashion week two years ago, my sister has a birthday during it this year). it was a good night, but my sister had a fight about the perfect selfie. ironically. she still has not posted a picture from that night because she felt she didn't get a good picture although i took such good pictures of her in front of the empire state and times square and so many others. but that's neither here nor there. finally, we spent the next day playing tourist in the village and uptown by walking the length of central park and hearing the organ recital at st. thomas and going to rockefeller center and seeing the tiffany diamond (and me trying on a ring i think will represent my thirties) and then my sister seeing snow for the first time. the last day, we hung out around nyu and union square and spent hours wandering in strand books and the new york public library. we left that night and we both felt exhausted. around that time, i started my new job and became part of the respectable working world again.

because of the money i spent in new york, i had called off my birthday: as it tends to go, when i don't plan -- read, pay for -- my birthday well in advance, i tend to have to have a lackluster time. well, i just planned on being depressed and staying home, but in a surprising turn, my new someone really spawned some deep feelings because he paid for our little trip to orlando where we stayed in a penthouse suite at the new aloft hotel in orlando. while i won't count this as a major trip in my life, i will say that our little retreats to downtown orlando have represented some of the best times in our relationship. there's something about hotel sex and the weekenders feeling that we get being away from home that really makes me fall in love in a particular way even if it is a lie. there's a romance in the city lights and there's a sexiness in these hotel rooms, but it never seems to carry over no matter how much i want it. and, if i can stay in that moment, the hotel room does certainly help: while downtown orlando remains a work-in-progress and the aloft by-no-means answers everything wrong there (although ember's brunch helps and the glossy condo towers help) the glass showers and the floor to ceiling windows with the bed looking out "shame"-style (yes, the movie where michael fassbender fucked the girl for all of new york to see): it really answers everything that that sad sheraton didn't. and although we didn't see a show -- i refuse to count a drag show -- and did not major meals together -- i'm no longer counting brunch as a mean so much as an excuse to day drink -- it was one of the better birthdays of my life. it was the thirties equivalent of my twenty first where i got a cosmopolitan-soaked kiss from my crush as my birthday present although i'll claim to not remember it.

since i've been broke lately, and as a part of the resolution to have more "girls trip"-type of trips, my two best guy friends came on down to tampa and, in doing so, made a lie of every claim i've made about my hometown over the past fifteen years. we had so much going on that it felt like we were a bonafide city. we had lunch on the gulf after they arrived (brass monkey never disappoints) and we had drinks and dinner alfresco on a thursday at my favorite place, cassis. we spent friday on the beach and friday night meeting my dad for first friday (taste of wine, midtown, etc) and then getting liquored up at z grille before landing at the only bar in town. saturday we searched for a pool unsuccessfully before heading to tampa where we hung out in ybor day drinking before heading out for a four-hour long dinner and drinking session at anise that again made me wax sentimental with emotion as the new someone showed up as did my sister and an old friend of rob from back in the day and the music swelled with "music and wine" and the streets were full of life and i could have died right there and felt my life ended happily. on sunday, alex had to leave early after we got a quick bite at the oxford exchange, and then i got to spend the day with rob showing him in even greater depth the place i call home: much like the time spent with my sister, it made me appreciate things in a deeper way than i had before their arrival. we had one of those friendship moments we hadn't had in years, if we're honest, where we got to catch up on the core of our friendship. we need to have more of that because the distance doesn't work for either of us. after i dropped rob off at the airport -- after a day driving around pinellas point, going to the resort, then hanging out at my new someone's pool -- i felt genuinely blessed to have not only my friends but my life.

one of the fun aspects of my new working life besides having a paycheck to support my fancies comes in the introduction of the business trip. while i had to play a little good-old-fashioned office politics, i managed to finesse my way onto a trip to atlanta to visit our corporate parent. atlanta, much like washington, dc, a couple of years ago, has been on a short list of cities that i needed to make a return visit. while i have been there ad nauseum as a youth (and even once for spring break), i had not returned for many years and i always remember the city as being fun. well, the city has certainly remained fun, but it has blossomed into quite the fun little adult playground. because i have had such a negative financial outlook (despite my promotion), i hooked in my new someone to this trip so that it could substitute for one of our normal almost-local adventures to orlando or some such and maybe repair some of the disarray that our dalliance had become. conveniently, my company trip started on the day after cinco de mayo (a monday) so it made for the perfect excuse for a long weekend at the w midtown atlanta. while i'll admit that half the motivation to go to such a place remained to reclaim my familiarity with places seen on shows like real housewives of atlanta -- not to mention the prospect of seeing one of them -- the rest of it came as some oddly incorrect euphoric recall of the night i had with an old columbus friend of mine, chad, who, in retrospect, has laid all the groundwork for my issues with my new someone seriously. anyway. we arrived on an early saturday morning and checked in right away. and although we had our issues, we could not resist the trappings of a fantastic suite overlooking the park and soon found ourselves naked and rolling around. we then went to check out the neighborhood and grabbed brunch at tap, a cute place nearly across the street. we proceded to joe's on juniper to finish out the afternoon watching the kentucky derby and day drinking. that night, we headed out to stk and then bounced around between ten and blake's on the park. apparently, i got so drunk that i needed to be rescued from the street which did not please the new someone and who felt some type of way for most of the next day. we opened our sunday with a great mimosa fueled brunch from the flying biscuit and a lot more time in our wonderful bed sleeping off our hangover. that night, we ordered sushi into the room and ate while watching the real housewives of atlanta while being in atlanta. the next day, we hiked up to the perimeter to check into my job's hotel (a le meridien which was once upon a time the first w in the united states). ironically, once we got off the marta, we ran into one of my coworkers and i had a moment of truth as my new someone appeared as my truly significant other in front of my coworker. new territory for me. rather than play charades (as so many do when they sneak their wives into their company-paid hotel rooms) i invited my coworker to come shopping with us down in buckhead. of course, buckhead was exactly the same with the added touch that i had the ability this round to shop not just with my parents or with my friends but with someone who i would deign to call my own. although i finally tried it on in new york at the flagship, i made up my mind to purchase the tiffany black onyx signet ring for my ring finger -- yes, that ring finger -- as a sign of my thirties. the singleness of my thirties. the independent singleness of my thirties. that and the sales clerk that greeted me was cute and wore the same ring. that night, we went out again to midtown because of cinco de mayo, but we had a chill night comparitively by just enjoying the midsummer breeze on the deck at henry's. on tuesday, my new someone went to visit family friends while i had to actually work and then on wednesday, we had a disagreement because i made my new someone pretend not to know me at the airport. a sin i still have not receovered from.

to say that we have skated on thin ice since then would serve as the understatement of this post. by any other measure, we are finished. but for my earnest affection and the dream of a love we could one day recover, we have not had any real contact since we got back from toronto for my new someone's birthday. much like my own, it wasn't an entirely good idea for me to go at all. i mean, if i had my druthers, we would've gone to montreal as i have not been and that would've made sense, but because i had given up everything in the name of maintaining some sort of cold war peace, i said yes to a place i had been twice before. this year has been nothing if not a return to places i have loved in lives past: new york, as i have always, orlando, if one can even consider that "away," reminding me of the best of times with the new someone, atlanta, as i did in my childhood, and now toronto, which represented not only an apex of my friendship with rob and alex but also an apogee when i went there during my lonely thirtieth year: but this trip, i felt something change. it had the feeling of a last resort and a sad attempt all at the same time. the trip started poorly with us flying in early only to have a horrible commute to a horrible airport hotel that i might have enjoyed alone but not with my new someone. next, we traveled to the city center to the toronto i remember, but we stayed in grander style than either of my two trips with a boutique hotel down in the financial district overlooking the cn tower and the bevy of restaurants, bars, and shops that stretched from st. catherine's on one side to queen street west on the other. on our first official day, we started with a long wet lunch at earl king street followed by a brief tumble between the sheets in the proper hotel room and then we got ready for a night out in the village. we started at crews and tango and slowly worked our way up the strip until we got to maison which had a fantastic dj on the patio and small bites -- and large cocktails -- to launch us into a proper night of revelry. after dinner, we bounced around to woody's and other places, but closed the night at church on church after eight cocktails between us. on saturday, we spent the day hitting the shops on bloor street and after battling the rain, we tucked in for a sushi lunch in yorkville and caught the train back to the hotel to recuperate. that night, we had dinner at sassafraz -- finally! -- which was life-changing; i mean for the beef tartare alone. we called in an early night that night where we both drunk ourselves into passing out -- with a little sex in between -- with the bottle of vodka we brought back to the room. on sunday, we had brunch at smith on church and ten attended the youth festival near eaton square mall -- ironic since just a year ago, we were at world youth day in brazil -- and then, again, back to the room momentarily before heading back out later to drink until it got dark at woody's and making friends with the local drag queen and the bar staff. it was one of those moments that i've envied my friend rob for in columbus, where they're just that lowkey couple with their lowkey bar....together. that night, perhaps buoyed by the mountains of vodka, or due to that feeling of togetherness, or of a beautiful day or maybe just that last good burger from a joint called "the works", i came for the first time with my new someone. for me, it represented the turning of a page, but perhaps, for my new someone, it represented the closing of a chapter. our last full day in toronto, we did the touristy thing and scaled the cn tower and had an early dinner at momofuku's toronto outpost. we ended the night at a comedy show at second city and then strolling the streets at night marveling at that thing that cities like that have where hotels -- like the st. germain -- look perfect in the night light and the tower is lit just outside the corner of your eye and revelers from the baseball game dance in between the horns of taxicabs and the waterfall in front of some glassy skyscraper on the edge of sleep. i haven't spoken to my new someone since.

it's with perfect irony that i find myself cast like a discarded necklace into the deep as couples like mine and relationships like mine find themselves reaching new heights of acceptance. while years ago, i found myself appalled at the notion that "crash" could beat out "brokeback mountain" for the best picture oscar, i must say that current events have shown that race has a much rougher road to hoe than issues like marriage equality do. while i must say that jason collins represented a proud moment -- and a moment of reckoning for myself as jason collins, robbie rogers, and tom daley, all athletes, all have creatives as significant others: like, maybe i need to find myself an athlete; since when have athletes become so en vogue in all things?! -- it struck me as even more momentous as it became an after thought as the world got embroiled in the donald sterling fiasco that saw that the ugly racist attitudes of the past are just as present as they have always been even though they no longer wear white hoods.

in recent days, this juxtaposition has become even more apparent as the hullabaloo about michael sam's potential placement on the roster of the st. louis rams and the post-draft kiss that sent the sportscenter masses into a frenzy have gotten wholly overshadowed by the protests and riots that have subsummed the city after an unarmed eighteen year old black man got gunned down by a white police officer. and while issues of race touch even the controversial rise of michael sam -- as his boyfriend is white -- it's clear that gay men and women have taken more strides toward equality than the average african-american man has in recent years. and while i believe that much of the homophobia of past years has moved from outward expression to whispered conversation, it's interesting to note how marriage equality -- and its movement from a state-by-state legislative battle to one getting waged in the courts post-windsor -- has made it so that gay men and women have become palatable parts in even the most unassailable enclaves like athletics.

other points of interest over the past few months: i have a friend at work who might replace my old high school friend and has already replaced me as that guy at the bar who's still quite new and who has sway with the fairer skinned patrons of choice. i had a good pride and fourth of july. my sister's most significant other has moved to columbus, ohio, in an ironic turn of events. i haven't really talked to my friends in months. i've got a new therapist. i'm drowning financially after a tire blow out and other financial malfeasance of late. my company took us to a baseball game. and i probably need to start grad school soon before my life spins completely out of control. and speaking of out of control, i need my tiffany ring, my balmain boots, probably a couple of bracelets, a tiger print burberry duffle from last fall, and a dollop of black-on-black before i get to paris for new years eve. at this point, alone.

( and finally, how marriage continues to work its way though our system: it"s interesting to watch how illinois and hawaii represented the last time the executive and legislative stepped up to the plate where now we see state judicial branches taking the reins. also, the funny idea of the short term marriage contract as floated by mexico city some years ago has a funny echo with the jason collins ten day stint with the brookyln nets.Collapse )



http://www.oregonlive.com/blazers/index.ssf/2014/02/jason_collins_no_98_brooklyn_nets_jersey_ready_for.html

Ten Days Leave (W. D. Snodgrass)

He steps down from the dark train, blinking; stares
At trees like miracles. He will play games
With boys or sit up all night touching chairs.
Talking with friends, he can recall their names.

Noon burns against his eyelids, but he lies
Hunched in his blankets; he is half awake
But still lacks nerve to open up his eyes;
Supposing it were just his old mistake?

But no; it seems just like it seemed. His folks
Pursue their lives like toy trains on a track.
He can forsee each of his father's jokes
Like words in some old movie that's come back.

He is like days when you've gone some place new
To deal with certain strangers, though you never
Escape the sense in everything you do,
"We've done this all once. Have I been here, ever?"

But no; he thinks it must recall some old film, lit
By lives you want to touch; as if he'd slept
And must have dreamed this setting, peopled it,
And wakened out of it. But someone's kept

His dream asleep here like a small homestead
Preserved long past its time and memory
Of some great man who lived here and is dead.
They have restored his landscape faithfully:

The hills, the little houses, the costumes:
How real it seems! But he comes, wide awake,
A tourist whispering through the priceless rooms
Who must not touch things or his hand might break

Their sleep and black them out. He wonders when
He'll grow into sleep so sound again.

http://www.kelmscottbookshop.com/pages/books/27012/w-d-snodgrass/ten-days-leave-typed-poem-signed
---
my life has changed in the span of a week and the churning of emotions has finally brought me back to my journal. i could say that it happened on the quiet walk this morning with my dog amidst the city fog and the lazy traffic lights slowly blinking red then green then staying there staring at us. or i could say it happened in that moment yesterday at the veterinarian's office where i memory fell on me like a sandbag tossed up against the prospect of a flood. in line there stood an old high school friend. someone who, in the passing of time, had not grown taller in a way that i could tell, nor more muscular in a way that i could tell, nor more handsome in a way that i could tell, but infinitely more attractive because i had become less of all those things over that self same passing: i felt that look that i so often dispense where one wonders just what has taken place and over what time to ravage that once pure expression and that unblemished line with age and disrepair and the unkempt. and in that moment i remembered that this random soul from high school with classic mid-western good looks of near milk-white skin, dark brown hair, corn-fed comportment and that i had said in a moment of infinite confusion and lust, "because i love you." i don't remember why now i said it. it had come in an argument in ap chemistry and this corn-fed beauty in the heat of youth had done something or said something and i arguing had said it.

well, it's probably the last time i had uttered that phrase to anyone without the influence of alcohol or without getting cornered into a banquette in maso in san francisco to discuss what could stand as the end of our friendship. but, after that, i received a call last weekend from my exsomeone. yes, the exsomeone. one might count this entire journal as an epic novel about the exsomeone, but while on the friend with my old coworker in miami, i get a text message that says, "i need to talk to you about travel; i'm downtown." now, while out of the blue, it wasn't completely out of the blue as we had sent text messages back and fourth shortly after new years', but, with this, of course, i had to extend an invitation over: what else can someone who lives in a trendy apartment downtown do when someone says, "hey, i'm downtown," but say, (1) let's meet for a drink or (2) stop by. so after trying to say, "i can meet you for a coffee," my exsomeone comes over and nothing has changed. the attraction soaked through the room. and our repartee peppered the conversation. and because she likes everyone, my dog even contributed to our reunion of sorts. for two hours, we talked about boston and my exsomeone's aspirations to teach abroad and traveling to a conference in boston to that end, but as my exsomeone left, and i had to stand up, my physicality gave way to the feelings i had kept inside and we, well, reunited.

this comes at a odd moment for me as i still have the unhinged notion that things between my new someone and i have not ended resolutely and completely. and, it must be said, for all of the girls and gays who raved about the realistic nature of "sex and the city" and how it spoke to real life but panned it once it got to the second film, i have to re-assert just what a radical prospect that show represents. as i stand a little more than a year from my thirty fifth birthday, the number of my friends in my age category who are not married, have never been married, and have no prospects of marriage number below five. and as i cherish my friendships with my married friends, i can see the change in them. it became apparent in san francisco. while i brought my new someone to fill out the numbers -- i felt like edith inviting sir anthony strallan on downton abbey -- some of the happenings went to emphasize just how different we have become in our lives. i share in the blame, of course (my phrase of this post), but the statement that stands out from that moment in the banquette in the hotel bar as i cried came when they both agreed, "why would you be uncomfortable saying anything in front of our husbands?" because i don't know them. this from my one friend who once argued that spouses change the timber and chemistry of a trip and from another friend who once argued that ANYONE changed the dynamic and fun of a threesome getaway. in that moment, i felt like carrie in season six confronting miranda saying, "you want me alone!" like, let's change everything about the way we interact but expect me to act the exact same as if nothing has changed. but, i do take some responsibility: as a master communicator, i did not communicate my feelings. also, and it's a feeling i still have and have had, that i'm somehow not an equal player in our threesome. as we have lurched into adulthood that my input -- flawed as it may be -- does not carry the same weight because of my life situation or because of some supposed idea about my circumstance. it probably started in mexico city. i wanted to fly together full-stop. but we got booked separately (back when i didn't even book my own trips!) and when we got disconnected at the airport, i got yelled at. the exact thing i thought would happen. it came back up this year as we had a stand off about vegas: i refuse to spend money on something i don't want to do. i'm too old and i'm not that rich. we become rigid that way as we age. and it came to a head in san francisco when my good friend rob -- so good that it's been nearly a year since we've even had a telephone conversation because, you know, the internet -- said that he has no interest in traveling with me anymore if this is how it's going to be: how was it? on new year's eve, the day i said that nothing can happen, on the phone, in person, over and over, they decided to have a big tourist all day out thing. fine. it's their life. so when my new someone decided to go back and i felt that i should, too, given the episode last year, i get side eye. the next day. after six hours of drinking on new years eve, i get a message early in the morning to come have breakfast. are you kidding me? on new year's day?? and when i get up, they say they're in the castro. so my new someone and i head to the golden gate bridge because we didn't see it the day before. and, much like barcelona, we had one of those days out that binds my new someone so deeply to me that i have issues for years. it's that type of perfect day. and as we're on the bus on the way back, i get bitchiness from my friend rob about not wanting to hang out with them as if i'm the one who got up early on new year's day like that's our habit on these trips. but then, my friend alex chimed in saying he had thought the same. and, as per usual, when rob says something, i write it off. when alex says something, it cuts to the core. so i cried. and through my muttering i talked about my fears and the seizures and all that and i think it blew over, but i can't help but wonder if we'd continue on sex and the city style or end "dinner with friends" style.

but, yes, san francisco: a city with such a strong aesthetic -- hoodies, black knit, black skinnies, boots, edgy hair, ink -- that it's influenced my personal wardrobe. further, a city, like boston, so steeped in history yet so actually compact that it defies the monumental images one might have in their mind about this veritable mecca for so many. i mean, one second you're in presidio (with the golden gate), then, boom, chinatown, etc: and it's almost incomprehensible that people even need mass transit. an issues that's coming of age here at home. most in my little parochial village would shrug off mass transit as a want not need because we don't drive far when we drive LEAGUES compared to someone in san francisco! i mean, you could actually, not bull-shittingly, but actually everywhere. like manhattan or boston or toronto. so, the first night, we convened for thai -- and my new someone stayed behind for sleep -- and the next day we shopped all day and then did dinner in the castro at a little french boite called "bisou" and i had their signature drink and that launched me into a night that could only happen in san francisco with a drag show at midnight sun in the shadow of the castro theatre and a live performance -- with actual singing -- by honey mahogany on her birthday and then a night of dancing at badlands -- ironic since just a year and a half prior we ventured to the badlands of south dakota, literally -- and after that, we had our sight seeing day -- where we all saw fisherman's wharf and they saw the golden gate-- and then we went to our party on new year's eve. supperclub not only proved the perfect choice for san francisco, but for our threesome as it combined the ultra supperclub experience in toronto (2007) with the zumanity experience in vegas (2004) and fused it the burlesque vibe of cathouse in vegas (2009). also, it's eccentricity epitomized the city. we got there at seven. yes, seven in the evening and got treated to a fantastic five course meal with drag queen performances and aerialists and as the night progressed, the party finally got into full swing and i finally started drinking around eleven. they did a great job channeling studio 54 minus the debauchery. well, mostly. most of my friends left the party early and my new someone lingered with me and some other stragglers as the party approached last call. while i tried to get my new someone to hit up beatbox for after hours (apparently, the entire deal with san francisco night life), we wound up back at the hotel cruising on grindr and eating mcdonalds until nearly six in the morning. after the new year's day meltdown, we went to angel island on the second for a mountain top picnic and plenty of revelry since we all became delirious after the most arduous hike of my life. after that, we did dinner at trace in the w and then drinks at the hotel.

since i've gotten back, i haven't seen my new someone and we barely send text messages. in other news, i finally got promoted to a position which brings me not only to the income (which i had achieved maybe two years ago) but the pestige i had when i left the times. i need to get into grad school quickly because if i lose this job, who knows HOW LONG it'll take to get back. it's been almost five years. outside of that, i'm trying to plan our next new year's eve trip and i'm obsessed with morocco but alex doesn't like the flight plan on the way back. before then, i have two birthday trips (if not, three) to worry about. also, marriage equality has marched forward and as i ponder the idea of wise men -- speaking of the judges in this case -- it's curious how some focus on this issue when these states have much bigger concerns like school shootings in new mexico (where they'll defend the gun owners to the death), or obvious government corruption (where they'll defend the governor to the death), or the fact that RELIGIOUS people are pushing polygamy (which, it must be said, does have lots of old testament precedent).

( a cold coming: the notion of "wise men" has stuck with me lately: from the nomadic imagery it conjures to the odd way that one has to read the passage in order to understand the prophetical references as a Christian to the poetry and actions it"s inspired.Collapse )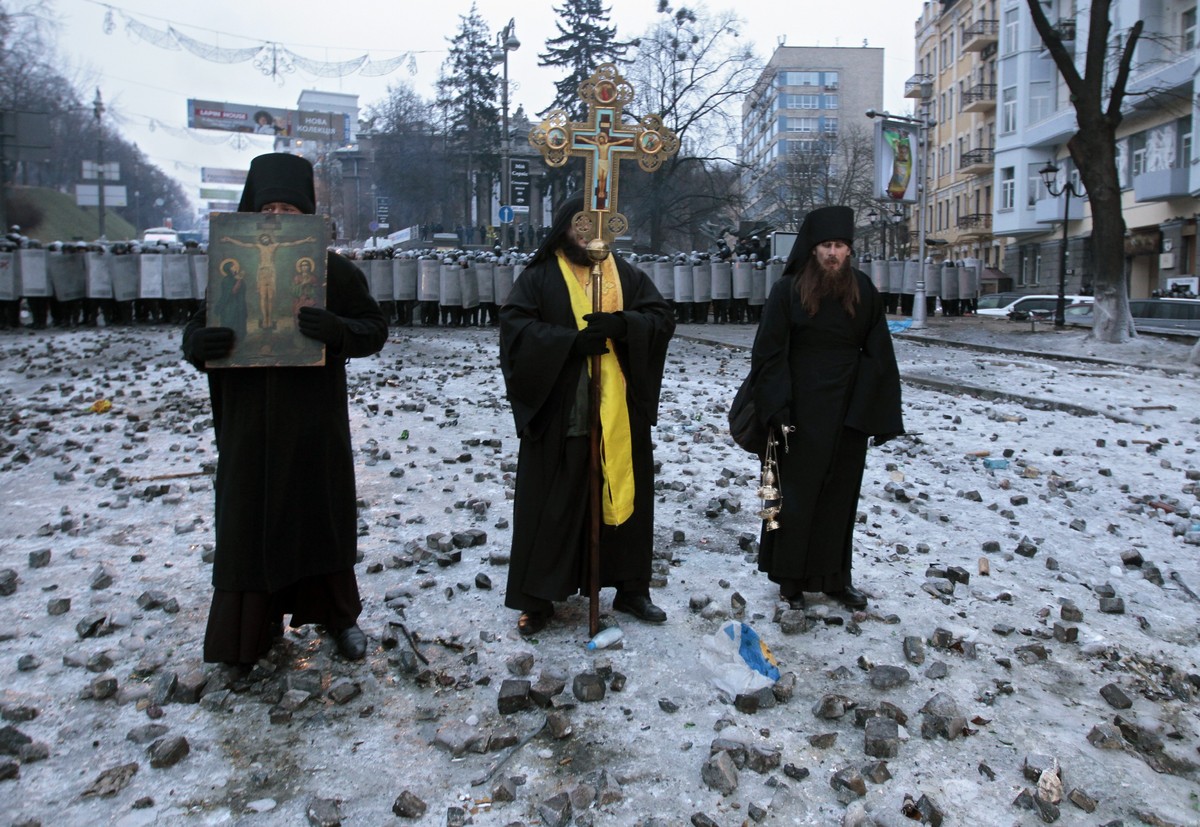 http://www.huffingtonpost.co.uk/2014/01/22/ukraine-kiew-protests-pictures_n_4643522.html?just_reloaded=1

The Journey Of The Magi by T.S. Eliot
http://allpoetry.com/poem/8453741-The-Journey-Of-The-Magi-by-T-S--Eliot

'A cold coming we had of it,
Just the worst time of the year
For a journey, and such a long journey:
The ways deep and the weather sharp,
The very dead of winter.'
And the camels galled, sorefooted, refractory,
Lying down in the melting snow.
There were times we regretted
The summer palaces on slopes, the terraces,
And the silken girls bringing sherbet.
Then the camel men cursing and grumbling
and running away, and wanting their liquor and women,
And the night-fires going out, and the lack of shelters,
And the cities hostile and the towns unfriendly
And the villages dirty and charging high prices:
A hard time we had of it.
At the end we preferred to travel all night,
Sleeping in snatches,
With the voices singing in our ears, saying
That this was all folly.

Then at dawn we came down to a temperate valley,
Wet, below the snow line, smelling of vegetation;
With a running stream and a water-mill beating the darkness,
And three trees on the low sky,
And an old white horse galloped away in the meadow.
Then we came to a tavern with vine-leaves over the lintel,
Six hands at an open door dicing for pieces of silver,
And feet kiking the empty wine-skins.
But there was no information, and so we continued
And arriving at evening, not a moment too soon
Finding the place; it was (you might say) satisfactory.

All this was a long time ago, I remember,
And I would do it again, but set down
This set down
This: were we led all that way for
Birth or Death? There was a Birth, certainly
We had evidence and no doubt. I had seen birth and death,
But had thought they were different; this Birth was
Hard and bitter agony for us, like Death, our death.
We returned to our places, these Kingdoms,
But no longer at ease here, in the old dispensation,
With an alien people clutching their gods.
I should be glad of another death.
© T S Eliot.
---
the line that hooked me into downton abbey two years ago came in the first episode when the duke gave a new spin to the saw, "one swallow doesn't make a summer," and well, it may not make a summer, but it may make an autumn. while it's probably too much to disclose, on a recent saturday night, i had one of those fantastically ideal dates with my new someone or maybe my new exsomeone that we've had since we got together all that long time ago and broke up not too long ago. so much has happened in the four or so months since i last posted and i don't even know where to begin given all of the playing catch-up that i've had to do over the past year with my life. to say that i've neglected this journal even as my facebook, twitter, and instagram have grown exponentially understates the case. my life, in recent months, has entered a sort of odd and depressing malaise only effervesced by the sprightliness of my pug and my wild escapes from the mundane that my life has become: needless to say, while i had maintained that our quarterly fights did not amount to much consequence, the quarterly fight we had after we returned from brazil proved nearly impossible to recover from. they say absence makes the heart grow fonder so that may explain the explosive sexual chemistry that we felt on saturday night as we pulled off to the side of the courtney campbell causeway like teenagers -- perhaps we could blame it on the moon -- but it sets into motion a throughline, i hope, to an uneasy reconciliation.

first things first, brazil. it's not that i had any doubt that my jaunt to rio would rank as one of the trips of a life time, but it also proved instructive as to just how well-traveled i have become while demonstrating just how much i have to grow as an international traveler: before brazil, i did not realize just how much i've relied on my fluency in the spanish language as a crutch for some of the sloppier elements of my travels. from the moment we boarded the plane, i knew this trip would take on a different tenor than any other trip i have ever taken in my life. stating the obvious, it stood as the first time i've ever traveled internationally with a paramour alone. with barcelona, i met up with college friends so that took the edge off -- besides knowing spanish -- but this time, it was just us in another hemisphere. rio also remained quite novel because i had my smartphone there to capture each moment as it happened. well, from the onset, i thought i could treat this like any other trip until i had my first glass of red wine and began to exhibit the near-seizing symptoms of extreme low blood sugar that snared me in barcelona. that meant that i could not avoid carbs in an attempt to maintain my rio body and that i couldn't drink like i wanted for the entire trip. further, although the flight went smoothly all the way there, the fog of rio caused our flight to get diverted to a regional airport outside of sao paolo where we sat on the tarmac for five hours with one dixie cup of water and a granola bar. when we finally got to rio, we found ourselves utterly wiped out from doing nothing and sitting around for nearly twenty hours. rio unfolds though -- even for the travel weary -- impressively with the pin dot of the Christ, the Redeemer statue standing above the road into the city and once one crosses through the tunnel cutting through the mountain, rio becomes the paradise one imagines with lakes and runners and beautiful people and sunshine and even though each syllable remains beyond understanding, there's a glint in the eyes of the most beautiful that promises possibility in a way that it does not stateside. by the time we made it to ipanema, we knew we had arrived in quite the tourist trap as the rhapsodic streets suddenly got transformed into a restaurant row of tex mex eateries and american-themed sports' bars and souveneir shops. despite our flight delay, we still had hours before check-in at the golden tulip ipanema plaza. we ventured to the beach -- which had rainbow flags proudly flying with a cloud of sun bathed brazilian beachgoers between them to reinforce the case -- and then to one of the tex mex places we would not have visited if we had time to change and rest as we had hoped. we sat there for hours mulling over a pile of quotidian nachos and fought outright boredom by people watching on the streets of ipanema for a couple of hours. after a while, we ventured to the upstairs pool and lounged in the sun room until the hour of our check-in finally arrived. we burst into the room with a flurry of jumping on the bed and taking funny pictures in the marble bath and changed to hit the beach to experience the beautiful colors of an ipanema at golden hour (the inspiration for frida gianini's entire gucci resort collection and campaign). that night, we ate at the sushi restaurant in the hotel and then proceeded to get drinks at the hotel faena's baretto londra which hosts the glittering society of rio as we come to know it. the faena hotel remains the destination hotel but it's cost proved too prohibitive to even consider....even for two DINKs like ourselves. i wanted to go because the gossip columns still carried the occassional coverage of marc jacob's latest adventures to rio with his pornstar lover and from the photos it became clear that it had faena at its nucleus. oddly, for a thursday night, they did not have a mainstream music experience, but a beatles' cover band which allowed us -- with the lubrication of quite a few cocktails -- to sing along as fervently as all of the other brazilians in perfect unison. on friday, we had planned a longer exploration of ipanema and copacabana which we embarked on all morning and arrived mid-afternoon at sugar loaf mountain for all of the thrills of an elevated view of the city. while i could not get enough of the panoramic views, we both had to fight back naughtier impulses as we did not realize the mountain had curlicues of off-the-beaten path walkways into rainforest-like surroundings perfect for cruising (you know, if one were into that). after we descended, we commenced our daily ritual of hitting the beach for the waning hours of sun and greeting the night with one-too-many cocktails on the rooftop and a cat nap before going out. that night, we arranged for a personal tour with a brazilian tour guide to give us the lay of the nightlife scene in rio. well, the night started quite unexpectedly with an adventure to a bath house. while we remained clothed, we learned that not only does prostitution find itself legal in brazil, but quite commonplace and lucrative for those involved. while i found so little temptation there -- since my odd sexual proclivity would probably have my hiring a prostitute to just cuddle with and talk about sunday night television -- my new someone took a shine to someone who had shipped in from the rural areas surrounding rio hoping to make a living for his wife and children by spending a few hours rolling around on a mattresss. fortunately for me, my new someone did not partake (even with my reluctant blessing) and we went to the next venue (after watching their drag show and full monty stripper performances). after hitting a sportsbar (one we had passed unwittingly on our first afternoon there) that reminded me of boxers in new york without the polish, we went to this restaurant bar that became my favorite place in rio. of course, i don't remember the name, but it had trendy lighting and trendy food and i would have NEVER pegged it as a bar that catered to my clientel. after that, we begged off (getting late night bites at a corner store in ipanema). we treated saturday as a beach day and had a long day of walking in leblon and having lunch at bar do lado (which overlooked the waves) and shopping in the a very high-end mall where a dolce and gabbana store was about to open and where i raided zara like it was the end of the world. we wound up back to the hotel where we had an early night by going back to the sportsbar "to nen ai" for dinner and drinks and gawking since we had a long day planned for sunday. on our way back to the hotel, we ran into our tour guide with another american group and we decided to have our tour of the city with them on monday. on sunday, we got up early to mount the peak that contained the Christ, the Redeemer statue. because of the pope's immenent arrival, the mountain found itself mobbed with international tour groups coming to worship at the chapel at the base of that statue. to say that the experience is life changing would understate the case immensely. not only did it provide an even more spectacular panorama than sugarloaf, but it tingled with a religious experience even for the most hardened agnostic. i got some really good pictures with my new someone. unfortunately, although the entire reason for the trip, i never said "happy birthday" during the whole time (something that would bite me later). after we got back down (only to see the infamous fog of rio engulf the statue ruining the vista for the throngs still arriving), we spent more time on the beach (and caught a parade for world youth day) and prepared to go to dinner and a show to celebrate my new someone's birthday. well, dinner proved less-than-spectacular as we couldn't get seated in time and we felt pressed because of the show time. we wound up stopping in at bar do lado in leblon and racing over to the theatre only to find that they had no show planned for that evening. luckily, my photographic memory membered a bar nearby that had a great sunday night crowd. lucky because i had no cell service and had to locate the bar based on my memory alone -- which made for an uncomfortable (and scary) walk through a neighborhood in our theatre-going outfits until we found it. once there, i felt relieved and proud to give my new someone some semblence of a happy birthday as i felt -- as i've found among many of my friends -- a certain crestfallen quality encroaching as the reality of the birthday hit. we drank -- and drank and drank and drank -- and eventually got into the party and my new someone danced so that went well but when i said happy birthday, my new someone said, "finally....i've been waiting all day for you to say that." this did not bode well for when we returned stateside. after we had our fill of absolut and dancing, we caught a cab back to the hotel and passed out. the next morning, we met up with our tour guide and the other american tour group and took a long extensive tour of the city. while we knew we had but scratched the surface in our four days there, this tour showed us we did not know rio at all. ironically, one of the members of the tour group went to the same high school as my new someone and had a sister who still lived in clearwater -- when they say small world, they mean it -- and after we had done all of the amazing things like see the steps of lapa and go downtown and see the city center and the national cathedral, we were going to catch a cab back when we got word that the pope was scheduled to appear at the national cathedral. while the rest of the group had no insterst, my new someone (an italian-american catholic....like my exsomeone....though of the tristate lineage more than midwest provenance of my exsomoene) and i were thrilled at the prospect. we waited for about two hours and we did indeed get to see the pontiff and witness than wave of devotion and excitement for the first latin american pope. it's the first time i felt that kind of rapture in years. to feel like a part of something so big not only created a humility but stirred something spiritual in me that i'll never forget. after that, we had another long scary jaunt through an unknown neighborhood (this time in the even more dangerous neighborhoods in the city center...away from the tourist zones) to get a cab. thankfully, we found one and got back to the hotel without incident. that night, we went to the plataforma samba show that did not occur the night before and had quite a treat. while we did not buy any of the over priced drinks or photographs, it was amazing to see the spectacle of the costumes and dance routines they perform during carnivale. on tuesday, we did a bunch of last minute souveneir shopping (we finally had a bad weather day) and made our way to the airport just as news broke that princess kate had had prince george.

well, when we got back, the warm feelings for the trip iced over and our relationship started having real problems. after three weeks or so, i went over for a night in the jacuzzi but it did not feel the same. weeks became months and the spare text message became the heated e-mail. the heated e-mail became nonresponsiveness and outright hostility. and then, one day, it ended just like that. in a fit of sadness, i booked an impromptu trip to new york and had a restorative -- if not completely debaucherous at first given that i stayed out all night long -- trip that made me face the reality of being single again. my sister and i started hanging out more regularly (that is, more regularly than never) and i go into so many shows i would never have considered before (nashville, teen wolf, homeland, etc.) to bide the time. i spent weeks just sleeping through life until my new someone reached out to invite me to the annual all hallow's ball that occurs in tampa every year. well, that went as well as expected (we have always done well in hotels after all) and the next week, i got into a car wreck (something that wouldn't have phased me in my sad car before but that unnerved me in my bmw). after that fiasco of brokeness, i invited my new someone to see "best man holiday" mainly because he was one of the few who would see it and because i wanted to spend time with my new someone like the old times. it went well. so well that we wound up on the side of the courtney campbell bridge like teenagers making out and, well, as i opened this post....it felt good that our sexual chemistry found itself as raw if not moreso than before and i began my campaign to get back together -- at least, until new years eve -- right then and there. we began texting irregularly but more regularly than never and my dad helped me clean my apartment (the major sticking point between my new someone and i). thanksgiving came and went. marriage equality victories dotted the landscape. i reunited with a couple of drinking buddies that i had let fall by the wayside during my coupling and ensuing depression when my new someone suggested we go to busch gardens to make good use of our annual passes (this would make our third or fourth trip this year). well. we had a good time and afterward decided to go to the bars in north county and the night ended with a thorough knocking at the door (in fact, so thorough that it could not get described as such) and my spending the night. that was this past saturday night. if only i knew what the cards held for the future as san francisco new years' eve looms and i just can't bring myself to embrace the fifth wheel role being offered up.

( brazil joins the international samba troop of marriage equality nations (the netherlands, belgium, spain, canada, south africa, norway, sweden, portugal, iceland, argentina, denmark, uruguay, new zealand, and france), the magic of rio de jainero impresses everyone from frida gianini at gucci to pope francis in the vatican, and how even my trip to a museum found me having a spiritual moment.Collapse )



http://www.nytimes.com/2013/07/23/world/americas/with-modesty-pope-francis-begins-a-week-in-brazil.html?_r=0

i thank You God for most this amazing
day: for the leaping greenly spirits of trees
and a blue dream of sky; and for everything
which is natural which is infinite which is yes

(i who have died am alive again today,
and this is the sun's birthday; this is the birth
day of life and love and wings; and of the gay
great happening illimitably earth)

how should tasting touching hearing seeing
breathing any - lifted from the no
of all nothing - human merely being
doubt unimaginable You?

(now the ears of my ears awake and
now the eyes of my eyes are opened)

--ee cummings
http://www.sccs.swarthmore.edu/users/03/cdisalvo/cummings2/
---
well, i should have started this post in the moment of heightened pain in which i found myself almost a week ago. my chest rose up with fire like someone had pressed an iron weight on my lungs and dispersed a warm syrupy poison through my bloodstream. the moment came when my new someone intimated that our relationship had run its course. at this point, i have not spent time with my new someone in three weeks. at first, our separation found itself laid at the feet of an unforeseen trip to miami, but one week later, and the afternoon in question, my new someone said that i couldn't come over because of my new dog, siobhan, and a reluctance to let monti, the dog shared by my new someone and my new someone's exsoemone, grow attached to siobhan since she might not be around. my new someone has always preferred canines to actual humans so a fear of getting attached remains well founded, but the implication that siobhan, and by extrapolation me, might not remain a more permanent fixture in my new someone's life crushed me: and i asked, "does this mean our relationship is over?" and my new someone responded "it's not the greatest" and i began to panic with questions like "have you met someone new" and after i got roundly set straight, i found myself dizzy with emotions and rushed into day old j.crew and ran to the local theatre to watch a matinee of "before midnight" and one small popcorn, one large popcorn, and three mini-bottles of merlot later, i found myself in a reverie of emotionalism and acting out that lead to my wanting to post at that moment, but i refrained. i went grocery stopping. i got a smart phone. i even went to drinks with my sister at the birchwood. but i didn't post. i let the poetry marinade my soul. and as it splashed around in the wake of that film, that poetic meandering through the greek isles, pulled up some pretty ugly stuff for me and by the time it got to the climax, i had tears standing still in my eyes with fear. of course, the power of the "before" series comes in the reality of the moments they capture. and, for the first time since i ended my workshops, i felt like i had my feet submerged in the sandy shallow waters of everyday emotion that i do not get to enjoy on a daily basis. without a book to read or an assignment to complete, i find myself floating in the wind -- and turning to my journal more, of course -- without something to ground me. yesterday, i saw sophia coppola's latest stream of consciousness, "bling ring," and found myself longing for the purity of "before midnight" and realized i did not have anything at my disposal to help me process the feeling of near-rejection so i wandered onto amazon and bought myself an anthology of poems -- it's titled "a formal feeling comes" and its by women and its all formal but in a contemporary way -- and have resigned to take classes this fall. in pursuit of graduate concerns, i've decided to apply to cornell, columbia, new school, pratt, stonybrook, city college, and hunter. and as back ups, university of south florida, florida international, miami, and university of tampa. until that time, i have to figure out what i'm going to do here which becomes increasingly excruciating as i had a six hour near wet dream last night about the lawyer i kissed over miami pride upon discovering the wonderfully nerdy instagram handle and the beautifully edgy pictures that resided there: which brings me to my unlikely and unusual encounter with the new someone over pride here. first, in an unlikely turn, my job decided to participate, a move affirmed by the presence of the president and his entire family, but undermined by our placement directly behind a leather fetish float. you win some, you lose some. and afterward, i met up with my new someone who had arrived without friends except for that dog and we had a drink together and then i went home and my new someone went home and we didn't hang out this weekend because of my apartment. and, minus the five or so outright downpours, the day turned out okay, but not as good as the pictures i saw from chicago or london or san francisco as everywhere celebrated "the decider," that is, justice anthony kennedy, and his musing ruling on the defense of marriage act -- and his decree, two days later, to let marriages resume in california -- and i found myself in a hail storm of irony as the right to marry finally felt within reach like the dusting of a dandelion held fixed in thick, bright afternoon air while i felt almost alone and unsure of my future. and for some reason, both in the country, and within myself, although the lives of gay men and women in this country had changed irreversibly for the better, the country found itself trained on horrific and persisting issues of race: the trayvon martin trial found itself underway and president obama found himself touching down in senegal to give encouraging words to the community -- with michelle obama in effortlessly chic burberry which made me even more rabid for the prorsum footwear from fall which coincided with the ad campaign featuring sienna miller and her real life beau tom sturridge in those animal printed shoes that i obsess about -- and nelson mandela finds himself close to his last breath and the self-same supreme court that struck down the tent pole of the defense of marriage act also struck down the heart of the voting rights act and gutted affirmative action. and it's not just here that these issues have cut through the zeitgeist. while i had designs, so many moons ago, to fashion this post around the muddling relations between the ostensible white and the ostensible black and how those issues remain not only the focal point of fashion at the moment, but of many worrying international events, i've decided to leave aside the supporting materials for the fashion side of( my analysisCollapse )moving forward first to the incident in london with the african immigrant attacking the british soldier with a hatchet in broad day light and a similar attack in france days later, it showed that beneath the hemline connecting the black to the white lies a world of violence waiting to get out.

however, back on planet earth, i suppose i should complete my recapping of how i've bided my time during that yearlong stint i've gone on without live journal. i'm not entirely sure how or where i left off in may, but the most life-altering moment of anyone in my orbit came when my sister drove off the road trying to avoid a coyote that up until that point existed in my mind and her mind as an urban legend. over the holiday weekend, my new someone and i went outlet shopping and since my car probably could not make it over the skyway bridge, i bribed my new someone to take me on the promise of buying dinner as a reward. we shopped all day long and i got a glimpse into just how different our fashion senses were -- i bought subdued button downs, my new someone bought neon tank tops -- and then when we got back to the homefront, we dined at midtown sundries which had an odd feeling for us both as my new someone frequently went there with the ex- (aka doggy daddy) and i used midtown as one of my dating places (most famously with the longhorn) so yeah. also during this time frame, i went over and watched a new cw show called "catalina" which felt ironical since i had stayed there three years prior with sara and i also bought tickets to a private showing of "evita" in new york and a private reception for "save the children" at bulgari where ricky martin himself would attend. taking my cue from the fashion tea leaves, in planning my look for the trip, i took my cue from the ascent of raf simons and hedi slimane as a return to minimalism. while they had not presented a single jot of their creative direction, their mere appointmen

needless to say, this played out quite eventfully in june where i took the first friday off to see kathy griffin with the new someone and had one of those date nights that dreams are made of -- minus my waking up almost two hours late -- where i saw one of my old coworkers and laughed my ass off. the same week as all that happened, my sister jetted off to her first "big kids" job in a management training program that took her to saint louis for several days and then in a summer-long training at the various retail locations in the district. also, my very good friend rob bought a house with his husband dashing hopes for an eventual move to new york city to fulfill that dream trip of top level cosmetics executive. oh well. i went to see "to rome with love" after hearing that news because it had more bearings of reality than that quick, but life altering, decision did. the next weekend, my sister and i went out to discuss the glories and pitfalls of the greater saint louis area -- comparing war stories from my stop over last summer to see sade which apparently not onlY irrevocably changed my life but also inpsired the young designer at balmain who not only mention her by name as an inspiration behind his spring collection, but whose influence may have finally pushed that young designer into the mainstream with that house given that it produced a collection of spot-on trendy-heavy black-and-white but allowed him to exploit the vocabulary of the house that appealed to everyone from house muses to american thorobred, jessica biel timberlake -- but, back to the story, and my sister and i, in the process, had an odd night at vue nightclub -- which had opened unbenknownst to me with a free shot waiting for us when we got there -- and then to vintage where the dj played music just for us. that next friday, since i didn't have to work, my sister and i had a great dinner at park shore grill -- i can never have my fill of their filet -- and then drinks at mandarin hide which, by this point, had become my favorite bar in saint petersburg. that sunday, i saw prometheus which i bought two weeks ago as it's inspirational for the type of story i plan to write for my novella come spring. that weekend, i made a very poor work decision when i called out sick two days in a row on thursday night and friday night. so unprofessional, but on thursday, i had a very special date with the new someone where i had determined to define our relationship. i made reservations at ocean prime and we both got dressed up and during our conversations over some of the best seafood i had had in a while, we saw local celebrities although i could not say who and then i started into the grey goose because i could not steer the conversation in my direction in sobriety. well, that night proved quite pivotal as the night progressed and i got more and more inebriated and we kept not moving to the conversation i wanted to have. so we decamped from ocean prime and headed to the wine exchange for more cocktails. there, i ordered this nasty ass grapefruit martini and my new someone ordered an espressotini that could not hold a candle to those made by cassis with real espresso. i think we also got a shot there. so i don't even remember driving home but when we did, i finally got around to trying to define the relationship -- drunkenly saying, "if i met one of your friends, what would you introduce me as" only to get the answer of "my friend" -- so we almost didn't have sex but then we did and i felt small and resolved never to bring it up again since things went so well without the label i sought. additionally, the next day, we spent the entire day shopping together which resulted in the second day in a row calling out. very horribly unprofessional, but that's an entirely different ball of wax since my supervisor had been out for several months and we had a interim supervisor and an interim manager and none of them knew anything about our shift or our needs so.....yeah. the other thing that folded into my unprofessional decision came in my leaving for new york the very next morning and my reluctance to stay up all night when i had such a full long weekend planned: the next day, after an unmemorable jetblue flight, jen and i did a little saturday afternoon shopping -- where i bought tom ford for men extreme in bloomingdales, some graphic tees from american apparel (for the upcoming pride), and other sundries -- before we made our way downtown to rent a car to drive to the country for one of her friend's engagement party: new york, being on the cutting edge of all things, had this hertz program where you didn't need anything except this card to rent the car and everything else -- from keys to gas to gps to payment -- got arranged digitally: after we spent hours driving up there and attending possibly the most boring family-imbued party possible (although i felt very "true" new yorker being in the country on a day like that) we made a stop at the outlet mall where i raided barneys and cole haan and then started back with a little too much wine in our systems for the drive. upon returning to the city, we hung out way down town (near tribeca) where we saw these interesting bars interspersed between stretches of nothing: we stopped in this seaside themed outfit before skirting down to the financial district in search of the thompson hotel's gilded bar or something like that, but of course, by the time we got there, with detour to see the freedom tower and the 9/11 memorial for me, it had closed so we drank by the seaport -- which answered my question as to where all those midwestern recent transplants/college students go on saturday nights for the most un-jarring experience -- before we wound up on the lower east side to meet her friends at the quotidian any-city bar and to see my old college buddies mike and jesse who came down from astoria -- i don't know either -- to see me. i'm not entirely sure what happened after that except that i'm pretty sure we went to eastern bloc to see if i could spot anderson cooper at his then-beau's boite....meanwhile, it was so un-airconditioned and sweaty that we stayed for maybe three minutes before leaving. on sunday, i had my opportunity to see new york pride for the first time which felt particularly timely given the marriage decision just one year prior and my best friend's wedding there the previous fall but, of course, as in all things, it took a lot of convincing to get my friend jen to go as she and her other jaded new yorker friend jorge did not feel like going to the parade. it took the insistence of geo and i to see it because we had never seen it to motivate us to go....well. after pre-gaming it for hours, we finally made it down to christopher street which found itself utterly mobbed and utterly inspirational in that while it did display everything one expects at such events -- including my tour guide, geo, showing me how a real new yorker intimates with the flock -- it also showed that, in the end, new yorkers will come out for any drinking holiday, including pride. seeing as i found myself that close to reiss during their sale, i had to go in and in my drunkeness bought a pair of bright orange espadrilles among other things i have had little occassion to wear and where i saw my first pair of the prada golf shoes on an actual customer -- namely, the manager of the store. after this episode, and after jorge became so drunk that he became unintelligble and undecipherable, my friend jen and i decamped uptown to gobble up sushi to absorb the countless drinks imbibed between the parade and the bar we wound up at that i cannot even remember. the next day, i didn't do much as my friend jen had work and i had nothing besides men's fashion week -- which had just witnessed the first episode of the return of minimalism with the jil sander presentation among others. that evening, i had to rush to zara to get a shirt for my encounter with ricky martin that evening: so after haphazardly choosing a shirt to fit into my sandwich, i walked up to bulgari for the save the children cocktail reception which featured everything from mini-filet to foie gras macaroons. besides the culinary masterworks ciruclating on silver trays -- and of course, the light pressure of silent auctions and the cheaper stuff at bulgari -- i saw of-the-moment in-the-season seafoam chanel jackets and fantastic cocktail dresses and the stuff i live to write and dream about: and then, the moment of truth, ricky martin himself came out with other cast members from evita and i died so many times inside although i must say that, as with all celebrities i have encountered, he stood a little shorted than one would think and had a big head. both of which, of course, made me delight in my own special way. and then, to see evita really made me cry in so many ways because it represented the culmination of so much wonderfulness from a fantastic year started with a trip to buenos aires to one tent-poled by this new york trip to a relationship still in those early stages of wonderment and awe. that and the eighty bucks of vodka i drank there. by the end, i found myself lying, saying i was staying at the st. regis and decamped to pass out at my friend's the next day. the next week at work went awkwardly but quickly with a sprint toward the next weekend which marked pride right here at home. this, of course, represented somewhat of a milestone for my new someone and i as it once again gave us an opportunity to see if our still-not-official relationship had legs. well, besides the insanely early morning drinking, the day went by pretty swimmingly considering and we spent most of it parked in the shade next to the smithwick's candle booth where i bought some fifty bucks worth of soy candles and such and we then spent some time at the only bar in town where no drama ensued and we had our share of good old fashioned fun.

well, july probably represented the most spendthrift month of my life today as it got launched with a pair of sixteen hundred dollar etro runway shoes that i had identified the moment they hit the catwalks in milan. and, of course, the stood as the last pair in the united states. a part of me found myself surprised they went into production at all given their raw over-the-top quality and the fact that i'm sure barely anyone in the united states besides myself would have the chutzpah to wear them. while the july fourth holiday came and went without much fanfare, it did have me sweating over a new car since i had one in my sights that i thought would sell over the weekend. well. that weekend, my new someone and i took in "magic mike" at cobb cinebistro and besides being the only two of our kind in that theatre, i felt the horrible discomfort of witnessing quite the unflattering portrayal of my home town. although i'm still of the opinion that soderbergh can do little wrong (and he certainly did class-up the entire idea of this enterprise of stripping), tampa did not come out looking like the carefree place i know. further, the exterior of the main strip club sits just twenty five blocks north of my home in saint petersburg. so yeah. but, of course, i bought it anyway. and if the portrayal itself did not give us an ugly enough snippet of tampa, the new someone pushed to go out downtown in tampa -- thinking that it'd resemble saint petersburg both in its development and progressiveness -- but we wound up at fly bar sticking out even more uncomfortably than we did at the movie theatre! anyway, the next day, my father and i went to the car lot with the intent of purchasing the car since the manager of the car lot had come down to the price i wanted. when we walked up to the dealership, another bmw driver (with a five hundred series) found himself test driving it and i thought i might lose the car, but then he said if i really wanted it, i should have it as it was the last one and they're very hard to find. well. it was mythic and fated. so that day, i bought my first bmw one hundred series and have been unduly happy ever since. that evening, i went home and my mother cooed and i took my sister to get her paycheck in clearwater and introduced her to my new someone and introduced my new someone to my new car. of course, because things tend to happen this way in our friendships, my friend rob bought a new house that thursday and i felt myself so put out by this sudden move -- what with rob's earlier dreams of moving to new york and with its solidification of being in a completely different bracket than alex or i ostensibly -- that i went to the movies to see "to rome with love" which was sad and not the type of woody allen movie i enjoy -- the vicky cristina barcelona or match point varietals are my favorites of his modern epoch --

( and now, for the developments in maine and the decider for california; the acts of terror in london and paris; and tisci"s attempt to understand it all sartorially.Collapse )



It's not a journey. Every journey ends, but we go on. The world turns and we turn with it. Plans disappear. Dreams take over. But wherever I go, there you are. My luck, my fate, my fortune. Chanel No. 5. Inevitable.
---
well, at least, i can scratch this year's earlier trip to miami off as my worst time in miami ever: last friday, due to my zeal for international travel and my lack of due diligence before booking, i dragged my new someone and myself down to the consulate general of brazil in miami to apply for last, last, last minute visas before we jet off for rio in a month. well, the first part of our unplanned trip went as expected with the quick turn around from work on my part to feeding my new dog -- which happened, too -- and starting down united states highway seventy five down to miami. well, while i drove, the new someone didn't exhibit any signs of anxiety outside of the traffic in downtown miami but, before we got called to the counter, the transformation began. my new someone's face flushed red and ears glowed brighter than a stop light. i asked, "what's going on? are you okay? are you going to pass out?" and the new someone couldn't place a finger on just what inspired the sudden burst of worry. well, the time at the window went without incident -- although i cannot say the same for the twelve families that went before us as they got denied one after another for silly stupid reasons -- and we headed back in the car and home. well, i said i'd drive back through downtown miami toward home -- as we glassily looked toward that bridge winding toward south beach and sighing about the day we could've had on south beach -- and when we got out of the city and into an odd exurb called weston and settled into this faux-italian eatery for lunch. during this lunch, anxiety waxed to anger as my new someone tried to convince me to drive home despite my lack of sleep and during this conversation, my new someone pulled the money card -- "i've paid nearly $200 so far today" -- and i didn't argue because i felt my new someone itching for a fight and because i had intended it that way since (a) the last minute trip owed not only to my ignorance about the brazilian visa process, but because we booked a trip that we had settled on two months ago at the very last minute and (b) as a result of that last minute booking, not the decision to go there in the first place, the trip cost hundreds more than it would have so (c) i felt that we had equal parts in the endeavor so yeah but none of that played -- mainly because i only offered that i had spent twenty bucks on the return envelope -- and my new someone volunteered to drive home and that initiated our quarterly fight as i like to call it. almost to the day, we have had these relationship-ending nail-biting excruciatingly-silent fights. before i had understood their frequency and their repetitious rhythms and cadence, i attributed them to other things like the seven month itch or fading attraction that comes with the comfort of a relationship, but even after those things got ameliorated through even more fights, they kept happening. regularly. and right now, i find myself in the hurricane eye of one of those quarterly events as we haven't seen each other since the ten hour episode in the car last friday and have not spoken since the same.

as i find myself charged with recapping my life from september of last year through november, it's as good a time as any to discuss the nature of this recurrence. we had one of our falling outs right at the start of this year, but we had some of our biggest right during this time. in september, all went well relatively speaking. the month started with a great date night at cassis and ceviche that felt so perfectly right that i wish i would never have ended. the next week, i found myself in friendship and television heaven as i watched the democratic national convention through the lens of not only the major networks cameras but through the posts of my friend alex who got invited with one of the delegates from chicago. i'm not entirely sure what happened the next weekend as i have no financial or social media indicators to go off of and my only note on my makeshift calendar says "a4a" which i can only assume means the time i posed as a fake identity and lured my new someone into almost giving pictures, but i digress: the next weekend we had a similarly beautiful weekend date at ceviche but this time, after one too many vodka rocks, i pressured my new someone into sex and my new someone went home. the next weekend, i got brought into an intimate space by attending my new someone's talent show at work. i had a good time and my new someone performed in three different routines and afterward we went to late dinner with a bunch of my new someone's coworkers and that felt good especially since i spoke relatively good spanish with a domenican girl in preparation for barcelona. the next weekend, we went to orlando for halloween horror nights at universal. the first night, we stayed in a hotel near universal studios and after the horror of all of those haunted houses (and the drinks that accompanied them), we had a late dinner at friendly's where i passed out again. back at the hotel, i sort of carbbed out and had a minor breakdown although i have never felt stronger feelings for my new someone than in that moment of crisis. the next night, we went to hue downtown and stayed at the sheraton hotel downtown (which has become a favorite of ours) and had a great lowkey night although we didn't make it to pulse because i got tired (ironically, we have planned to go to pulse both times we've stayed at that hotel, but have never made it). the month of october started with my new someone dashing my hopes for a joint barcelona adventure by buying an expensive all-leather living room set of furniture. yeah. the rest of the month got spent mostly going to thriller practices -- as we participated in a multi-city flash mob looking to beat the world record. toward the end of that month, we started with halloween activities, spending the saturday of the twenty seventh doing the flash mob that morning -- informed by bloody marys at chacha coconuts which has closed along with the pier -- and then jetting over to the embassy suites in tampa to get ready for the all hallow's ball that night. well, we had a dramatic night there as i saw my old high school friend and crowd there but mostly i stuck with my new someone until an unfortunate moment where my new someone made out with this porcine something or other dressed in a kilt who my new someone knew through the internet. yeah. i started to walk out then and there after asking "is this what you want" and we went back to the hotel and drank more and made up more and then went back to the party which had started to die down and we got pictures and had vampire sex in the hotel. after we got back home, we reunited for halloween and went to my new someone's bar -- chick-a-boom room/blur -- and had fun at their halloween party though i remember almost none of that. that weekend went by without incident and we fast-forwarded to the heart concert held at the rib fest where i got bamboozled into volunteering for free ribs and food and to hang out with my new someone and coworkers again. the next weekend, things fell apart. we did another flash mob of thriller for some festival in vinoy park and then headed down to an art in the streets event. during that event, my new someone grabbed my back belt buckle which made me dash the hand away in embarrasment and we had a fight about that. my discomfort with public displays of anything outside of the bar/nightclub/etc environment and yeah. we had sushi at rollbotto and then had another fight about dust on my vases at home which resulted in my new someone not spending the night. although we made up the next day, we had another fight over thanksgiving. early that morning, i went over and we volunteered for the turkey trot in clearwater. i barely endured the severe winter cold and lack of sleep and then went to thanksgiving dinner with my family where discussion surrounding israeli defense policy oddly enough and then i went back over that night so that we could attend black friday shopping together. we did that -- and i made out like a bandit at banana republic -- and i thought everything good until the morning where we were preparing breakfast and i made a comment about a plastic tupperware dish being dirty which sent my new somoene into a frenzy given our earlier fight about the vase just the week before. i left. that saturday, my siater and i did mandarin hide and then cassis for dinner and caught up. i also got to see the movie "weekend" which changed my life (unlike "skyfall which was mostly just meh, but in a good way).

anyway, back to present. although i try to post more frequently despite myself, a lot has happened in the month since i posted. for starters, obviously, we booked the trip to brazil. further, i got a puppy pug two weekend ago. my sister moved into a new apartment and i'm pretty sure i'm going to have to get a new phone. i saw "man of steel" which could not hold a flame to x-men or star trek. on the night we booked, i treated my new someone to the ceviche in clearwater for a night of jazz and good food on our last night of freedom without my ownership of a dog. the week before hand, we had a relatively quiet weekend with brunch at the oxford exchange, an impromptu public blow job in a beef o brady's parking lot (yeah, out of the blue), and shopping at citrus mall where i bought a madras blazer that got play on that night's episode of mad men. also, we had a quickie hurricane pass through. the week before that, we drove up to orlando to trade out my david yurman bangle that had broken with a new one.

on a nearly unrelated note, months ago when i first sat down to review these months, i found myself moderately obsessed with old marilyn monroe movies and interested in the notion of the "seven year itch" which i believe for my class of folk happens at seven months. the film itself proved most unentertaining -- not nearly as much fun as "how to marry a millionaire" or "gentlemen prefer blondes" or even intellectually stimulating like "some like it hot" or "all about eve" -- but somehow the term stuck and people use it today even if they've never seen the film. similarly, recently i found myself obsessed again with mad men -- which used to reign as my favorite but now lulls behind downton abbey for drama -- because they have introduced a character named bob benson who fills the narrative purpose of sal romano but dovetails more tidily with the plot line of don draper. his quotation from the episode favors resonates in a way that's boldly modern, but nostalgic in that it doesn't find itself wrapped in the excess of sex that would come in the seventies and eighties.

Daily Couple's Horoscope for Wednesday, June 19

The writing's on the wall. You and your sweetheart can't ignore this matter any longer. It's not going to go away on its own, and the longer it lingers, the more of a problem it becomes. Address this now.

( first, the marriage victories in denmark, new zealand, uruguay....and the enduring cultural impact of the seven year itch.Collapse )



"Couldn't it be that if someone took care of you, very good care of you, if this person would do anything for you, if your well-being was his only thought, is it impossible that you might begin to feel something for him? When it's true love, it doesn't matter who it is?" -- Bob Benson, Mad Men, Season Six, Episode Eleven, "Favors."
---
i have always said that truly good art inspires even more art and upon my second viewing of the new star trek film, i cannot reiterate that fact more. while i planned for this entry to cover the months of december, january, and february in my life, i must start it with the how that film not only hit all the bases i look for in my favorite franchises -- like james bond, i expect it use the tropes of the series to comment on aspects of contemporary life -- but it raised an interesting questions about the use of force and the control of that use. sure, the commentaries about extra-judicial killing, terrorism, genetic engineering, and all that got covered, but it touched on that universal theme of making decisions about love in the context of the larger arc of one's life and one's purpose. as i find myself wrestling with the same questions myself, as i prepare, perhaps, to decamp to some far off place in pursuit of a thing in my mind, i find myself interested in the alluring darkness of the easy choice. while i seek thematics in my next post about the black and white of a thing, while covering september, october, and november of last year, i find fashion once again instructive about the way something so cunningly simple -- like the simplicity and minimalism of black and white -- can find itself the subject of perversion -- as evidenced by punk. last season, the fashion world obsessed about the black and white and the rest of the world seemed to follow, but before those clothes even hit the shelves -- and us fashion followers even had a chance to convert our personal aesthetics to fall in line with this new moment (my lastest binge on david yurman spiritual bead bracelets, john hardy braided leather pieces, and dolce and gabbana black and white espadrilles to steer my wardrobe into a pure black and white moment) -- fashion saw fit -- their leaders, rather -- to give that old-fashioned nineties' minimalism a post-millenial edge. my films have done this: james bond gave the moneypenny character an edgy reboot with "28 days later" alum noeme harris and star trek revisited ( a spoiler alertCollapse ) to give its audience the same story with more edge. well, as i type, the world finds itself in a dark place, with yet another super storm snatching up lives in oklahoma and with my david yurman cuff bracelet bought last year ripped in two. while one remains ultimately selfish and superficial, and the other profound and inescapable, they both capture the fragility of the concept of happiness and the delicacy of the life we all hold dear. i, too, have felt intimately that duo of fragility and delicacy in my emotional and physiological life in the months i wish to chronicle. by december, my new someone and i had fallen into a relationship pattern best summed up by "break ups to make ups" (a cute rhythm and blues song refashioned into rap song in the nineties). while i knew and know that these fights had more to do with fear of a good thing, they did not remove the sting of the swipes nor the suffocation of the silence. while the month opened with my mother and i bonding while picking out graduation dresses for my sister (and my mother buying me a pair of john varvatos camel boots as an early christmas present), it quickly descended into darkness: that sunday, i watched the entire dtla series and had to go to work. the next friday, the weekend started beautifully. i treated my new someone to a dinner out at a restaurant the new someone has poked me about for some time called "the living room" in downtown dunedin and on saturday we did basically nothing but each other. that sunday started innocently enough with us venturing over to tampa's burlington coat factory (so my new someone could buy a coat for the barcelona winter), followed by estela's, and eventually settling at cityside where we had a few drinks while one of the bar flies pushed us on the definition of our relationship. it ended with no answer and we started home on kennedy and my new someone thought it funny to keep the window rolled down and act ghetto. this, of course, pierced to the deepest of my image issues and we had words and drove home in silence. when we got home, things felt chilly but they resolved as things tend to but the next morning, when i went to work, i made the mistake of leaving a dirty dish in the sink because i did not want to wake my new someone at that hour by cleaning it. well, that served as a the perfect storm of a mistake and apparently triggered the issues from the night before and we broke up that tuesday. well, while the details escape me, i pulled out the big guns of our relationship -- the website visits, the birthday trip to miami without me, and every other thing -- in order to even orchestrate a face-to-face meeting and, of course, as these things tend to happen with us, we just didn't talk about it. and my new someone booked the flight to barcelona. that weekend, i went to tallahassee to watch my sister graduate -- and celebrate with her at "the moon" where the ghetto exploits may expire me forever -- and we found ourselves in the deep event horizon of the most major trip of my life.

the next few days fast forwarded to the airport and we found ourselves seated right next to my friends on the flight over -- while my friends alex got delayed -- while i could bore with those initial moments of waiting in barcelona before we could settle into our hotel -- we did las ramblas and shopping and endless wandering horribly jetlagged -- the trip really started that night when we found a cute restaurant near our hotel in the eixample. i had warned my friends that we might need time apart -- or my new someone might need time apart -- as we had the habit of hibernating together -- and apart -- as evidenced by our breakup to makeup. that night, we played our hand at the bars in our neighborhood and did not enjoy punto -- except for the random dsquared sweatshirt -- and then enjoyed plata bar which stood empty at midnight because the bar tenders said it didn't get hopping until two in the morning. the next day, we ran errands to prepare for the new year's eve party and after shopping some more, we got a glimpse of barcelona's w hotel and squealed with future delights. that night, we headed down after sparse meals and hung out downstairs at the w in our too exquisite outfits -- and my last minute purchases, tiger print gucci loafers (in spite of fai bingbing creating a sensation for them worldwide and the post-christmas sale on pre-fall and the big push gucci had on its classic horsebit loafer) -- and after a few drinks downstairs, we headed up and the bar stood so fabulous that to describe it would not do it justice. needless to say, we found ourselves lit as if knee deep in spirits although we had barely a drop to drink. the night progressed quickly with bottle after bottle of champagne and a swift consumption of vodka. well, it felt good -- despite the perfect beats cultivated by dj uner and the fireworks exploding all around -- to have someone to love at the strike of midnight. this ended in my out-in-out drunkenness and obvious flirtation and we made it home early i think (after a weird exchange in the cab line). the next day, my new someone and i had the day apart from the group that i had expected my new someone to insist upon earlier. yeah. we got lost in the design district and had dinner at a corner cafe and too much wine and cuddled against the cold in a parade of scarves and affection that i'll never forget. the next day, we did the sightseeing thing all day and after several museums and monuments, we returned for a quick turn around for dinner at an ethiopian place in an hipper neighborhood. that's where my life changed for the third time in one year. after a wonderful meal and great glasses of wine, i had a seizure that resulted in the loss of my bowels. in new sevens, new varvatos boots, and a new camaraderie among my new someone and some of my oldest friends in life. rob, of course, recognized the symptoms first as he had in chicago the year before and my new someone snapped into nurse mode and got me clean and out of there. through tears and fears, we made it back to the hotel and i went into the blackest places i've been in years. i cried all night thinking that i should call my parents because i might die. the same narrative i had stumbled upon when i had alcohol poisoning/drug overdose in college. this time, i didn't turn to my friend, i turned to my new someone. i spent that thursday hiding as my friends ventured to montserrat and i begged off for obvious reasons. on the last day of the trip, i tried to managed the strength of will to face my friends and their obvious concerns, but i chickened out at the last minute. unlike my other episodes that year (which will get covered in the next two posts), i wasn't inebrieated, i wasn't mal-nourished, and i wasn't sleep-deprived. the last night in barcelona, my new someone insisted we, at least, attempt one last dinner and we did and, in due course, my new someone got severe food poisoning....the night before an early morning flight to the states. so here we were: me almost fainting in the terminal and my new someone running back and forth to the bathroom on our way back to america.

january started in an ugly way with our flight landing late, our luggage lost, and an interminable trip home. january filled itself with writing workshops, aborted trips to the inauguration, and endless doctor's appointments. i exhausted my flexible spending in one month with no answers and found myself afraid to even have a glass of wine. a few weeks past without answers or incident, engaging in good clean fun like busch gardens and other things of that nature. february circulated around my birthday and what i would plan given my lack of confidence about my health condition: so instead of a quick jaunt to new york or miami or new orleans, i opted for a road trip to savannah. while i know this seems impossible (and apparently a common thing), my new someone and i had had the most furious rabbit sex ever in the andaz savannah. i mean, in the bathtub, the pool, and oh, that bed. and we had such a good tame time while i tested the limits of my drinking. greeted with a glass of wine at the door, i knew savannah fashioned itself a drinking town. we did marc jacobs and banana and a long wet lunch at the public. we went out that night -- i had a couple of preparatory drinks at the immaculate bar downstairs -- and then we headed over for a drag show where lady chablis performed. we ended the night with pizza and more sex. the next day, we did sightseeing (and brunch at goose feathers), pool frolicking, and lunch at "rocks on the roof" while dodging rain drops and souvenir shopping. that night, we did the same bar again (after more preparatory drinks) and then descended to this dive bar -- literally, under the ground -- and i got sloppy drunk and had the best moe's i've had in ages. that sunday, we had brunch before hitting the road for another five hour trek home. we stopped at the gucci outlet in north florida for no reason. i could not have asked for a better birthday.

The Sun Enters Pisces!

While your dreams and goals may begin to take shape this week, forward progress is halted for the time being. Indeed, the road ahead is no longer clear as the Sun enters Pisces on February 18 before conjuncting Neptune on February 20. However, you stand a good chance of finding success if you can regroup once Saturn turns retrograde on February 18 and Mercury turns retrograde on February 23.

( now the domino effect in the eleven, twelve, and thirteen.Collapse )


---
it strikes me as an irony that in the months -- the year, really -- since i last posted something to this journal, i have written more than i have ever in my writerly past. i wrote the beginnings -- the underpinnings, really -- of a novel and have had my poetry published. in mere hours, i'll find myself celebrating the milestone of yet another phase of life and perhaps an entree into a new one. as i type, i find myself wondering what's going on in the life of my new someone not in that detached and stalking way that i had with my exsomeone during the darkest times, but in the way that lovers do when they must spend time apart due to work life or friends in town or any of those things, but we won't go there now. i find myself at a newly satisfied point in life. things, again, are good. i have a renewed focus on the things i need to get to that dream space that i've so longed for since i first began to have a voice. and unlike times past, i actually feel like i have a shot at obtaining them this round. and as evidence of that thing. as if the world needed to stamp it's approval on that thing and make it real in someway outside of myself, today marriage equality became legal in france. in a culture that espouses the most liberal brand of politics on the one hand -- handing their presidency to an avowed socialist -- but comports itself with the most conservative brand of cultural protectionism, this, indeed, marks a monumental and groundbreaking change. not just in terms of the industrialized and western world, but in the grand scheme of human history. further, it evidences their fluid attitude toward sex in general. this weekend, i have had the privilege of watching two french films and re-watching one american film with arguably french sensibilities; first, i saw "little white lies" which immediately catapulted into my favorites, then i saw "intouchables" which did not resonate with me as much but felt important in that it represented the largest grossing film in france and won all manner of awards and finds itself the subject of an american remake and finally, i saw "shame." i won't bore my readers with a re-evaluation of shame except to say how beautiful of a film it remains despite my complete inability to find it on dvd anywhere -- i had to get an import and thank myself that i had a region free dvd player. but i cannot say enough about the film "little white lies" which i wanted to see when it hit the few indie theatres i know of, but i had to wait not only for its french release onto dvd but its american version with subtitles and boy did it find itself worth the wait. it delved into the trickiness that the french play with so well in the fluidity of sexuality. it's a subject so taboo that even gay men and women find themselves uncomfortable discussing it because of its policy and social implications. needless to say, the worst nightmare of every so-called social conservative lies in the fact that the gay community has the ability, as harvey milk puts it, to recruit. this movie puts that issue front and center and in much the same way that downton abbey chose to close their last season with this issue, it deals with the universal issue of unrequited love. and how to deal with that unrequited love in the modern world. can one maintain a friendship? and does all that matter anyway? well, as i've sought to break down these questions in this journal, i've decided to break my year up into quarters as to not completely wear out my fingers -- or your patience -- in reading a year's worth of wonderings when i haven't even had the compunction to write them down. at least not here. and it feels to me that the tone of this thing is about the moment of indecision i find myself right now and for the past three months. i have had the privilege to sit in on a african american literature survey and it has changed my life. i believe now, at my age, i am finally able to absorb literature in the way that some could at age eighteen. i don't delude myself. i can't digest a morrison tome on my own. i cannot unpack a louise gluck sonnet at first read. but i yearn for the deepness they promise. i ache for the understanding that dangles in between my fingers. but where to further that understanding becomes the question. even as i write, i find myself wondering can i deepen that thing while working or while here or must i decamp to that dream of new york in order to make that thing real and palpable. and do i have to anchor myself with fifty thousand dollars worth of debt to do so? is it worth it? and do i have to leave behind those i love? my sister -- under the false pretense of cleaning -- and i had a long conversation in my apartment today about things which should have gotten washed away with the sands a decade ago but feel fresh as if the slap still stung our cheeks. and as those circuitous conversations tend to go, it waded into our relationships not only with our parents and ourselves but those significant others -- imperfect as they are -- and whether to protect that life we've fought for with them. meanwhile, i hear the foamy crush of ocean spray calling me from southampton and the uneven car horn and siren push at me from new york and brooklyn. i hear that uneasy whisper of a country village calling me from upstate new york and the polished city streets calling me from boston. no, i hear the voice of my friend calling me to chicago or of another dear friend calling me back to ohio where it all began. but i don't know. something else wants me to stay here or venture not too far to a place called south beach or a year or two in orlando or even a few months in gainsville or tallahassee. i don't know if i can. and it's ironic because my sister has only returned to my life in the past three weeks. cleaning my apartment twice this week. drinks at tryst at the early part of this week. and shopping and drinks the week before that. but before that, we communicated by proxy through my parents with whom i have not communicated. besides that, i got a gigantic tax refund which i have rifled through despite longings for brazil and other windfalls of the sort i have come to love. in april, my main events circled around an ill-advised trip to miami -- where i did nothing of consequence but have an emotional rendezvous with this new york english major (now attorney) who fashioned me a pride pity fuck and made my heart flutter on the dance floor with ohio milk-white skin, red skin-tight jeans, and possibility -- but it turned out the worst birthday for my favorite ex-coworker as all of her gbfs out-and-out dissed her on her very birthday and did little else during the rest of the time they were there. i must say, that while the trip remained a bust, i did glean images of debauchery that i must use including these self-same gbfs consuming bolivian marching powder off her her nipples. the week after that, my new someone and i had one of those grossly sumptuous weekends where we spirited away to orlando to watch a broadway show -- priscilla, queen of the desert -- and rolled around in hotel sheets and got room service and just spent that glorious time together that i love so much about us. after that, i bought a david yurman spiritual bead bracelet that i now think i want a bigger one made of river stone instead of the black onyx i bought. besides that, april really went over without incident as did march since my health scares from the start of the year cast a dark shadow over most weekends, but more on that when i recap december through february in the next post.

Here is your Daily Couple's Horoscope for Sunday, May 19

The best part of being in a relationship is making it up as you go along. You could plan everything out, but then you'd miss all the spontaneous fun! Go on and have an unplanned adventure with your sweetie today.

( also, a french toast after the netherlands, belgium, spain, canada, south africa, norway, sweden, portugal, iceland, argentina, denmark, uruguay, and new zealand.Collapse )




Bridal Piece by Louise Gluck

Our honeymoon
He planted us by
Water. It was March. The moon
Lurched like searchlights, like
His murmurings across my brain—
He had to have his way. As down
The beach the wet wind
Snored…I want
My innocence. I see
My family frozen in the doorway
Now, unchanged, unchanged. Their rice congeals
Around his car. He locked our bedroll
In the trunk for laughs, later, at the deep
End. Rockaway. He reaches for me in his sleep.
---
Here is your Daily Single's Horoscope for Monday, May 14

It's undeniable -- you have the hots for this person and vice versa. But when you both clam up, a lot of nothing is going on. Pick up the phone and ask them on a date. Don't worry: failure's simply not an option right now.

i write from a strange place of happiness: only three weeks ago, i found myself in the grips of horror thinking that my still green relationship with, well, my new someone -- for the first time, even as i write this, i realized that i hadn't come up with a pithy nickname or epithet or even code name which strikes me as groundbreaking even as i write -- found itself horribly on the rocks: one might never think it as i bounced around the bustling isle of miami beach, but only twenty four hours before, i stood in my new someone's living room vamping and making excuses about why there existed blood on the sex rag we had just used. i knew exactly why. i told my new someone exactly why. however, my new someone didn't quite grasp the gravity with which i spoke because i do have a tendency to make light of the unpleasant if not to completely avoid it. and i had already thought we found ourselves in a tricky position. it had reached that early plateau where communication waned and the dates trailed off and even that night had the air of a hook up and though i said it hurt and said that we probably shouldn't, we did, and after the heartache was over -- yes, paging tina turner -- i went to the guest bathroom to clean myself and my new someone went to the master bath to do the same. when we met back up in the living room, i stood getting dressed for work and my new someone stood with the sex rag in hand demanding an explanation. no doubt i played sexual roles in this relationship that i haven't since the stock broker and as i've aged, i've heard the horrific tales of what could happen from the ongoing medical sagas of my best friend. so, of course, i thought the worst, and my stomach sank. and i reached out with affection even as my new someone retreated deep into silence and eyes so cold that i felt for sure that what had gone along so swimmingly had come to an end.

and then, i went to miami. because i felt that my trip schedule had started to slack since argentina and i believe in all things reciprocation and since my old favorite coworker treated me to such a wonderful south beach birthday last year, i thought it would be fun and since she had just broken up with her near-fiance just days before, i felt it the least i could do. and flush with a bit of cash, i bought a plane ticket on the friday for the saturday and made quickie reservations at hakkasan and got ourselves onto the list -- like it mattered -- for liv. we spent the morning shopping -- although i had not slept at all the night before -- and then i napped while she tried to make the night as favor-able as possible and when i awoke, i ran to club monaco for clothes and then ran back to get ready for hakkasan. it lived up to all of its overhyped london roots and i found myself drunk -- and three hundred dollars poorer -- and meeting her friends in the lobby for smuggled in liquor in the fountainbleau bar. of course, when we got to the line, it became a hassle and i had to pay eighty bucks, but, you know, it's liv. and after two of her friends left (crying about costs), we proceeded to make a night of it although i remember absolutely nothing except the glowing staircase and a seventy dollar bar tab. according to my old favorite coworker, i literally paid some poor youngster ten dollars to make out with me in the lobby in front of liv. and it being miami, of course, this poor youngster did. the next day, reeling from the amount of money hemmoraging from my bank account, i began to make excuses about doing cheaper things and although we still managed to drop over sixty bucks at brunch where neither of us so much as gestured at a full meal (after all, full blown pride celebrations ensued on the streets), we went home and had a good quiet night -- why can't i have more of these please lord?! -- with watching american reunion -- talk about feeling old! i did not know it's been as long as it has and kudos on the marriage equality plug even there -- and cold stone creamery at one in the morning -- i love miami! -- the next day, i engorged myself with whole foods -- she lives basically across the street -- and then wrote a quick short story for my workshop that wednesday. that night, we went out for thai food where we overheard some of the craziest superficial ravings of the typical south beach queen -- and went to bed. the next day, i vegged out getting ready for my flight and got back home not-so-late but fully stressed because my car had fuel injection issues that still have not gotten resolved three weeks later. in the mean time, i have been on a spending spree with the purchase of a britto original for my living room -- that wound up going into my bedroom -- and a david yurman cable classics bracelet -- you know, i always thought everyone got the 7mm when they turned thirty, but now i think they get the 10mm! -- and this week i got an ikat upholstered chair that i saw on vogue.com and had lusted forever at urban outfitters and a jack spade "le dirtbag" bag for my continued studies in creative writing. i'm done with big ticket purchases except for a john hardy bracelet to complement my david yurman (and to replace the one i lost all those years ago), the jonathan adler rhino box (which i think is so perfectly political), then smaller things like, the "keep calm and carry on" tray from z galerie, the striped favorite throw from west elm, and my citizens of humanity jeans i need to jump start my green look.

but onto more substantial things, once i got back from miami, my new someone and i had a period of near radio silence. we had these cryptic conversations where the new someone would say things like "i'm just in a bad mood" and completely shut me out and i thought i found myself in a re-play of those exsomeone days where i'd go crazy not because i thought i did anything wrong but because i had no clue how to break through the silence. my new someone stated it had to do with workplace drama -- and seeing as i had a boatload of my own which had taken me to the point of starting to search for opportunities outside the company even as i got a nearly ten percent pay hike -- but i found myself ill-equipped to do anything but say "that sucks." almost two weeks passed without me seeing the new someone. but then, just like that, the clouds cleared, and we began making a habit of watching glee on tuesdays, and going out to eat again, and, in one of the best dates of my life, we went to see rocky horror picture show put on by the local theatre company, american stage, and though the weather didn't hold up, the pinot grigio in my system matched with the romance of the entire evening -- how many years have i gone to those things with the taste of salty envy in my mouth as i watched perfect couples embrace over the flush of a live performance -- and in the best moment, during intermission, the rain began to fall and we pulled the blanket over ourselves to keep ourselves from the deluge and we made out like high school kids -- no, high school kids from the fifties -- and when the rain stopped, we got dirty looks from old ladies and awkward stares from teenage boys. and that's when my memory started going splotchy. i remember my favorite morning personalities from play 98.7 coming on stage for an announcement about pride, and i remember singing along with the songs that i had heard a million times on late night movie channel viewings and i remember walking back to my apartment by cassis and the diners on the patio of bella brava and past the thick music oozing out of tryst. and while i'm sure i made it home, the crazy sexual escapades i got told of later solidified just how drunk i must've been. i just felt good that not only did my apartment find itself clean enough to meet my new someone's approval -- on the twenty fourth of march, my new someone came over after the grand prix and my very romantic evening plans devolved into a cleaning session of my bathroom and kitchen -- but it's the first time i've ever had someone spend the night who i've been emotionally and sexually involved with. at least, on purpose.

and it's gotten even better since that night, i went to the doctor and got a prescription for better health and just tuesday night we had the best sex we have ever had. and we made plans for kathy griffin in june. and anyone who reads this knows how i love making future plans. what else? ever since rocky horror, and the popularity of "think like a man" and the way that the title track of that film has continuously played in my house, i've noticed an odd occurrence of unsubtle androgyny. not even. out-and-out gender bending. while it's been something that's intrigued me for years at chanel, it became most pronounced with marc jacobs' new tendency to wear dresses in a non-drag, non-effete way, but it's become so pronounced with kanye coming out of the closet with celine womenswear and then a campaign for the little black jacket by chanel, the latest handbag range receiving the coy name "boy chanel," the appearance of a young boy on the fall runway, brad pitt getting enlisted as the new face of chanel no. five (which, if they release a mens blend, i am going to buy it), and the re-appearance of full-grown men at the resort show and i don't know where i'm going with that but needless to say that as all these things get jumbled up, it's starting to really problematize the idea of the 'suitable' roles for men and women and how those could ever fit into the traditional marriage construct which makes the president's sudden evolution so ill-timed. the world has begun to change and young people see it everyday: we live in a world where women have started to break through the glass ceiling and where one of the most watched reality shows is a drag race. while it's not his duty to speak to this change, the president could make a plea for people to live and let live. for people to stop worrying about other people. that's a message that would resonate with lots of people including some key swing constituencies on the issue. could he not have come out before the north carolina vote and perhaps rallied his base in a swing state before the election? i mean, i know i said it after the election, but i just don't think that his campaign knows how to lay roots. one has to engage the local and state parties, not just dispatch them. even if you spend a bunch of money and lose, they'll remember it. that's why the announcement felt so pat. it's like he just capitulated at the end instead of having an actual evolution. and in an atmosphere where african-americans have proven they can show up -- if even for a box office oddity -- what better show of leadership than to get african-americans to show up at the ballot box in an off election. while the african-american community has its own evolutions to live with, it's clear attitudes have changed if some black men feel comfortable enough to wear heels in atlanta, kanye feels comfortable sporting givenchy skirts on stage, and lil wayne feels comfortable kissing birdman on the mouth and wearing pants made for teenage girls on stage! and it's not like this test is the last one this year: it's potentially on the ballot in maine, maryland, washington, and minnesota. all swing, all critical for their own reasons. that constabulary needs to get built NOW not later. evolution happens one person at a time (maine would be the first time a ballot initiative would get un-done, maryland would show that the african-american vote does not rule out a victory, washington would stand as a rebuke to social conservatives in liberal-leaning states, and minnesota would help root out some of the odd social conservatism taking over formerly liberal bastions like wisconsin). and real evolutions aren't pre-packaged speeches. an actual evolution is my sister turning me around before we head out for cinco de mayo because i don't look like myself in baggy clothes anymore. an actual evolution is coworkers feeling uncomfortable making homophobic jokes in the workplace. actual evolution is clay aiken on "celebrity apprentice" alongside everyone else like it's no big deal. really, it is. it's not being backed into a corner by a vice presidential remark in some throwaway sunday morning interview.

but what else has happened since march second? well, there exist two characters in the new someone's off stage interactions: the doggy daddy with whom the new someone shares custody of a dog they had together and a best friend who i am not even going to try to compete with for time since they take ballroom dance together and go out together quite frequently and i want to reserve that option to take advantage of -- like i did on cinco de mayo eve (that fell on first friday) that i spent with nicole at an art opening at studio 620 for one of my classmates in the workshop and then at macdinton's -- not in tampa, mind you -- but four blocks from my house! talk about a mind fuck and it's next door to some fancy new restaurant called "the kitchen" so yeah definitely have to go there soon -- and then nicole and i went to cafe alma which hadn't switched over so we sat at midtown catching up and i went home quite drunk but with no temptation at all to jump on line or to text anyone -- but in a move in the right direction, after a friday night date night in with my new someone that march ninth, and then we went out for st. patrick's day a week later with a parade i didn't even know occurred in ybor city and drunken diner food after and apparently no fucking, but plenty of cute pictures although the one of us two i'm not allowed to have for fear i might post it on facebook. the trials of our age. somehow, in the mean time, i saw "friends with kids" which is the intellectual equivalent -- though stylistic superior -- of "friends with benefits" so i'll probably buy it. for jon hamm alone. and that's when my computer broke and i learned just how much cleaning i could get done without the distraction of limitless internet porn, tumblr, and justjared.com. and then, on the weekend of the twenty third, the new someone came to my apartment ostensibly to go out to eat and stuff after the grand prix but wound up doing nothing but naked cleaning -- and that's not code for anything -- before we went back to my new someone's place. and yeah. awkard. issues laden. craziness. i mean, my most fundamental issues with my father have to do with him cleaning my room without me having access to it and in a surreal recreation of a scene my new someone could know nothing about, i emerge from a post-coital shower to find my new someone butt naked on hands and knees in the kitchen scrubbing stains out of my tile. in another state of mind, i might have stood back and masturbated to that scene since that's about the breadth of my pornagraphy dirtiness. normal people doing normal things just naked. like buying tents or getting a tire changed. neither of which are code for anything! and the next week, my new someone and i started to have our communications unravel when we had planned on a cute house shopping date -- seriously, in my top ten after witnessing alex and his fiance in crate and barrel last october -- but i got no calls, no texts and so i went to crate and barrel and ikea all by my lonesome and physically exerted the shit out of myself trying to get two massively heavy bookcases upstairs then assembled and then styled with my books and dvds and new crate and barrel vases and my cute argentinian tchotchkes. but even as i found myself burning in anger -- everyone knows that spoiled plans in doing what i want to do remains one of the easiest ways to make me mad -- i still went over there and spent the night. as april rolled around, my condo development changed hands once again so i previewed an apartment at fusion 1560 which costs as much as my place but finds itself immensely more fabulous -- seriously, the pool alone not to mention the floorplans -- just in a much more sketchy neighborhood. we'll see. we, then, had one more friday night in (with me leaving for work a few hours later), and that brings us to the night of the accursed rag. seeing as we met on leap day, we're approaching the three month mark and i think it's going good although i spent the night last night and we humped like gerbils twice today -- and we had brunchy sunday morning with a day spent doing mundane shopping (a going out of business dollar store, a going out of business blockbuster store, and flower shopping at lowes). we spent about twenty hours together and it felt good. so we'll see, i don't want to jinx it.

Here is your Daily Couple's Horoscope for Tuesday, May 15

Supporting your mate in a time of conflict is crucial, but being there for your friends is just as dire. Don't leave your chums out in the cold when all they want is to hear some of your sage advice.

The Sun Enters Gemini!

This week continues the theme of remaining light on your feet as you also maintain flexible thinking. It's time to review your relationships as love planet Venus turns retrograde on May 15. Then, Mars trines Pluto on May 16, when some of your plans will finally fall into place. But with Jupiter and Saturn forming a quincunx aspect on May 16, you won't want to get too far ahead of yourself; rather, conserve your energy and resources! Rounding out this compelling week, a solar eclipse on the Sun's first day in Gemini -- May 20 -- brings plenty of drama!

( which is why i"m going to "act like a woman but think like a man."Collapse )


---
it's often said that it's difficult to write happiness. it takes a little pain, a little conflict, a little fear to compel great writing. well, i'm auditing an american novel course and one thing i've noticed comes in the fact that it really takes very little of those things. mostly, writing involves living. and over the past month, i have learned a lot about living. over the past week, i've done more living than i've done in the past three months. where should i even begin? well, my birthday this year officially puts me at the same age as the exsomeone when we started dating eight years ago. funny, it's the pain from the dissolution of that relationship and the subsequent dalliances that gave me the impetus to start this very journal. of course, my brand of sharing everything in life has gone from niche curiosity to commonplace social networking, but just like a physical journal, it's sometimes good to go back and recount the things that wrought the present. well, i won't have any of that because if i don't talk about the last week, the last month, i might just burst over. first, i have met someone. i have met someone so good, so comfortable, so easy that i'm scared to death i might ruin it somehow. it's someone i reached out to last fall during my busy time online and while the website remains quite shifty, i spent quite some time offline and doing things like attending weddings, new year's celebrations, and hoping for a connection with the dalliance i had in ohio. well. i had started back online because my birthday tends to incent that. well, traveling tends to incent that. seriously, what will i have to talk about? so this gentle soul reached out to me on plenty of fish and after some initial sentiments, i asked this new flame about the past couple of months to which the new flame returned, "dating a bunch of losers," and i responded, "so when are you going to date me?" and this new flame wrote, "whenever you're interested." so the next tuesday (a dramatic day at the office and the day before i left on my trip), we had a long conversation and it just came so easily. without any effort, pretense. we spoke for about an hour although i should've been at my desk, working. anyway, over the course of my trip, we kept in touch with e-mails and photos and everything else and when i got back on wednesday night, we spoke again and although we had plans for the next night since i thought i'd wrestle jet lag for most of the next day, but since the new flame got off early from work and i didn't have that much to do, i guzzled a diet mountain new and made my way over to the new flame's house: now, i know what you're thinking: this is another hookup. however, i made it clear that we would not work according to that agenda, but, after so much anticipation, we were both literally naked after just thirty minutes. well, after we finished up and showered up, we went out to dinner at a new bj's brewhouse up the street from the new flame's house. and although i had no intention of making this a birthday event, some of the trainers picked up on the fact that we were the type of diners that enjoyed ourselves and it came up that my birthday just passed so we had a pizzookie (a cookie run through the pizza oven) and i engorged myself. back at the flame's house, we spent the rest of the evening watching america's next top model and rupaul's drag race until i fell asleep in my new flame's arms. well, a few minutes later i woke up crying. who knows? then, we moved to the bedroom and i spent the night, but apparently i woke up twice with horrible nightmares. obviously, this raised the freak flag. but not enough to prevent a morning interlude and kisses goodbye complicated by early morning school buses and my new flame wrapped in nothing but a blanket. so yeah. we exchanged text messages but that's the last we talked. and the experience has evoked so much from the stockbroker to my very very first and physically, the flame's features remind me of the ethnic varietals featured in the exsomeone and the musculature from a hair stylist i messed around with in college who my friends gave the nickname "creepy." all in all, i don't know what's going to happen and i don't want to rush things, but it just feels so good. thankfully, my sister comes into town this weekend to provide distraction.

speaking of distraction, i must say that i had one of the best travel experiences of my life last week with my trip to buenos aires. now, i did not plan much more than drinking, sunning, and a bit of touring while there, but the trip exceeded my wildest expectations: first, one of the hallmarks of a great trip for me, besides having a raucous time, comes in whether the trip somehow resonates with everything going on in the world at present. well, besides the horrific train crash buenos aires just experienced and the heightening stand off between great britain and argentina over the falklands, i managed to meet a great group of guys who stood in the middle of one of the richest pay dirt of domestic politics: namely, the marriage equality issue. on thursday, i arrived really early had three bloody marys for breakfast and then laid out by the pool all day. i, then, took a nap and headed off to a place called la cava for dinner -- after my plans for a bar crawl fell through due to lack of participation -- and i had this fantastic salmon dish and so much red wine that i felt like one of those classic portraits of the greek demigod bacchus where they show him sick on wine. so the next day, i had a preternatural hangover and surrendered my day to wandering the streets of puerto madero -- easily the most polished neighborhood of the city -- having a long wet lunch and a waxing rhapsodic in the fortabat museum. that afternoon, i returned to the hotel to witness a nude photo shoot take place by the pool. since this resulted in a mobbed poolside with not even one seat available, i went upstairs to the rooftop pool and watched the photo shoot finish up in the spa near it. there, i met a german named martin who lived very close to the axel hotel in berlin which put that on the map although i questioned just his proclivities because of the way his bug like eyes bulged out of his head when he talked about certain topics like bath houses. that night, i spruced up and went down to the formal dinner in the restaurant with a tango performance and a spanish cantatador and after three cocktails called amanda -- reminded me of "adam's rib" -- i headed off for sitges where i immediately met up with an angeleno who, though in a committed long term relationship, had to leave the plus-one behind because of an undocumented immigration status. political issue number one. so at sitges, i ran into these well-to-dos from the hotel who came down from seattle. they were all members of interracial couples and all worked for heavyweights from silicon valley -- microsoft and apple -- and though i stopped remembering, we de-camped to amerika and i either got ruffied or just did my typical disappearing act or met someone because all i remember is getting up the next morning in a lethargy with a phone number on the bedside table. that and thirty minutes late for my tour. thank goodness it was a private tour. so i ran down, got the guide, and then went out for an all day tour. yeah. the city unfolded itself even more magnificently than it did before my aimless wanderings! the history did not even start my pleasures. we walked all over the city but i learned so much about the eccentricities of the city and the people who have inhabited it. and when we landed in the ritzy recoleta, we had a water and diet coke and a famous buenos aires' artist. we ended the tour with a stroll through the recoleta cemetery and the design museum. that night, when i got back to the hotel, i ordered room service and vegged out with re-runs of greys anatomy. the next morning, i got breakfast in the restaurant and met up with my new seattle friends. we then went to the art festival and then made a stop at pride cafe where we got loaded on fantastic pastries and imbibings and then we went hiking in the preserve couched between the rio plata -- which is actually more accurately described as a mud pond -- and puerto madero. after that, we went to this british pub inspired restaurant and drank ourselves silly. after that, we headed back to the hotel for the pool party which was absolutely mobbed and after several drinks, i met this european and we went back to my room and had the strangest sexual experience i have ever had in my life. it was going so well but it just abruptly stopped in the middle. so i had to walk back to the party in drunken shame and we all decided to hit the club scene properly. we went to club one which had not only around the block but completely covering the street! we stayed there for like a half hour before moving on to million which as so chic that they charged me twenty five dollars for a drink and reminded me of miami in so many ways, but nicer. how the night ended, i could not tell you and i spent all day in bed on monday. on tuesday, i went shopping at the art deco mall looking for undies for my new flame and then left late that night. i had a layover in chile where i learned that despite the money differences, it's a much more expensive country. my magnet cost eleven dollars from the airport.

before i left for my trip, a number of things happened in my life and outside of it: i went to the exsomoene's birthday party and gave the exsomeone a birthday present that only i could give. also, the communications re-opened between the brazilian and i: i learned through that open chanel that the brazilian made plans to move to buenos aires on march sixth for medical school. also, i almost lost my job on the tuesday before we left since they had a round of layoffs, but thankfully i found myself spared. and in other news, the momentum for marriage equality has started to build with the overturn of proposition eight in california by the ninth circuit followed by the ratification of a marriage equality bill in the washington state with two proposals moving forward in new jersey (where the governor vetoed but placed someone on the supreme court as a concession to the issue) and in maryland. unfortunately, depending on enthusiasm levels during the election and the demographics of those voting, the two steps forward might result in six or seven back come the november elections.

( with everything going on, i need to book a seattle trip to understand just how quickly things have moved: seriously, before my buenos aires, i did not realize that seattle had such a strong community of like-minded individuals. perhaps, i could deal with the cold to embrace a city like that.Collapse )


---
Here is your Daily Single's Horoscope for Saturday, December 3

Lavish some attention on the most important person in your love life -- you. Treat yourself to a matinee, buy yourself a little treat you've had your eye on or just veg out luxuriously.

well, one could say that i've found myself utterly neglectful but truly i haven't had the words to express all the feelings that have rushed through my mind over the past two months. i suppose it started with alex' wedding: my friend alex, the one person in my life most adept at creating iconography of the quintessential -- from his moment on the bus in the mexico countryside clapping for the spanish guitarist after too many glasses of vino to the moment at this wedding where he fell against the ice rink in chicago's millenium park with his husband against the star-filled night of the chicago skyline -- held an event at the park grill in chicago that truly will stand as the end of one of the best years of my life. my time in chicago stands as the first time i came to the city completely under my own steam. no group trip. no couch surfing. no bottles of grey goose stashed away in my suitcase. and the weather could not have charmed me more and even the hotel -- in its expected disrepair -- stroked that part of myself that finds such joy in the experience of travel. after a short flight with the real housewives of tampa, a group of women swathed in furs coming to chicago for a weekend of outright -- "last year, i got my burberry boots with the mink cuffs for a song" -- conspicuous consumption, and i took the train in and ingested sleeping pills as i had literally worked until four in the morning, drove to the park and ride bus stop for the airport where i got left, then drove to the airport to waste forty dollars for no reason on parking, and then raced to the red eye, raced on the train, and then, lost in downtown chicago, product, again, of being there on my own steam, and eventually made it to the hotel where i settled the bill in cash. that evening, i took a bath in my room and then readied myself for the welcome dinner where alex wore white tuxedo pants, again, iconic -- we arrived at alex' home for cheese and cocktails -- and upon seeing my outfit -- topman blazer, zara button down, prada brooch, black skinny jeans, and bally trainers -- quickly ruled out any naughtiness after the dinner. we watched a quick run through of the ceremony and then headed up to giordano's for the dinner itself. we had loads of fun over several cocktails and loads of chicago-style comfort food. we eventually decamped to sidetrack and i proceeded to fall in love with each and every one of the cousins from the in-law's side. but you know me with good old fashioned midwesterners. they're like catnip. afterward, rob and i went to south loop club, this diner near our respective hotels, and over calamari and long conversation, it occurred to me that i had not taken my blood pressure medication as i found myself nearly about to pass out. i had room service in the room once rob nearly carried me back to my room and the alcohol procured tears over my own carelessness and my old age. the next day, i found myself immersed in the pleasures of hotel living with restful sleep in a well made bed and room service brought to me at the crack of dawn while i recuperated with hours of msnbc and plans for shopping later. eventually, i staked out in the cold with my military greens, my trench, my hat, feeling oh-so-cosmopolitan -- one woman grabbed her daughter upon seeing me and said, "those are tom fords," as i passed -- and i met with rob and tim at the tiffany on michigan avenue and rob and tim blew about a thousand bucks on their gift. yes, making me feel shamed, but i'm the broke friend, i hope that's clear: i have no spouse to pick up the tab on a set of elsa perretti thumb bowls in gorgeous blue. although i might have to snag one of those oh-too-phallic elsa perretti bone candlesticks. after tim had a back issue, i found myself stranded on michigan avenue and raided all of the finery that it had to offer between topman, filene's closing sale, and the spectacular sights of all those holiday windows lit to perfection rivaled only by new york itself. in my daze, i lost track of time, and had to speed to the train back to the hotel to change and make it to milennium park for the ceremony. to say the ceremony started perfectly understates the case. the bride wore a dolce and gabbana tuxedo with a lanvin bowtie while the bridegroom floated around so strapping that i found myself happy before the ceremony even started. we all flitted around during the cocktail hour with goat cheese lollipop and beef carpaccio and so many other great aperitifs and appetizers. upon the ceremony, i felt the tears again well as the judge recited the ceremonials and afterward i rushed up after the parents to hug them both and welcome the newest member into our circle of friendship. after the ceremony, i imbibed so much that much of the reception dinner remains a blur, but i do recall rurnning into one of alex's best friends who finds herself the best friend of the columbus prospect and after my lovely time with rob's husband and alex's photographer friends and an ediatrix at harlequin, i began a conversation with this friend that spanned too many drinks, our exit from park grill, and rushing off to a bar aptly named "downtown." at the bar, i waxed absolutely rhapsodic about the columbus prospect and who knows what may happen, but we have been texting, but when i suggested i call, that got shut down. and the phone works two ways and it's only worked one way so far. further, i've been quite busy of late, but we'll get to that later.

after the wedding, rob and i had another friendship summit at the south loop club and i didn't pass out this time and we hugged it off -- wrapping it up around five or six -- and i left my wallet so i had to walk back in the dawn -- race to the hotel to take a disco nap and then get dressed for my plane. on the train, my friend jen from new york called to tell me that my friend sara had separated -- legally for she has been physically separated for years -- from her husband. she cried on the phone even as i wrestled with my hastily packed luggage. back home, i went directly from the airport to downtown tampa for the janet jackson concert. well. i spent about a half hour on the phone with sara and found out the details of her separation and i agreed to come down to miami for new year's and then walked over to fly bar for a few drinks and a small snack. well. i ran into this p.r. girl i know and i walked with them to the concert before taking my seats in row x. yeah. far. and for two hundred dollars at that. the concert blew my mind but i wasn't drunk enough to make a scene. both janet and i got the black denim call. so. truly a fitting end to a great year. after the concert, i settled into a hermit like existence with my biggest outing occurring in the days before chistmas with hastily procured gifts. on christmas eve, the exsomeone reprised our yearly tradition although i had no gifts this year outside of my company. and while i haven't had feelings for the exsomeone since the brazilian, it felt good not to pine away alone on yet another holiday -- cue "no happy holidays" by mary j. blige -- and after christmas (one marred by three separate emotinal breakdowns from my mother and sister), and after unsatisfactory text messages from my thanksgiving dalliance and my columbus prospect, i sprinted down to miami. i watched shame with sara in ft. lauderdale and we had great pizza from whole foods and vegged out. on new year's eve, we went down to the village at merrick park so i could scope out my etro pony hair lace ups, which they didn't have, and the girl at nordstrom talked me into the bulgari green tea fragrance. after that, we went to brickell for a well-made dinner and gobs of champagne. we went to club fifty around half past eleven and found a malay at the door. well. we eventually got in and did not have a table, didn't have drinks, and didn't have a good time. not until about maybe half past one. yeah. worst new year's ever. but you know, at least it's a story. and you know, better than most for most people. my friend sara met a strapping youngster and i hit on every eligible and not eligible in the bar to no end. the next day, we brunched it out at balans and toured daytime brickell which made me miss south beach and my old favorite coworker, but it wasn't in the cards for us this trip. we sort of dozed away the afternoon and eventually went for sushi later that night and eventually wound up back at her condo watching downton abbey and unearthing photographs from our college days.

well, when i got back to town, i found myself embarrassingly rotund in my new year's eve pictures and resolved to diet with a big carby kiss off at cassis and a resolution to do something big for my birthday. well, that really brings us to present as i've been slowly rebuilding my finances after one trip followed by another, and finally, two weeks ago, i decided, i'm going to take an "eat pray love" trip to buenos aires for my birthday because i just could not stand staying here depressed and i did not want to find myself longing for things past without pushing into the future. i started a regimen of classes at school to sharpen my pen and even as i got into the new routine, and well, as soon as i thought i'd settle into that, at work, they announced a round of lay offs that would affect my department by three to four positions: and of course, i thought i should batton down the hatches (and call off any adventures abroad), but quickly received assurances from my boss that i shouldn't count myself in danger, and after i put pen to paper, i realized i should be able to survive until september even if the worse happened and just when i thought i could deal with no more change: the p.r. girl texted me two nights ago to tell me she's moving to fort lauderdale and we need one last send off. so we went to hiro's -- i had spent my last disposable penny on my planes and hotels and such -- and i got kind of tipsy and we caught each other up on our love lives -- or lack thereof -- and then i went to the only bar in town -- which had a sad showing for a friday night (even at two o clock in the morning) -- and i came home in a mood to connect and wrote to this twenty four year old i've always fancied but never had the guts, this english professor, and the brazilian on facebook. well. turns out the brazilian has moved back to brazil to take care of an invalid father and i suspect a mentally unwell mother and we chatted all day today on facebook. every pang of attraction and pain came back and we hashed the issue of our demise: apparently, on that final night, the brazilian suffered the loss of a patient at work. and i guess when i called angry about not receiving a response and going off, the brazilian just wrote me off because the brazilian couldn't deal with both. well, if that didn't set my mind soaring with possibility and if mutually exchanged i-miss-yous didn't have me looking to see if i could take a detour to brasilia, i found that both prospects messaged in drunkeness and one -- the twenty four year old psychology student -- began texting me. i don't know why i always start these things when i'm about to go somewhere, but i always find it best to have something to leave behind, i suppose.

Invest in Your Spiritual Life!

The planet of love, Venus, opposes Mars on February 1, offering a terrific opportunity to address past relationship difficulties. Then on February 3, Neptune enters its home sign, Pisces, when cultivating your spirituality becomes an important ingredient in attaining success.

( so here i find myself looking to the blue skies again promise me some long needed escape, but it appears i"m not the only one wrapped up in this notion with karl lagerfeld trying his hardest not to admit that his latest couture show found inspiration in the now cancelled "pan am" television show (and the glamour of those stewardesses) and the blue skies they themselves brought into the modern world. and though i didn"t find myself inspired by chanel"s pre-fall or prada"s spring-summer, we find that from david lynch technicolor blue skies to blue suited girls walking down the aisle of the plane, everyone looks to the skies to avoid the economic desperation waiting on the ground.Collapse )



http://www.graziadaily.co.uk/WardrobeWhispers/archive/2012/01/25/debate--was-it-inappropriate-of-chanel-to-splash-the-couture-cash.htm
---
| | |
| --- | --- |
| Date: | 2011-11-30 05:47 |
| Subject: | last night. |
| Security: | Public |
| Mood: | coital |
Daily Single's Horoscope for Tuesday, November 22

Out with the old and in with the new! Make a change in your approach at romance. If online personals aren't working, try meeting people the old fashioned way: in person! Accept all party invitations!

"what have i walked into.....sodom and gomorrah?!" well, most would not get greeted with such a shocked exclamation on the day after thanksgiving, but there i found myself with jeans half unbuttoned sprawled across some ostentation red suede couch in the middle of a mcmansion-sized townhouse having stumbled down the stairs still swirling from the imbibitions from the night (and day), having stumbled across the if-i-only-had-a-brain lankiness of that supervisor, who, with pants equally unbuttoned and shirt half-tucked, had sillinesses glistening in the eyes and peeking through the teeth, had me wondering what got heard and what got done even as the friend with whom i had spent the night before came downstairs in sheer underthings, eyes fixated on a constantly vibrating phone, plopping around the kitchen for reading glasses and coffee filters, and on this couch, i lifted my head, mortified and proud at once, to realize that i had wandered into this odd thatch of incest and inappropriateness and had done things i should perhaps not have. it brought into sharp relief this idea that i had bandied about like a ping pong ball nugget of twenty four karat gold: that the height of happiness remains but one winking breath away from a life of utter loneliness. for the past few weeks, i could not shake the juxtaposition of the first bold face clenching kiss of a true romance against the ubiquitous image in contemporary news type of that of a brutal dictators in their final moments of life dying alone on the floor. assassinated. felled by disease. murdered. going quietly. of course, at its genesis, one can blame the tom ford film, "a single man," which brought together that hot flesh-toned idea of youthfulness and chance and possibility with that hollowed still frame of someone collapsed bedside reaching out to memories washed away and the thoughts of what could have. it began not even one full day after i last posted when the brazilian decided to end all communication posthaste. de-friended on facebook. phone calls, voice mails, and text messages all unanswered. unplugged. unhooked. detached. dethorned. forbidden. forgotten. and before i had the balls to block the profile for my own good, i got left nothing but a trail of cryptic wall posts (from someone who barely used facebook to check into locations or post pictures) -- messages like, "a man had better starve at once than lose his innocence in the process of getting bread. GM to all" -- which i spent days unpacking and dissecting only to find myself more confused than if i had read nothing at all. and it wouldn't have bothered me if i had the closure i sought out or even the neverending quest for closure i have sought for years in this journal with the exsomeone. and ironically, i believe, two weekends ago, i may have finally gotten as part of the digestion of this latest jilt. i sat their in the dim glow of holiday lights with the exsomeone's feet crossed casually and perhaps evocatively across my lap as we talked and caught up on our lives and i kept babbling on and babbling on like some crying brook about how i've lost even what little motivation that i once had to even try again or to seek out that dream or to ride that dream trip (girl) and i found myself just stalled out after this last one because it didn't feel perfect, but it felt so right, and i know it fell on deaf ears and sleepy eyes as i repaired to my car, thankful for the small kindness of the exsomeone who invited me to the holiday party out of pity really, but proving a true friend. finally, without any other agenda at this point. at least from my side. but that creek of thought kept flowing, bubbling, ebbing: over thanksgiving afternoon, as i sat over a cold omelet at denny's with my sister (both of us tired-hungover from a night at the only bar in town the night before with my sister's new eckerd college friend), and as i guzzled a family size bottle of wine with the p.r. girl that thanksgiving evening, that i'm not really pursuing people wildly wrong for me anymore. as much as my sister held reservations and as much as i saw warning signs of my own, it still felt right. it felt good. it felt easy. the conversation flowed right. something i find myself increasingly refusing to live without. and the kisses flowed right, which, i mean, isn't hard to come by, but nice to have. like a good billfold. even the sex, which i use to carry around in my satchel of contradictions as both a badge of honor and a pearl of insecurity, just came about so easy. so good. so non-chalantly. morning breath. late night. drunken. sober. before dawn. afternoon. from the side. cowgirl. jack hammer. in the tub. on the couch. as the cats watched on. and who knows what could've come. but it's come into devastating contrast as i have sought recently -- a drunken night after too many cocktails at tryst with the dirtiest person i have ever slept with; an ugly emotional acting out on the morning after the brazilian stopped communicating with me; and the chuck-e-cheese's child's play i had upstairs that morning after thanksgiving as i threw myself into a thistle of incest with someone as well-versed and well-practiced in sex as michiko kakutani finds herself in contemporary literature -- and finally, the personality. that odd eccentric little curiosity of a personality that delighted me so and made me cleve to the brazilian so. something as rare and endearing as that of the exsomeone. something unique enough to always keep me guessing and out of my comfort zone. something i have not found in what sad few dates -- some greek chef i met the next week for dinner at ceviche (fail); some basketball coach from sarasota who i met at ellenton outlet mall only to find myself shocked and disgusted by the discrepancy between the ideal nature of pictures posted and the post-stroke-paralysis-of-face ugliness of the person in real life -- and something i found myself even missing when i bounced between the friends and co-workers on thanksgiving night. after i had had too many glasses of wine, i let the p.r. girl convince me to go to the only bar in town (she lives at the apartment tower on the next block) in cargo shorts, a banana republic polo shirt, and tom ford optical glasses. three things i'd never wear on a night out LET ALONE all three together. and after a few too many cocktails, i ran into the supervisor, who actually had a birthday, and the manager (who actually i know through the exsomeone and who recently had a heart attack which dumbfounded me seeing as most people in that type of recovery don't hang out at bars), and a previous co-worker, who i've had flirtations with before, and the one person i didn't know from work who, i thought, making a wise decision, i could sleep with without consequence and did: but who would've thought i'd end up there when after my last post, i found myself twittering around my apartment waiting by the phone, waiting for the brazilian to get off work even as daylight turned to nightfall and my impatience sitting at home became my impatience sitting at cassis having a cocktail. and another. then, sending a text. then, another. ordering food. having a cocktail. then, another. inviting my sister to keep me company. having a cocktail. de-camping outright to go to a new bar, tryst, up the street. having a cocktail. and finally, going home. not fuming, but emotional, for sure, going online to sites i shouldn't and seeing the brazilian online. writing the brazilian. only to set off a calvacade of blocks, de-friendings, unanswered calls, unrequited feelings. and then, the next morning, even as i wiped away the guilt of my acting out encounter, i found myself face-to-face with the reality of that thing. and for the next two nights, since i worked, i found myself driving by, with no satisfaction, no resolution. just more confused. what exactly had happened? that friday, i enlisted the help of my friends, with the p.r. girl and her old coworker (the p.r. girl finds herself out of a job lately), and we went to a fashion show downtown and my sister joined us at the garden and we all ended up at a big round table at ceviche stuffing ourselves only for my sister and i to stop by tryst -- where we saw the deposed school superintendent -- once again with my wailing refrain, "i just want closure," and after that night, and that weekend, and that hectic amazing race of a week, i found myself midweek watching the film, "last night," and drenched with the idea that the distance from outright happiness to despair remains a short one. the moment of reconciliation in the film comes within seconds of the moment of ultimate doubt and deceit. and the film ends. it's the unhappy parenthesis to my old favorite "heights." but also an interesting parenthesis to the news of the day what with qhaddafi's death and the birth of the obama doctrine. and then, i went deeper into this pit with a viewing of the independent feature, "i am love," only to find myself reflecting on the news of the saudi prince dying in the midst of conspiracy theories syriana movie plots news items about iran seeking to assassinate a saudi prince by blowing up a restaurant. again, the glistening of a great night out to dinner with the image of a saudi prince dead in the street. and the next couple of days didn't help. my sister buying me wine at cassis to hear me rehearse the same thing once again after my bad greek chef date at ceviche. my sister buying me a steak dinner at sam seltzer's. and little-to-nothing changed or morphed. i found myself peeking through an un-blocked profile to see how the brazilian did. and then, applying retail therapy to the wound. finally, immersing myself in travel planning, which between chicago, then perhaps birthday wishes in buenos aires, and seasons changing in shanghai, i find myself worried about money and stations in life and whether i have the verve to carry off this much disappointment even as i live a life as full as i find it with the joys that this life can bring. so when that old coworker launched into the townhouse casting aspersions with the "what have i walked into....sodom and gomorrah?" i found myself wondering then, and even later that morning, as my hook up described the contours of my flesh and as i laid on that old coworker's lap as seductions dripped from those lips and even as that supervisor intimated the same, "what have i walked into?"

Love and Passion!

In a week when many people behave in ways they later wish they hadn't, love planet Venus joins powerful Pluto in commitment-focused Capricorn on December 1 -- an aspect that can create an unshakable love connection. And once feisty Mars squares the Sun on December 2, be sure to keep an eye out for those who act in ways that don't represent the best of who they are.

( "remember lot"s wife," remains one of the most chilling new testament scriptures, but it pricks the mind in its brevity: and while so many try to write off the allegory of sodom and gomorrah as one where the moral of the story circled around hospitality, one can"t help but see it as a cautionary tale about those who think they"re saved and a remnant discovering that they"re not. after all, not even in lot"s household could the righteous be found between his pillar-of-salt wife, his obviously depraved daughters, and the husbands of his daughters that got left behind.Collapse )



http://en.wikipedia.org/wiki/File:John_Martin_-_Sodom_and_Gomorrah.jpg
---
Assess Your Relationships!

This interesting week gets going with a feisty Aries full Moon on October 11, and as much as you'll want to pay attention to your own needs at this time, you'll need to consider others' desires as well. As Mercury enters problem-solving Scorpio on October 13, you're set to discover valuable new information; meanwhile, the Sun-Saturn conjunction later that same day provides serious energy! Then, on October 14, your relationships get a second look as Venus opposes Jupiter.

every single time i sidle up to my laptop to begin to pen my livejournal post, i remark to myself that for a relatively simple and boring life, i have crammed quite a bit into the weeks i have stayed away. the feeling i've experienced mostly over the past couple of weeks borders on a fear and an excitement and an enchantment and a longing. and it's an image that has haunted me and seduced me. the saturday before last, i headed over to the brazilian's apartment after the brazilian had endured yet another long day at work. with the eighty hour weeks the brazilian has worked and the few overtime hours i've logged, getting together has proved a greater and greater challenge, and when i came over, the brazilian still had on the dark blue scrubs from the clinic and a weary expression that carried the weight of everything the week had put the brazilian through. so, i came in, bristled back, and asked whether or not the brazilian wanted me to join in or not. i had brought over a big bottle of wine and the brazilian had lit some candles. pretty soon the bathtub started filling with water and within minutes we both sat beneath the steaming waters decompressing. of course, because it's me, and because it happens even when i'm alone, my body registered excitement when submerged beneath the warm currents and it felt nearly perfect, despite the cramped quarters, to lay there in the heat with a true paramour. even with all the unaddressed shit between us, it just felt simple and good and delicious. we sat there for a half hour or so talking about silly things and eventually emerging into netflixed episodes of star trek enterprise, the ordering of delivery, and a little tumbling between the sheets. a tumbling which though enthusiastic did not culminate in the exchange we normally accomplish. and, i, with my mind that never leaves me, wondered whether or not this forced sexual ending meant something more given all the things i had racing through my mind with the thumping pulse drumming against my ear. was this the beginning of the end? was one encounter without the catapult to ecstasy the end of the affair? did the wine have anything to do with it? did the bloom fall off the rose? did it even matter? and since then the idea of this dalliance we have with the water, with the known unknown, with the beautiful danger of it, with the fairy tale mystery of it, really have some credence. i found that over the weeks with the brazilian that i found myself both comforted and frightened by that which i did not know. we had grown apart slightly. it happens in all things, no? we did not fuck each other like rabbits each and every time we saw each other. we had gotten to the meat of this thing. but we both seemed to recoil. to push back. to fall away from that inevitable place. resisting the gravity of the real. of the serious. of the commitment. but then, did it have something to do with money? we all know how over my head i can get and after the wedding in new york, i found myself particularly broke and expectedly so and on that sunday when we were tossing around the idea of going to one of the films that cost twenty five dollars a ticket, i made mention that i couldn't afford to treat this round and a layer of frost iced over our conversation from that point forward. not that it hasn't been there in the back of my mind: unlike my friend alex, i do travel and i do enjoy my life abroad as a trade off many times to my life at home. and the money spent in chicago or new york or boston does not sit in isolation while my life spins along in perpetual motion, it halts that cycle, it interrupts it. and it has for so long that i have lost touch with the p.r. girl. my sister and i had stopped speaking. and the extent of my social life circled around my schedule at work and the subsidy of the brazilian. but i tried to fight against it, but, as i discussed with my sister, i don't know if it's this way because of my brokenness or by design. i've offered to pay. i've offered to treat. but it's been batted away. my suggestions get overruled. they get sidelined. they get avoided. they don't get discussed. and so, after a while, i stopped suggesting. i can do things i like with my friends or my sister or when i go out of town, i reason. that's not what's important to me in a relationship. it's important to me in my friends, but not in a lover. and maybe that's where it starts. i don't know.

i guess i should start where i left off a few weeks ago. after having faux-emotional anxiety about the wedding, i used my next payday to pick up a new pair of tom ford specs and meet the brazilian at the mall afterward for a dinner date at the cheesecake factory. yes, the literal one. i know i sometimes use it as code when referring to my online dalliances and have often disparaged it as a place for only tourists and boozy saturday afternoons shopping with one too many glasses of cheap champagne, but i guess, in the end, it serves a purpose and i go anywhere with my rose-colored glasses on and besides, i could tell it's one of those ideas that stuck in the brazilian's head and there stood no sense in trying to resist that. so we had a nice enough dinner and a leisurely walk back into the mall and then we had to break because the brazilian "had to" take a friend home after work (because the buses don't run apparently.....not). so i went home buzzed and horned up, but resisted the urge to do anything stupid as i typically would. no exsomeone. no only bar in town. no nothing. just went home. put myself to sleep or some shit. the next night, i ventured out to my favorite haunt, cassis -- alone because my sister and i had been in a fight over her having to stay here for schooling -- and over a few espressotinis, chatted up with various other bar patrons including this rather delectable diner who sat there having birthday drinks with two girlfriends from work. and they thoroughly provided my entertainment for the night with drunken hijinks and sexual innuendos galore. alas. i went home alone and horned up but didn't do anything stupid. no only bar in town. no cheesecake factory. nothing. i put myself to sleep or some shit. i didn't want to repeat the episodes of the past where i got left with some semblance of guilt because i find myself incapable of having a simple conversation. too afraid of the stakes. too fearful of the outcome. too worried about the words. too unprepared for the aftermath. good or bad.

well, thankfully, for my finances, i had to work labor day weekend, but on that sunday, i had plans wiith the brazilian to hang out with the brazilian and the brazilian's friends for dinner and whatever else the evening held. well. i woke up and when i sent a text about when i should come over and the brazilian wrote back that they had already offed for lunch in tampa and that i should just meet them there. when i inquired where, it became clear that it would represent a foolishly long drive so i immediately became upset because i knew what happens next. i've been here before where chicks come before dick and i'm left sitting there fuming. so i said....well, have fun with your friends. and the brazilian made a point of saying that we could still hang out, but hours past, and after saying "well after dinner," then "after drinks," it became, "my friend is sleeping over on the couch," and that lead me to really blow up (over text message) because it became so flagrantly obvious that the friends had won out over me. i tried to reign it in, but i remained furious because when we made plans earlier -- and i have to make plans earlier as i have to alter my sleep schedule to accommodate anything that takes place during the day after a night i've worked -- it was "well we can just hang out at the apartment because i have to go to work early in the morning" so i bent over backward trying to not let our schedules get in the way of us and then i get burned and i look like a sap. well, what i tried to end on a not-so-angry note because of that whole "never let the sun go down on your anger" bit, but it got resolved through natural life happenings when i found out the next day that the brazilian got pulled over for speeding but then charged with a felony: driving with a suspended license. strange since i got a similar charge when i my insurance lapsed, but it certainly didn't result in court dates and felony charges. so, needless to say, driving privileges got curtailed so i leapt in as the good boyfriend, "let me pick you up from work! it's stupid to take a cab!" and i drove up and all the animosity of the night before had melted away as i felt even more included in the goings-on of the brazilian's life. watching the brazilian wrap up things at the clinic sitting there as "the man"....i don't know. it did something. so i spent the night. we probably screwed. who can remember? and then the next day, we spent all day, and i mean ALL DAY, in bed watching the good wife and cuddling with each other. i''ve never been so happy. i had to go to work that night and i struggled through but i thought we had something good in that moment.

that friday, i went to see "contagion" and reawakened all of my love for the soderbergh-ian flourishs on film but after the movie, i got to talking to the brazilian who miraculously still remained awake despite the midnight hour and having worked twelve hours that day starting before the sun rose and somehow i made my way over -- first stopping by a late night mcdonald's -- and we spent the night and the morning, but then i had to venture off to go shopping with my parents and sister to the outlet mall -- i mean, you know me and last minute things for new york -- and then i came back and i don't know how it happened, but i wound up back over the brazilian's and we went out for thai food and then grocery shopping. again, these are the things that make me cleave to someone. the routine. the oridinary. afterward, i spent the night. and, the next day, we went for lunch with the brazilian's best friend at a peruvian restuarant in tampa then we went to international plaza where we spent an interminable amount of time walking around and getting gelatos and boring me to death -- i don't like shopping without money -- so then we broke apart or i stayed over. frankly, i don't remember. all i know is that the next wednesday, after i got paid, and after i bought underwear and socks and things, i went over and we had a bon voyage fuck before i left for new york. oh yeah, and i added the brazilian to my facebook. seriously, i sometimes think i wasn't cut out to date this century.

that thursday, i got a ride to the airport and i touched town in new york -- in my silken scarves and cordoroy and fall finest -- and met up with jen at her apartment. this time, we caught up over cocktails at this old time new york bar where men smoked cigars and wore three piece suits and where we had stiff dry martinis and laughed about how empty our stomachs were. so we headed down to the lower east side for dinner at this tequila joint called mayahuel which had reasonable food but horrible cocktails -- i realized again that tequila just isn't my drink and really, truly, i should never drink it -- so horrible that we even tried the cocktails of the table next to ours and nothing did it. we did leave with a half-buzz and headed to another pub on the lower east side to meet one of her coworkers who always doles out equal amounts of trouble and fun and somehow we ran into her red-headed coworker who i knew from ohio state and who i have never really trusted and this coworker sat there with a hearing impared looker. i mean, looker. and they had met at some social group or something but we got into a fight about the sex ratio of the world which i knew i was right, but couldn't explain it and i tried to parlay that into something, but you know, this hearing impared something or other apparently liked girls which i didn't buy because why would this hearing impaired something or other hang out with my red-headed classmate from years earlier? but four or five rounds later, i found myself deep in conversation with a dreadlocked, hippy type who i had convinced myself to be a undercover cop and though i found myself radically attracted, i resisted all of the wiles because all of the advances came under the auspices of obtaining one specific thing which i would never do with someone that good looking without them saying the words which this dreadlocked person would not say. that simple.

so somehow, we wound up back at my friend's apartment where, it later got reported, i projectile vomited all over the bathroom and then passed out on the couch. well. i woke up to nakedness. not just the nakedness of my red headed friend, but also this personal trainer who my friend jen had brought home. they were sitting on the couch. butt naked. having a conversation about something stupid. like, tequila vs. vodka or something and holding in their hand the very thing i wouldn't share with the dreadlocked person and the very thing i would NEVER EVER trust the red head with let alone someone i didn't even recognize. so i went into my paranoid, "how did that get out of my pocket?" speech but somehow it turned into a naked party all around with my high ass stripping down and taking it too many steps forward. i mean, as i've explained to rob, i blame it on my own weak psychology. my silly little fantasies. for me, a great night out is very formulaic. it's dinner. then, drinks. then, more drinks. then, probably, dancing. then, decadence. then, after party. then, clothes-off after party. then, more decadence. then, disco nap. then, morning, regret, etc. very formulaic. it happened quite a couple of times during the live wire period. but not that much sense. the elements just never were all there. i had the dinner and drinks and then that's it. or the drinks and decadence and that's it. never has it gone from start to finish and boy did i regret it this time. somehow, all my feelings of attraction toward the red head came to the surface -- they had appeared the last time i was in new york, but they passed after i saw the red head out of the flattering coat -- and somehow we wound up spooning but i blame, mostly, missing the brazilian. so that's that. embarrassing. the next day, i slept all the livelong day because, one, i hadn't slept the day before and i had worked the night before that, and two, because i had basically stayed up all night. so it was eight o clock at night and i didn't want to move. not for rob. not for anyone. but jen forced me to hop the train to hoboken -- after stopping by this bar to fuel up. oh, did i forget to mention that the personal trainer was still there?! yeah, the red head disappeared (rightfully embarrassed), but the personal trainer spent the day eating take out, drinking tequila, and partaking in other libations that we had to stop by the bar to replenish -- and we went to a birthday party at the bar at the top of the w hotel. otherwise known as douche bag central. but i did sort of network with this advertising girl so not completely a waste. the next day, we had to scramble for the wedding, with alex flying in and jen forcing the personal trainer out, and i trying to equalize after two days of partying. well, we spent most of the morning being bitchy new yorkers -- when in rome -- and the ceremony turned out more beautifully than i could've imagined and cocktails afterward went swimmingly -- after we tried to crash the oak room before it even opened -- and then we went to flute where i got pretty toasted on five vodka cranberries -- i had had something called a "cranberry gosling" at the essex house earlier -- and then we ran home so i could change from white and black to black on black and then went to co-op to begin a night of celebration and forgetfulness. we had several cocktails called "the light" -- ironic only to me because of my post several weeks ago -- and after a fantastic dinner where i made many trips to the bathroom, i switched to belvedere on the rocks outright and my memory started to falter because i felt like i would cry over my best friend getting married so i began acting debaucherous and we decamped to go to "beauty and essex" but not everyone could get in so we went to verlaine which i've been to so many times i can't count with jen and then we went to this really edgy bar called "the dark room" which literally made me black out. i don't even know how we got home. apparently, i lost her keys but had them all along. yeah. so. alex left and i slept all day, then ordered take out then jumped on the e train and made it home in the wee hours of monday morning.

i coasted through the week and on that friday night, i went to see "drive" which basically stood as the masculine equivalent of "marie antionette," namely, a well-directed music video very long on style but very short on substance, which i love, although in a completely different way than movies like "traffic"/"syriana"/"contagion." i find soderbergh movies like a great risotto dish where i find movies like "drive"/"marie antionette"/"belly" like great cocktails. on that saturday, i hung out with the brazilian, we went to dinner at the brazilian steakhouse, we went to before (which tasted infinitely better since i could eat carbs!), and then, we came home and watched some suze orman episodes before we went to sleep. the next day, we had a late lunch with the brazilian's best friend at olive garden -- endless pasta! -- and then hung out for apple pie and ice cream later (there i found out that the day after my last post when the brazilian supposedly had a flat tire, the brazilian actually had it fixed, went with his best friend to the last supper social -- the one i've been trying to get involved with for years -- and then drank and smoked and that's when i came over for a screw afterward). well, i went home after that to watch the "good wife" and two days later the brazilian went to court and i don't know what happened but i know it wasn't good. that thursday (after an excruciating cleaning at my dentist), my sister and i made amends. first, at z grille where i had this raspberry lemonade that rocked just the right way, then to mandarin hide that convinced me to try that near cosmopolitan which again tasted nasty, and then at cassis which had a similar lemonade that rocked me further on the path to drunkeness, and then a vodka cranberry at midtown where she had a burger and then unknown drinks at the only bar in town where (weeks later) she told me was out of control and where she had fun because there were so many strippers and drag queens -- none of which i remember, but all i know, is that i was so drunk that i not only threw up, but i was so drunk that i was still hungover THE NEXT NIGHT. but thankfully, i didn't do anything stupid to jeopardize my relationship, but i did notice a little pain that got me to worrying. normally, i would let something like that just slide, but given the sexual relationship between the brazilian and i -- one without prophylactics -- i brought it up. well. it didn't lead to the "going steady" conversation i wanted, it ventured into this clinical direction and somehow i wound up going over that friday night on my lunch hour to get an antibiotic. so, since then, i feel like things have cooled off. in return, i did contact my lawyer friend about the felony charge, but nothing has happened with that.

that brings us to the saturday night with the bath. we, of course, fucked. then on the sunday, after we discussed going to the film festival, but then decided against it once i made mention that i couldn't pay for the twenty five dollar tickets, i decided to go to my parents' for dinner. well. in my haste, my car slid off the slick highway and hit a light pole. it damaged my car quite a bit and could've really hurt me, but it didn't. one two hundred dollar ticket, thirty dollar tow, two days of embarrassing commute to work, and seven hundred dollar (on going) repair later, i am without a car and i haven't seen the brazilian since. i went to the movies on wednesday alone to see "ides of march" and i hung out with my sister last thursday for a drink and sushi at vue19. and sure, the brazilian and i have talked, but we haven't seen each other. and i miss the brazilian and i feel like distance has had an impact on our relationship and though i've thrown out some ideas i could "treat" the brazilian to, i've had no bites. it's like i can feel the brazilian slipping away and i there's nothing i can do. i invited the brazilian to dinner tonight but we'll see if anything happens. if not, i'm guaranteed not to see the brazilian before friday night (the next time i'm off). it's really chilling how quickly something so peaceful and relaxing can become something menacing and inundating. and while i'd like to venture to the fantastic place where mermaids swim and seashells gleam, i'm left with a feeling of impending doom that i cannot shake. let's hope that this passes.

( now onto the representations of this water imagery in the latest fashion season and it"s chilling roots in the suicide of virginia woolf and the frightening painting of frida kahlo. again, the shoe celebrates the fantastic, but the mind can"t help but return to the quiet danger of what lies beneathCollapse )


---
well, it's getting serious. i don't know if it's just getting dating serious or sexually serious, but it's definitely gone past just a casual affair between the brazilian and i. we've not yet had a fight and we've not yet gone out to a bar as a couple. i haven't introduced the brazilian to my friends -- mainly because i've been 'ghost' as my sister would say -- since about the second quarter due to my travel schedule and work schedule, but in the end, it's getting serious. and although my sister and i have become somewhat estranged lately, her warnings against looking "hungry" or "thirsty" still bounce around in my head although i've successfully tuned them completely out. since i've last wrote, the brazilian and i have moved from a couple of initial encounters with dinners out and drinks to chinese takeout and netflix to friends over lunch and plans into the future types. i have always said that relationships in our world move at a pace called fast forward. a day is like a week, a week is like a month, a month is like a year.

and what a year it's been. soon after i last wrote, my life changed infinitely and unchangeably for the better. after a rather mundane day at work, i departed for the airport with one carry on bag -- thank you delta baggage fees -- and had my mind on getting my airline taxes back since the congress found itself once again incapable of timely decisive action -- both on the debt ceiling, but, in this case, the federal aviation administration -- but found those intentions quickly dashed by incompetence at the customer service desk and then a reversal of policy by the congress in later days -- and after catching a connection and calling for an airport shuttle, i found myself at a cheap airport hotel catching some sleep before catching the metro downtown for some touristy sightseeing, a few cocktails at a faux-trendy bar, and then the concert of my lifetime. well, of course, because my outfit involved dark military green shirtsleeves, a lanvin military green and brown tie, and ysl jeans, the temperature had to have soared nearly to one hundred degrees and my walk to the arch did the quick job of soaking my concert look in sweat and my hunt for the resto-bar mango quickly got compromised because of the heat into my ducking into a downtown restaurant named mosaic where martinis cost four bucks and the ahi tuna found itself subpar. however, it did give me the opportunity to encounter a nice cross section of the city in the affable bartender with her deigned interest in the concert, a trendy-ish couple comprised of an overly-made up woman in tacky midwestern wear and her ben sherman-ed out husband who hailed from london and actually knew people from tampa and intrigued me so deeply that it made london once again rise on the list. there's something about those black londoners. they've popped up in the news of late. but let me assure you, this guy did not come from that sort. we chatted on and on about the recent passing of amy winehouse and maxwell and all the concerts we had seen. and of course, about the one we both were about to see. then, another couple entered in for a quick bite before the concert. this one comprised of a homely woman in more midwestern wear and a fairly trendy and very very attractive spouse. this spouse sold radio ads for a living so we got on as two media sales people tend to, but after my third martini, i had to beg off because i didn't actually want to find myself drunk for the show. i walked down to the arena and found myself so privileged to walk in and get escorted down to the third row in the scottrade center FULL of adoring fans.

while the opening act by john legend did actually surprise me (since i did not know one song before the concert), i did find myself wholly roped in by the backup singer/dancers and the all-white three piece suit john legend wore that began to become quite sheer after a sweaty performance. one thing about sitting in the third row is that all of those crazy noises and uncomfortable laughs i make when aroused actually catch the attention of the people on the stage. yeah. i was one of those. but this did not prepare me at all for the main act: SADE LIVE IN ST LOUIS. now. for those unfamiliar, while my musical tastes really remain quite dilettantish seeing as i'd rather listen to a great npr story than listen to new music given a choice most days, but sade -- like anita baker, like janet jackson, like michael jackson -- remains one of those almost hereditary musical totems of mine. she has played an interesting and formative role not only in my childhood and my sexual awakening -- i did even understand why i found myself so allured by her in my youth but i did and it crescendoed in confusion with "no ordinary love" and the "indecent proposal" film i never found myself allowed to see at that age -- but my love for sade came to the fore in my adulthood after i went to disney over ten years ago with and old flame of mine and that flame's tampa friends and after the park, we camped out for a few hours at the apartment of this gym-obsessed interracial couple where we watched a sade concert on dvd for hours as it got narrated by the sade aficiando half of that couple. well, not only did i find myself so impacted by the marital bliss of that ideal looking couple -- especially the looks of non-sade aficianado, a strong silent type if one ever existed -- but i found myself entranced once again by her music. and that odd commingling has blossomed over the years to the point where one of the biggest disappointments of my life remains missing the lovers live tour at the end of my time at ohio state. afraid to go by myself.

but now, i did not find myself afraid. and she did not disappoint. she opened with soldier of love, of course, but i found myself singing along to every single one of her songs over the course of the two or three hours she serenaded the uproarious crowds that night. and much like john legend, i found myself frequently distracted by someone in her background, namely, the guitarist/saxophonist. and, call me crazy, i kept feeling like we made eye contact. yes, i'm totally willing to become a groupie to that. it's all about that stage presence. and as the show drew to a close, i felt myself both exhilarated but also saddened that she didn't sing my favorite song, "cherish the day," but after a ten minute standing ovation, the band came back on and sang the SHIT out of my song. i teared up. i sang every word. and i had the feeling one has when one knows that one's experiencing something that one will remember for the rest of one's life.

after the concert, i caught the train back to the room, caught a few hours of sleep (i had to walk back because my phone stopped working at this point), and then caught the shuttle back to the airport where i departed for columbus. well, what's to say about columbus? while i missed it immensely, i probably wouldn't have gone if i had known about rob's wedding before booking the ticket. the money simply isn't there. but i'm glad i went because it not only scratched at my nostalgia, but it gave me the gift of great times with my best friends and the reverberations of meeting someone i honestly clicked with from the beginning. but, first things first, on friday, rob and i caught up a bit before alex arrived and then we all sprinted to the hotel after taking a constitutional (by car) around the short north and the campus area. that night, we went to an interminable work party with rob's company peers and then went the marcella's -- an ironic name given the appellation of the brazilian -- to remind ourselves of the olden days and after a horrible grapefruit concotion -- no w gimlet here! -- and an even worse bottle of champagne -- it literally tasted like beer -- we walked up to level where rob ran into people he knew and i found myself paralyzed by social awkwardness after seeing so many people i knew from the olden days and half knew from facebook who i no longer knew. thankfully, alex introduced me to a subpar absolut ruby and soda concotion that finally got me buzzed and then we went up to the new union station where we met up with an old friend, rita, who used to work at bennetton, and began resorting to our old nefariousness which quickly ended since bars close so early there. and somehow alex and i wound up in the hotel room alone which kind of pissed us off because it seemed quite calculated that rob wouldn't spend time with us.

the next day, we went to campus and had a walking tour just reminiscing about all of the great times we had. after campus, we returned to the hotel only to have rob rope us into cocktails with the fiance. at this seriously dive bar that served drinks so strong that we all carried around a buzz off of one round. after happy hour, we went back to the hotel to change and then went to barcelona where i got quite tipsy off cosmopolitans and then we went to the short north where we got snubbed at eleven and wound up, once again, at level. same bartenders, different crowd, and after some quick moments downstairs, we became involved in an endless exchange with this couple from montreal -- what is it about those french canadians?! -- and i seriously wanted to sleep with the blonde half and after an hour long conversation where it became clear that wouldn't happen -- does it ever? i don't think i've been with a blonde in years -- i decided to join a conversation with alex who had somehow re-united with one of his good college girlfriends who lives in DC and whose friend and i had an immediate connection that resulted in one of my desultory conversations where i try to distance myself from my object because of how intensely i like them. well. this got intensified by alex and rob pulling me to the side and saying how much they endorsed this romance. and after we got a rickshaw ride downtown -- which could've sent the poor rickshaw rider into cardiac arrest -- the romance blossomed into a drunken hookup. and we'll see what more from there. we're friends on facebook. it's so strange for me to meet someone my age who i'm that attracted to and that intellectually compatible with. but then again, it's columbus. i never really found myself all that lonely when i lived there despite all the drama.

the next day, alex and i had a buffet breakfast and then we all headed east toward rob's apartment and then for a day of shopping at easton after a long wet brunch on my part. after checking out familiar stores, we went back and had dinner at a small sushi restaurant in rob's ex-urb. after a few hours of mindless television, a little bit of tense argument between rob and his betrothed, and many late night hours of facebook, i went to bed and got up for the airport the next morning. only to have a ridiculous flight delay that resulted in my missing work and running into the p.r. girl's makeup artist friend at chipotle that afternoon. after i got the stuff with my phone sorted -- it did not work at all while i stayed out of town -- my lines of communication resumed with the brazilian and i got a text from my columbus romance. that wednesday, i went shopping with my sister and then on thursday, i believe, i spent the night with the brazilian. so that happened. and the brazilian had designs on having me meet the best friend the next day, but i had to work. we didn't get back together until the next friday and we watched star trek voyager reruns, ate chinese take out, and fucked like ferrets. the next morning, we headed over to tampa to have lunch with the best friend at lonestar and then i left because they had a weekend planned out of town to celebrate yet another friend's birthday. and how could i judge seeing as i had just come back into town? also, my sister and i had a family meeting to deal with her schooling and that went not as either of us would've wanted and now she's staying here for a semester -- staying here and not speaking to me -- instead returning to florida state. anywho, that next wednesday, i was supposed to go out with the brazilian to the movies, but that fell through due to a work commitment (which lead me to go catch a double matinee of "friends with benefits" and "the beginners") so i went out with my sister to exorcise my frustrations with french fare and fantastic cocktails at cassis where someone literally fell off their barstool with drunkenness and then we went to ceviche where i discovered my new favorite drink, the mango mojito made without sugar, and where i had a long conversation with an overly friendly patron and a jazz singer, and then we went to the only bar in town where i got positively soused out of my mind which lead to drunken online mishaps (nothing regrettable) and a drunk text to the exsomeone which didn't mean anything right off but the next day between the vomits, the hangover jimmy john's, and a mad men marathon, i somehow wound up over the exsomeone's "just to talk" and we all know how that ends.

i left feeling guilty (and noticing that the exsomeone and the brazilian live on the same street although some one hundred and thirty blocks apart in different municipalities), but we haven't said the words nor had the conversation -- which i would've like to do that wednesday the brazilian had to cancel -- so i don't feel too bad. besides, i don't know that the brazilian is completely faithful to me. just sayin'. it's early. so that sunday we had plans to go to a brazilian steakhouse (where i had to wait an hour!), but these plans got hijacked when the best friend interjected himself making it an odd threesome where i was too tired to be sociable and too frustrated to even do anything. so we saw "planet of the apes" and went shopping at kirkland's and american signature furniture and coldstone creamery and marshall's which would be all well and good if it was just us two, but it was us three so it was awkward and since the best friend had no car.....we left separately leaving me VERY frustrated sexually and emotionally. so then i had a three hour conversation with my favorite coworker living in miami about relationships with latin americans. but the brazilian did try to make amends by inviting me over afterward, but the moment passed. we agreed to a late night interlude on the tuesday next. well, that tuesday, after work, i drove over around half past one in the morning and we had a good conversation and even better sex. i mean, mind blowing. it's just such a strong contrast to the exsomeone. seriously. it's so easy. and passionate. and fulfilling. and then, last night, we had one of those text exchanges where i basically felt "hungry" but i left it alone. oh yeah, and our mutual versatility got revealed. hopefully, i'll get to see the brazilian again this weekend as i've officially changed my status to "it's complicated" on facebook.

Here is your Daily Single's Horoscope for Sunday, August 28

You don't have to know someone's genealogy, blood type, childhood imaginary friends and complete educational history to spend time with them. You'll fill in the gaps later -- for now, a good conversation is enough.

( and while it"s a western thing to correlate abject poverty and hunger with such superficial concerns as brand new shoes, designer ready-to-wear, or my sexual appetite, but such is life.... Collapse )



http://travel.nationalgeographic.com/travel/countries/your-kenya-photos/#/boy-and-herd-at-sunset-kenya_29655_600x450.jpg
---
Parties, Events, Entertainment!

You've got to do something fun this week! First, relationship planet Venus enters Leo on July 28, when all the love in the air makes everyone want to get out of the house. Later that same day, communicative Mercury enters efficient Virgo and opposes dreamy Neptune, when talking about your dreams can yield amazing results. Finally, the new Moon in Leo on July 30 receives so many planetary aspects that you'll have plenty of choices (and lots of input) for anything you're planning. Keep an open mind!

well, at least i know this part works. i could try to say that my reason for not updating has something to do with the outage of livejournal or the difficulty i've had in editing previous posts, but anyone who has read this journal this year knows that the frequency of my updates have gone down by quite a bit since my return from peru. however, lots to report even since i deigned to pour it into a post: while my post sought to derive its torque from the week in the haute couture and menswear fashion, the world has once again changed: the arab spring has gotten pushed to the margins as the world reels from a horrific terrorist attack perpetrated not by a middle eastern muslim, but a blonde scandinavian christian; talks of a government shut down have evaporated under the threat of an outright default of the full faith and credit of the united states; and the unexpected news of osama bin laden's death has left the headlines in favor of the all-too-predictable death of one of my favorite soul crooners, amy winehouse.

well, i guess i should get to the good parts first, and yes, i've met someone. potentially the new someone. the first someone i've met like this since the exsomeone. and i can describe it as electric with an asterick. somehow, in my thirties, i've noticed -- or well, maybe, it's just now manifested and always been there -- that i've formed quite an attraction for attraction. i've developed a romance for romance. i've fallen in love with falling in love. it's hackneyed. it's cliché. but i have to put it out there so that if it all goes down the garbage disposal, i can look back and say, "see there, that's it." but right now, i'm not discounting what i feel and i refuse to become so cynical that i write off someone i'm physically attracted to who has a personality i like because someone accuses me of "settling" as my sister has tried to write off my current relationship. i just think that perhaps my sister has a skewed perception of my so-called standards because i castigate her so much for taking refuge in a relationship with someone who she admits she's not physically attracted to. and why does she have so much opinion? well. it's been a while since i met someone on plentyoffish.com since the last person i met off that site i had to relegate to all but a figment of my imagination. however, i went in with trepidation because i found myself very attracted to one picture of my potential new someone and very turned off by the other picture posted. so it stood as a fifty fifty chance. we had texted back and forth about when we should initially meet and we settled on two saturdays ago (the sixteenth) between five and six. easy enough. then my sister had the bright idea of needing to buy an outfit for a new facebook profile picture. this is what i have to deal with. so, being a good brother, i agree to go to the mall with her telling her that i'll have to leave because i'm supposed to meet my potential new someone between five and six. well. of course, this got completely overlooked once we found ourselves in the midst of a retail frenzy when i started getting text messages back confirming the time and place. and so. i improvised and drove my sister's car from the mall to starbucks and she went shopping at target while i got to know my potential someone. my sister thought my potential someone a bit odd, but you know i would act a bit odd if i met a potential mate with that potential mate's sister. no pressure. but once we found ourselves alone, our conversation really did expound on all the things that i love -- travel, snobbery, and general foolishness where it helps, of course, that the potential mate, which i guess i should call the brazilian, since, you know, the potential mate hails from brazil -- yet has absolutely none of the stereotypical attributes one would account to someone called brazilian (since the brazilian's family emigrated from lebanon) -- has traveled extensively and speaks three to four languages, has gone to school, and has a wit near-equal my own resulting in that never ending conversation where we talked and talked and talked and talked and eventually after an hour i felt bad for my sister who turns out to have just sat in her car in a adjacent parking lot to afford us privacy writing in her own (actual, physical hard bound) diary which she has taken to carrying around. anywho. after that date, i knew that the brazilian liked me, but i felt unsure if i wanted to pursue anything. i don't know. i think hanging around my sister has made me into even more of a cynic since she has still not moved on from someone who broke her heart last year who she has obsessed over for almost three years even while she has refused to exit the relationship with the man for whom she has no physical attraction. i feel like these two threads have to get interwoven in this context becauase the situations remain so different and i see it, but it bothers me that she has whitewashed them under the same brush. anywho. after our hour long exchange, the brazilian sent me a text message and over the next few days, one thing lead to another and we arranged to have dinner on wednesday. we originally had intentions to go to a thai place near the brazilian's apartment, but i re-routed us to red mesa. i haven't been to red mesa in a hot minute, but i had an excellent meal of shrimp and scallops and then the brazilian suggested drinks and we went to the dirtiest dive bar i've been to in quite some time and afterward, we closed our date with a drive back to my car and a long kiss goodnight. from there, i found myself, as they say, "sprung" and after that date, our texting never ended and although i will once again decamp on one of mny trips this weekend, we had our third date on monday, and afterward, we went back to the brazilian's place. we watched some silly sitcoms on cbs lazily lying in each other's arms. and then we fucked our brains out.

then again, i've found myself in one of my endlessly horny streaks the past few weeks. even before i went to miami, i found myself in as a series regular on websites on which i only like to make cameo appearances and while i think i've made a couple of friends of sorts -- a golfer on the one hand, a boating doctor on another, a masseuse (i know) on yet another, and an older something-or-other in the end -- i really didn't act on anything until after i got back from miami. the week before i left for miami, i spent some time with my sister re-newing my love affair with the late nosh at cassis, a day of shopping the zara sale, and a midweek viewing of "x-men: first class" -- where i found myself spellbound by january jones and who could've possibly sired the love child she has growing in her demure little belly -- and then that weekend, i did my yearly homage to participating in my community and daytime drinking by volunteering with the kevin beckner campaign in the parade and i saw my old high school friend on the sidelines and i saw the figment of my imagination (although i pretended like i didn't) and the exsomeone and one of the managers at my job and i kind of met a lawyer as we walked the entire parade route just chatting away, but afterward, i met up with the p.r. girl's friend who i've hung out with before -- i saw thor with this character -- and we drank and drank (and i saw the figment of my imagination and had a conversation with the figment of my imagination which lead to even more drinking) and when i ran out of money, the p.r. girl's friend bought me a couple of rounds and the next thing i know, my sister is banging on my door, waking me up trying to get me to go out because she needed to get out of the house and i did not even know what i had done because i clearly had just emerged from outright blackout drunkeness. so we went to the only bar in town -- since i found myself STILL drunk -- and i made one lap and we left to go to hiro's where my sister had an out-and-out panic attack over the fact that she might see the bartender she knew despite the fact that going to that very place remained her suggestion in the first place. we stayed and ate and after arguing it out -- a habit of ours -- we went home and the night ended quietly. the next weekend, i jetted off for miami to spend a week with my old favorite coworker and her fiancé and a couple of days in fort lauderdale with my friend sara who i last saw in new york over st. patrick's day weekend. well. friday night probably lit the fuse on my libido as i arrived at her new south beach apartment -- with all of the charm that implies -- and then caught up over a bottle of wine at a local wine bar/shop. later, we went to another neighborhood bar up the street -- where i donned a banana republic military shirt and ysl skinnies -- and my oh-so-glamourous former co-worker immediately had the men all over her while i rounded up a bar tab and after a while, i found myself deep in conversation with a gregarious french canadian who left a boyfriend behind in montreal and i couldn't read the signals -- all those canadians are so nice, aren't they? -- until we decided to leave and the french canadian and i decided that making out would be the best way to end that exchange. if only i had picked up on that scent earlier. while waiting outside the bar, we caught this threesome of near douche types that could easily appeal to myself or my friend given our inclinations for the evening and we struck up conversation and wound up at finnegans two where my glamorous coworker got a little to close to the argentenian while i batted my eyes at the columbian and exchanged sharp barbs with the french one. we then went to the shelborne hotel, but we ran off -- literally, i'm told -- because my glamorous co-worker started getting uncomfortable. overall, fantastic night. and when we got home, we had to spend the night lying to her fiancé about what we did. as these things go. after all, latin fiancés are nothing if not jealous fiancés. the next day, we went shopping on collins and the club monaco had one of those sales that i dream about. we then grabbed a late lunch at this asian place on lincoln -- where everyone bought something from the britto store -- and i had a couple of drinks but then we had to jet because we were going to mansion -- i mean, where else? with cover at the door soaring to two hundred a pop, the most economical option won out -- so yeah, we went to seee steve aoki and it's probably the best house music i have ever ever heard in my lifetime. and it got magnified by some particular party favors that i did not even expect going into the night. well, as all epic nights go, the consequences can turn out devastating and not only did mansion double charge me for a bar tab -- they put one hundred dollar holds for each -- but i walked out of the club to notice that i had all but lost my entire sense of hearing. all of it. seriously. so the next morning between getting money wired to me and coming down over a "my big fat gypsy wedding" marathon, we had a slow boiling panic about not being able to hear. AT ALL. sunday in miami remains a huge beach day so we eventually made our way down ocean and went to the most flamboyant stretch of the beach after a quick lunch outside the hotel victor -- where we had front row seats to a drag queen high kicking her way in the middle of ocean drive during a performance. seriously. it caused a traffic jam. that night, we squeezed our way into nikki beach for absolutely free and each swallowed five or six thirteen dollar well drinks and then took off to a pizza parlor, some on-the-street shouting matches, and an early night to bed. on the fourth, we spent most of the day at the flamingo lounging by their pool -- where i picked up quite a bit of color -- and then i had to catch the two longest bus rides of my life -- one that went allllllllll the way up collins to aventura mall and then another allllllll the way to the fort lauderdale airport -- and met my friend sara who just touched down from a long island holiday. we went to tijuana taxi to unwind and catch up and then went back to her apartment where i watched true blood until i fell into an unmoveable sleep. the next morning, she went to class and i caught up on my e-mail and then we went shopping at sawgrass mills which certainly did not stand up to aventura or bal harbor and i will never go there ever again although they did have a fifty dollar pair of pants at the prada store and we had a funny episode in the theory store as everyone started twittering about when the casey anthony verdict came over the wires. that night, we did the "las olas" thing by getting a bite at sushi rock -- blah -- and then went to yolo which was basically a tampa bar on steroids and then we went back home and turned in since i had to be at the airport at six in the morning with nothing but a beach bag so i could try to avoid the silly carry on fee that spirit charges. and i eked it out.

but as i indicated, after i got back from miami, i've found myself on quite a streak: as soon as i got back, i found myself inundated with invitations from sites i'd rather not name, and i indulged a couple: first, upon my return, i re-capped my miami vacation with my sister over jazz and cocktails at mandarin hide that wednesday and then a quick bite at ceviche where i over-consumed just a bit before convincing her to take me home where i made the bad choice to venture off again to the only bar in town where i got two offers to go home and took the very wrong one and got fellated somewhat regrettably before jetting back home to a horrific hangover and then, that friday, i met up with this characater from that website i rather not mention who i've talked to for at least a year and we had quite a good time so much so that it's inspired a chapter -- should i ever get around to penning it -- and i kind of hope for a repeat performance but then, after i worked that weekend, on monday, i went on a coffee date with a car salesman which was just an bold fail not to mention a waste of a new shirt and so i started this sexting thing (i suppose i'm trying to assert my modernity) with a professional masseuse, and that friday, my sister and i went to "the grape" where she read from her diary and i drooled over our sommelier so obviously that i believe i over tipped to off set my poor behavior and then we went to ceviche in tampa and i had an entire bottle of wine by myself and then came home and i had such an insane red wine hangover that i gave up atkins for the foreseeable future, and then, to cap off my month-long harlotry bender, i, very very regrettably, after my date, and after i downloaded with my sister over drinks and dessert at cassis which would've been great had it stopped there -- i mean, i can't knock four espressotinis with bar patrons ranging from disaffected eastern seaboard types and scottish divorcees -- but we went to ceviche where i augmented with some sangria and then bolded over to vintage where i did whiskey shots with these ridiculously chic lesbian bartenders -- one could've easily have posed in the latest fall/winter dolce and gabbana campaign in one of those sleeveless vests and cropped pants and the other would've looked gangbusters in a safety pinned balmain number as she totally gave the girl with the dragon tattoo a run for her money -- and then, my sister took me to the only bar in town because i'm sure i insisted although my memory fades in and out at this point, but once i got home, i hopped online, and very regrettably met up with this dirty something or other who i had hooked up with the morning before my great aunt's funeral -- yeah, i know: feels just as bad now as it did then and before -- and came home and truly passed out.

besides that, life has become more calm with the insertion of the brazilian who i hope to soon call 'my steady' since when the exsomeone called just yesterday, i felt myself for the first time -- well, since the figment -- in a long time really not feeling anything at all really. except some odd friendship carved out over all these years. but we'll see how i fare in columbus with the boys although it'll be on a shoe string given my side trip to st. louis to see sade and the flat tire i got just this morning when i went to pick up my dry cleaning.

( and while new york acheived marriage equality by carving out religious exceptions, the fashion weeks seem to reach a new high by referencing some pretty potent biblical allusions. we had chanel totally giving new meaning to a psalm while tisci gave another menswear stunner in his spiritual quest to "find the light in the darkness...."Collapse )


---
it's amazing how much the tenor of life can change in but a quarter. a season. however, one must say, that in this, by far the best year of my life, i've encountered a season of desuetude of my own making. unlike years past where i could blame such a season on the excesses of fast living or the reaping of seeds of irresponsibility, this time i can honestly say that the season has not come because of the inability or the incapability, but out of pure unadulterated responsibility. and while it aggravates me to my core, it feels good in an odd counter-intuitive way. after two full quarters of the fullest of living i've had in so many years, i've finally started to re-enter my groove. i'm doing the things i like. i'm going the places i choose. and i'm living how i want to live. it's not as if my life proceeds without its deficiencies, but even those remain better than the hell from which i've emerged. i've gone from a season of outright extroversion to one of near total introversion and introspection. it's clarified some things. it's focused my eyes in a strange way once again. and it's funny. the thing i love about fashion. about politics. about celebrity. about royalty. about so many things. it's the exciting undercurrent of change. the way one sweeping zeitgeist can overtake the frenzy of just moments ago. within the span of just a few months we find one flock rushing from masculine lines and dark desolate obsessions to flushes of full color and the luxurious fineries of the caviar life. we can find a political party in supermajority one minute and overwhelmed by a wave election the next only to find themselves in a position of strength not even on year later. we watch television mainstays cancelled unceremoniously on the one hand while the most base of critical nightmares reaches bigger audiences and garners more money than people can keep up with. we find find even old institutions like the royal family usher in change: we've watched as the queen of england must not only hand over her crown to an adulteress who under-girded the divorce of the future king but now to someone as common as myself. someone who wears reiss like me. someone with a sister like mine. someone with a brother who i would probably run into at a bar. yes, change, it's in the air. it touches all things. it's even in the earth. since i last wrote, our very planet has found itself rocked by horrific tsunamis in japan and astounding volcanoes in iceland. tornadoes have touched town in missouri and massachusetts.

yes, change: but, of course, my mind rushes to fashion. the theatre of fashion has once again embodied the change in the world while dramatizing it in its own way. trying to understand the world. trying to make sense of the things happening to it. and we saw this most spectacularly at chanel. the king of all fashion houses in a way. in a somewhat prophetic fashion, three days before the earthquake in japan, while fashion's biggest concern came about in whispers of anti-semitism surrounding dior's designer, karl lagerfeld sent out this edgy collection filled with worker man jumpsuits and scuffed up boots against a backdrop of smoking, distrubing desolation. how eerie to think how on the money this vision of the world would become. but, much like the world, with its short attention span that forgets about the disaster in japan over the daily heap of glossy headlines, so has chanel left behind that darkness and emerged with one of the most frothy, devil-may-care, rhapsodies to outright luxury that we've seen from the house in many years. this time coming days before the cannes film festival, karl sent out his women in fresh squirts of lemon yellow and in sparkling swimsuits with their chanel beach towels dragging behind them on the boardwalk. he cast an older model -- invoking all those chanel women of a certain age no doubt -- in the midst of a gaggle of gentleman callers with a rueful smile on her face. yes. the world has certainly moved on.

and in this country, while i might fancy myself conservative, we have found an odd interpretation of conservativism asserting itself in washington and pontificating itself out of power not even one year after it swept in with great fanfare with a near government shut down one day and a medicare scare the next. when i wrote last, one might have thought the had the trump card -- quite literally actually -- and that they might seize an opportunity to hold the house, take the senate, and eke out a victory for the white house, but since then, we've seen the president capture osama bin laden, draw the idealogues out of the republican party shadows, and cast himself as a decisive leader who might not have accomplished all he wanted but has done the best he can with the political realities he got dealt. and although he might've gotten elected as an anti-war president, he not only ordered military action into pakistan without their consent or even notice, but he has precipitated a conflict in libya, and re-started military tribunals against those still in guantanamo.

strange days indeed, but none has distracted me so much as the events that have transpired in my own life. i had one of those quick flitted romances that jar me to the core while not have the semblances of seriousness that so many other's relationships seem to display. i met someone. and for the first time in a long time, i felt like i met someone that could honestly become my next someone. in the way i felt about the exsomeone. it felt serious. and enduring. and real. it cut to the core. quickly. it wasn't odd and intriguing like the long horn. it wasn't confusing and emotionally fraught like the stock broker. it was just real. i could lay there and be myself without the pretense. and if i were to say i had developed a new type in my old age, this someone would fit that bill. brown hair, brown eyes, owns a dog, goes to baseball games, from the midwest, with the build of an athlete and the temperament of everyday people. but, like so many other situations in the past, it came with a basket full of asterisks and caveats. this new someone lived in orange city florida, this new someone had recently gotten out of a relationship. but i felt the pull right from the start. we met online as so many do at about two in the morning. we talked online for a couple of hours and then followed it up with a conversation on the phone until five in the morning. we went out for coffee that morning and made plans for dinner that same night. we had dinner and then went to the grand prix downtown. we came back to my place. we held hands. we made out like teenagers. we shed our clothes. and i thought that i could actually fall in love. call me crazy. why do i say that? because we didn't have sex. my choice. my decision. we proceeded to conduct somewhat of a long-distance and phone sexing affair for weeks until my new someone's mother contracted breast cancer and that family emergency uprooted my someone from orange city to allentown, pennsylvania. for good. just like that.

i'm starting to think my turnover time for getting over these flash in the pan instant relationships in the internet age remains about three months. one month of actual involvement followed by this odd introspective two months where i don't meet anyone and don't want to do anything. except, that is, when i travel: after my birthday in south beach -- which hatched obsessions over brioni sneakers, w hotel bars, and more south american adventures -- i had a quick week in manhattan for one of their high holidays, st. patrick's day. while this trip did not stand out as one of my grand manhattan adventures with bottle service at a nightclub or fantastic bars filled with beautiful people or overpriced eats at fantastic restaurants, it definitely let me see the real new york once again. i touched down on a wednesday and proceeded to lose and/or break two of my friend's spare keys to her apartment. after i slept most of the wednesday due to my working nights, jen and i ventured out to pil y pil, a new tapas restaurant on the upper east side that looked straight out of the imagination of a crazed painter with wooden vines crawling up every visible wall and wine bottled suspended in air on slats of metal reminding us of the real world bustling just outside the door. jen and i caught up over some cheap rioja and fantastic bites before we stumbled our way over to uva, the wine bar she's talked to me about for years but that we never made it to. well, uva showcased everything about manhattan that i love. on a wednesday night, this place found itself stuffed to the gills with the right type of people. and while i guzzled malbec against the cold air peeking in with each opening of the door, the thumping beats of the music and the loud chatter of the skinny-jeaned and 5F'd diners made me swood. jen said this showed her just out of place she belonged in a place like new york. and i felt home. there exist few cities in this world. well, in the country, at least, that could boast such a crowd of well-coifed yuppies doling out fourteen dollars a glass of wine on a wednesday night at a random wine bar on a random street in new york. while i don't remember leaving -- nor did i even remember going to that bar until seven weeks later -- we went back home and i obsessed about going back out. she begged off and i went to the neighborhood waterhole, "the tool box." and i started in with the grey goose and sat down at one of the two unoccupied bar stools while a sweating martini glass sat sweating in front of the empty bar stool beside me. in a blink, a wall streeter in heavy good wool in one of those perfectly tailored suits came barrelling in like a water buffalo barking into a blackberry and re-claiming a martini in a bubbly guzzle before noticing me. i opened with a simple line: "you're brave," i said: and this wall streeter came back with a smile saying, "why do you say that?" : "to leave a full drink unattended in a bar like this? you're brave": we then started talking about how shitty the martini drank and what vodka it got made with and i recommended something better as is my wont and started talking about our lives: i noticed the golden band on the wedding finger so i pressed and got the surprising answer of not only marriage -- of the legal variety in new york not the conversational kind that so many use in bars these days -- and we got into it and apparently the other half not only knows all about it, but is okay with it. i mean, if this wall streeter indeed were doing something dasterdly, would the wall streeter do something so boldly in the open as to sit at a bar full of people: well, this got me to turn on my bar stool to face this wall streeter -- something of a in-my-thirties signature move ever since my dinner with the stockbroker at the queenshead bar -- and one thing lead to another with one more drink getting bought for me and a drunken stroll down second avenue until we got to the wall streeter's building. the motherfuckin' brompton. yes, the very brompton that i saw on "selling new york" and we had one of those nights that remained both unforgettable and entirely so. i slept in the marriage bed and i took my morning piss in one of the children's bathrooms. the apartment literally spanned the corner of the building with northern and southern exposure. i left my banana republic socks behind since i stepped in the dog poop of the toy dog left behind by the vacationing spouse.

the next morning, i raced back to jen's apartment as she had no idea where i was and saw her off just in time to crash for a bit before heading downtown for the new museum. i had yet another adventure since i saw the profound george condo exhibit and went to buy his book only to have my card declined. i immediately had thoughts of identity theft and raced home with butterflies in my stomach to find out that i had plenty of money. so i had to decide what i wanted to do after that so i embarked to the village for afternoon shopping and drinking but this turned to night very quickly -- i do tend to kill quite a bit of time at all of the marc jacobs stores and reiss and looking at all those lovely west village townhomes -- and i had to wrestle my way by hook (as i don't know the subway system enough to do that) and crook (as gypsy cabs sometime just make sense to me) back to the upper east side for a proper st. patrick's day drink off. i met my friend jen at "the stumble inn" and we drank for a while before we went to MXco to celebrate her friend's birthday (also a buckeye although i didn't know her at school though a friend of mine did). i made a scene when the wait for the bathroom forced my old man bladder/old man prostate to take a leak in the employee break room. yeah, embarassing. the next day, i got up to go shopping and museum shopping with my friend sara. we started the day on madison avenue with the whitney and tom ford and then went downtown for uniqlo, h+m, club monaco, and some lower east side boutiques finally stopping for sushi and some post sushi sweets at billy's cupcakes. i left sara at penn station and went to two other club monacos in the name of raiding their sales racks and then stopped by a borders going out of business sale since i figured they'd have crazy selection at the park avenue location. and i was right. that night, jen had planned a dinner party for the old ohio state gang and we had quite an edward albee evening that circled around four or five bottles of wine, great homemade fare, and the hunt for some more illicit fun. by the stroke of midnight, we found ourselves high on life piling into cabs headed to brooklyn to have a lowkey night out that wound up being anything but. so. we went to sweet revenge, after fueling up on the street (gotta love brooklyn), and it stood as one of the most surreal nights as the bar turned out EXACTLY THE OPPOSITE of what we all assumed. we met foreigners. we met women. we met locals. but my friend jen had much better luck with the patrons than i ever could. the night flew by and we somehow wound up at one of our brooklyn friend's homes drinking tequila out of a measuring cup and finishing off our illicitness and chatting the wee hours away as the sun rose over bed-stuy. we cabbed it back to manhattan with jen's french jude law lookalike and we spent the day detoxing with takeout sushi and bad television. i jumped the e train to jfk -- where i witnessed all manner of chanel and goyard bag surprisingly -- and came home in wonderful spirits if not entirely tired.

the next weekend i met the could-be future someone (right after i had met this completely horrible older wierdo at "the queen and i" where my car broke down en route) and then the next week, i met the boys in boston. if one were to ask me last spring if a bifurcated fall and spring trip with my boys would make up for a less-than-grand new years trip, i might have said, "no," but after boston, that proves quite wrong: as alex commented pretty early on into the trip, with each year that passes, we tend to up the ante of the trip, i mean, who would've thunk it, three broke college students crashing in a dive hotel off the strip in vegas would one day stay at the w boston for a carefree long weekend away from home. i touched down alone after a nearly serene jetblue flight and met the two of them at baggage claim. we cabbed it to the w and i felt the type of excitement i haven't felt in a while as i haven't been to a "new" city in quite some time. also, i loved being the one who actually paid for the hotel even though it came on a shoe string. we retired to our room and then made immediate plans for drinks in the oh-too-trendy lobby where alex and i became deeply infatuated with the delectable grapefruit gimlet. we launched off to cambridge for our first night out -- i in my shabby giorgio sant angelo jacket, ysl jeans, and lanvin knit tie -- and we had a quite bite at noir where we found ourselves considerably underwhelmed by the clientel, decor, but in love with our "precious" waitress who recommended my very favorite bar in all of the greater boston area, middlesex. we went to middlesex and despite the snowiness and eclectic crowd, i found myself bowled over by the music and would've spent the entire weekend there if it were my choice. after all, of us three, i'm the most deprived of music that good. we then cabbed it back across the bridge to club cafe which our concierge recommended and everyone in the hotel recommended which absolutely unequivocally sucked with the most action coming from an engaged -- as in had a fiancé at home -- coming up to hit on alex. with that, we closed out pretty quickly and headed to the estate where we had one of the most epic nights as we sweated out all of our clothes, saw some girl from rupaul's drag race perform, and met this odd group who we invited back to our hotel for after hours. yeah, it's been a running almost mary tyler moore esque joke among us that we always want to have a "good after hours" on our trips. we've never actually had one. ever. during vegas, we made it back to the hotel with some random guy but ditched him after we retrieved our stoli to go hang with our new york girls. in vegas the second time, we bought a cd and candle so that we could have people back but the boy band we met wasn't up to hanging with us after the cat house. in mexico city, we did convince one stranger back to our room -- while i did all sorts of nefarious things in full view -- but that fell flat as rob tried to close the deal unsuccessfully. well, in boston, we did finally have more than one person back to our room and though i found myself most attracted to this twenty one year old child, somehow i wound up spending the night with this someone who i don't even remember how we started kissing. but yeah. eager guy. so eager that i'm pretty sure i got a handjob in my sleep. i'm just saying. the next day, rob reacted like a dead man, and alex and i went to brunch on beacon hill and then shopping on newbury street. i got boots from marc jacobs and a scarf from french connection (for a song) and then alex and i walked all the way to this mall that had the standard array of near luxury shops like neiman, etc. we then headed back to retrieve rob and had a drink/lunch at market. that night, we started off with drinks at market -- i got so buzzed on grapefruit gimlets i could've sat there all night -- and then proceeded to cure which definitely fit the bill for our second night venture as it was new, new, new and we were on the list and the music was apparently cute enough for me to dance although i remember none of it at all. in fact, i don't even remember how we got home. the next day, we became tourists and we did the entire freedom trail which re-convinced us of just HOW SMALL boston remains. seriously, a village. but a lovely village i'd love to live in. after we took pictures and walked as far as we possibly could within reason, we caught a cab back to the hotel and almost crashed out. we had a quiet night at a sushi place across the street from the hotel. we landed back at market in our hotel -- after a slight altercation with this host from hell -- and rob had the drunkenly grand idea of heading to salem, massachusetts, but the manager of the restaurant came to assure us of the lunacy of that idea. the next morning, we packed up and headed out.

once back in town, with my relationship unraveling with my possibly maybe, i re-started things with my exsomeone, spending quite a lot of time, as is our pattern, just hanging out watching tv, taking showers, having sex, taking showers, lying in bed, ordering food in, having sex, talking, you get the point. i also had a couple of uneventful nights out with the p.r. girl. one happy hour at st. pete brasserie just to catch up. another time we went to cassis which i haven't been to IN SO LONG -- and where i had four martinis -- and then to the garden which had spectacular music and then to the independent where i saw bartenders i've seen trolling on online hookup sites. no judgement. fun night, but i got so drunk i had to vomit in my kitchen sink. fun. a couple weeks later, after having a long wet lunch with my old coworker who now lives in miami at brio at baystreet -- where i coined my new favorite phrase regarding ordering bottles in restaurants, "i'm not ordering the bottle to be sociable, i'm getting the second glass to be sociable" -- i headed back home to attend first friday and had a drink at "a taste of wine" and then dinner and beer bucket for the p.r. girl and her makeup artist friend and too much malbec for me at the garden which had FANTASTIC crab cakes. after that, we, of course, decided to go to the only bar in town, but the makeup artist had to ride the bike home and get the car and the p.r. girl and i raced to her apartment to scarf down an entire bottle of malbec before heading to the bar where, surprise surpsise, i got too drunk and went home early (i had worked the night before; do the math). but i did have fun since it was such a grand reunion where i saw old coworkers and friends from years back. craziness. funny thing happened though: the makeup artist gave me a ride home and then the next day called to go to the movies with me. so we went to see thor, but i found myself so broke that i had to beg off going to lunch.

speaking of brokeness, i've also spent some i'm-so-broke-i-have-no-choice time with my sister: we went to see "something borrowed" a couple of weeks ago with a couple of post-movie i-can't-believe-i-cried-over-that-movie drinks at hiro's which was just sad now. vue 19 really is the new cheesy sushi place du jour. and another night my sister and i went shopping -- where i literally bought the entire mall it had been so long since i had any retail therapy -- and then we watched one of the hockey playoff games at winghouse -- her choice -- which i didn't mind for all of the great scenery namely riled up sports fans. i kept imitating samantha in that sports' bar episode.

i think that's it. oh yeah, i'm definitely getting the etro shoes as the guy at the merrick park store says their buyer said that stores set to get them. also, i might have to hop down to miami for the fourth since it's not freaknik part two. what else? my apartment's going condo so i'll probably have to move without parental intervention. i'm going to see sade in st. louis although i don't know if i'll also get to see my friend charlie. oh, and the boys and i will head to columbus for our next adventure. can you believe it? it's been ten years since we've all known each other. i have a seriously un-shaking crush on yet another coworker who reminds me so much -- physically -- of the exsomeone that i'm embarrassingly flirtatious. well, for me, which means, not at all to the common person. well, now i have to take a nap since i'm due for dinner with the parents this afternoon and i've stayed up all night watching true blood season three.


A Spiritual Blossoming

Since this week begins with an idealistic pairing of Jupiter's sextile to Neptune on June 8, you'll feel like anything is possible -- and it is! Take advantage of Venus's transit into Gemini on June 9, when conversation and new social experiences bring excitement into your life! You may need a reality check, though, as Venus squares Neptune on June 10. Saturn finally turns direct on June 12, when you'll gain traction with all your great plans!

( now, the physical earthquake, the political earthquake, and change, by chanel.Collapse )


---
one might think that given a milestone birthday, a major advancement in marriage equality, the spread of unrest through the middle east, a trip out of town, and several wonderful nights out, that i might have updated my livejournal several days if not weeks ago. however, i've always contended that the more that update my journal less as i live my life more. it's one of those things. and i'm not at a point, quite yet, in my new job where i can just boldly update my journal from my desk without raising questions. i suppose i should start with my so-called life which will take a calendar and a diving rod to recall in a somewhat accurate way. well, when i last left off, i had to deal with the self-inflicted wounds from my not-even-dalliance with the longhorn and my accidental night out at cafe alma which lead to a barely memorable online dalliance and a chicago hangover. but i did reconnect with the p.r. girl and a couple of weeks later -- as my life is completely governed by my working every other weekend but paid on the weekends i have to work schedule -- we headed to gasparilla: something i hadn't experienced quite sober, well, ever. so we spent the full day together and i learned that i got pretty old pretty fast as i did not get wasted and instead we saw the boat parade and then went back to ybor city for a quiet lunch at acropolis -- wonderfully cheap -- and then went back to the regular parade which i assume went on quite calmly compared to years past as i don't ever remember the parade in years past. we witnessed a girl fight and police intervention that involved my white hogan sneakers getting somewhat soiled. which i, of course, like better now. after the parade, we went shopping in ybor which i appreciated more with some great finds at urban outfitters and some inexplicably inexpensive finds at this local funiture shop called agora.

the next week, being my pay week, i went on a retail bender at ellenton that will inspire at least a monthly trip from now until i can no longer afford it as the sale at banana republic had such severe markdowns that i left with so many clothes for so little money that by the time i got to saks fifth avenue, the woman greeted me with a "well you look like you're having a good day" greeting which convinced me to spend even more there. and thank goodness, i went shopping as my social calendar quickly filled up where the next friday, i went with the p.r. girl to late night happy hour at cassis and i had a wonderful time despite my brokeness -- too much shopping tends to keep me from overindulging in other ways -- but before i met her i noticed that agora had opened right up the street from me so that became a wonderful surprise. well, the cassis bar scene that night lived up to my best expectations with testosterone for days and red lights for a pre-valentine's glow and drinks so cheap that the bartender told me to keep the prices to myself as she was making so much money from the former that she didn't want to ruin it. after too many cocktails there, we headed to cafe alma in a cloud of drunkeness and it did not live up to my previous time there -- i mean, does it ever? whenever one goes out with the intent of recreating a good night, it never happens -- and so we decamped about half past one. well, not content with leaving well enough alone, i hopped into my car (mistake) and went to the only bar in town (good idea) and immediately saw an old friend and then proceeded to make out with this muscle bound older something or other (mistake) who took off my shirt (GIANT mistake) which proceeded to prompt me to leave (good idea) by driving back home (mistake) only to receive a phone call from this older something or other asking to come over (such a big mistake that even in all of my drunkeness i declined) only to somehow weasel my way over to this something or other's condo in the signature (and this is where the blackout begins). now. from what i remember, i know nakedness occurred. i know fluids got exchanged. but i don't know much else. my next memory came when i got awakened with the brightest sunlight i have ever seen coming in through the floor-to-ceiling windows in this fantastic apartment. well, clearly, i didn't remember how ridiculous this apartment was. seriously, marble floors throughout. clearly designed by a professional. spa bathrooom in the bedroom and another bathroom in the main living area that's nicer than my entire apartment. the apartment had fabulous appliances that all went unused. the only thing in the refrigerator was muscle milk and food for a dog which i don't remember either. once again, however, i felt my body going through the chicago hangover so i asked to go immediately home (and had to endure the most shameful walk of shame through that spectacular lobby) and once i got home, proceeded to deal with that hangover in the only way i know how: vomiting, sleeping, weeping (repeat). i still felt so bad by three in the afternoon that i almost begged off going to the gasparilla night parade with the p.r. girl, but once i got her on the phone, i could not decline so i got ready and went and despite not having as much fun -- this time, i wasn't drunk enough -- as i did before, i did have a wonderful dinner at streetcar charlies with a gorgeous little server far too young, but cute enough to make up for it, especially since i had just slept with someone too old just the night before. i had the crab cake which tasted sublime and enjoyed laughing at the p.r. girl's friend who came with who ate a huge chunk of wasabi thinking it a piece of broccoli. that's the level of drunkenness of the friend meanwhile i'm courting a headache i'm so sober. but after a chicago hangover, it's very difficult to get me to drink. especially on a budget. if i can order specialty cocktails all night, it's one thing, but when i only have the money for vodka soda, it's a rough road.

well, the next week proved quite the transformative one as i received my first bonus from my job this week. ever since i got back from peru, i have counted on receiving this bonus but i have not counted on it much. i expected a couple of hundred bucks realistically and maybe more based on the profitability of the company. well, i got overwhelmed with surprise when the amount of my bonus actually came in at more than my bi-weekly pay check. so, good for me, i didn't blow it on a pair of shoes or two pairs of jeans or any other big ticket purchase as i would normally in times past (i cling so much to my budget, it's insane), but i invested in those things that actually make me happy. namely, travel. so i booked a trip to miami and new york. but, because life always happens all at once, this much happiness got brooched by even more happiness. on the night of my bonus, i went out to dinner at a new sushi restuarant called vue and had a tasty meal of sashimi and these fizzy specialty cocktails (some elderberry cocktail). but the next day, a let down of sorts, i went shopping at my favorite malls with just no luck with deals -- even with a bonus, i didn't want to go overboard -- but it did feel good to have the money to spend with abandon but to constrain myself with an eye on better opportunity by going out of town to shop, etc. so while i did pick up the odd piece here and there -- and inadvertedly got offered a job at pottery barn -- i just didn't find anything that captured my imagination. i went to international plaza and stopped in crate and barrel and j.crew (where i'm almost duty bound to buy something every single time), and then went to my optician who actually obtained the wrong pair of tom ford frames for me which really let me down, but did free up lots of money to do other things like pay for the hotel in boston, and set all my bills in order. and after my advertures that day -- including a impromptu stop by agora -- i came home needed to take a nap so that i could work the next day in good working order. but, because happiness breeds happiness, who sends me a text message but THE STOCKBROKER! and the stockbroker wanted to hang out and catch up. music, music, music to my ears. the perfect palate cleanser for not only the longhorn, but for my thrashing about. so we went to the only bar in town where i again saw my old friend and had to cringe with people remembering my antics from the weekend prior but eventually, after the stockbroker had reminisced with a bunch of friends from when the stockbroker lived here, but then we went to the queenshead. there we had one of those issues-inducing perfect dates where the stockbroker strokes every part of my ego and i attempted to stroke every part of the stockbroker. but of course, because aaron spelling continues to script my life from beyond the grave, who walks into the queenshead but the musclebound something or other from the week before with the signature condo. so. awkward city, but i made niceties and introduced the two of them. and, honestly, the muscle bound so-and-so did not look bad in wine drunkeness either, but the stockbroker, in assholic glory, said the muscle bound so-and-so looked hiv-infected. so that was that. after dinner, the stockbroker and i spent a few minutes on the sidewalk making out as if it were old times, and then i went home sated with happiness.

the weekend sped by and the next wednesday i returned to citrus park to pick up a last minute calvin klein shirt i spied a couple of weeks before and basically packed before catching the train the next morning. the train found itself delayed and i didn't arrive until after nine o clock. my old coworker and her fiance who i went to peru with had bought a cake and we all went to the w hotel bar -- which, for all intents and purposes, was a gay bar -- for some debauchery and then we went to the wall -- which, for all intents and purposes, was a douche bar -- where the music really sucked, but then went to the soft opening of a club called the treehouse which actually surprisingly delighted, but the night ended calmly enough, which is just fine as i'm an old man, and the next morning (that is one o' clock in the afternoon) my friend and i lunched and then went shopping all day where in my old man excitement i bought five candles for absolutely no reason from casaideas (which there was one in peru, ironically) and z galerie (where i saw this captivating horse painting). somehow, it magically became half past four, i had to scramble to try to get to bal harbour shops before seven (harder than it sounds given friday rush hour/weekend traffic to miami beach island). so i showered, packed, hopped the train, and spent an hour and a half on one bus (an actually lovely experience minus the schizophrenic because it showed me some of that really old miami which reminds me of home), and then i met up with my good friend sara at bal harbour where we went to ever store and i found cute trainers at brioni and d & g, and she bought a balenciaga weekender in ardoise after declining the two-toned reversible chanel. i, of course, felt woefully underdressed although i wore $400 sneakers, $200 jeans, $100 t-shirt, and $100 belt. so, in short, one of the best days of my life. i forgot the thrill of the luxury shopping and resolved to do more of it myself. perhaps before toronto or in toronto. i'm still, after all, allured by prada camo. and the dolce animal print lace ups (currently only for women) would make a nice addition. or even that leopard (or was it ocelot) gucci briefcase or horsebit loafers, or even the white leopard ysls.

the next day, i came home by train and went to dinner with my parents at st. pete brasserie where i once again fell under the allure of great wine and a too young server. the food also pleased as well. it's definitely in the rotation now. on sunday, i went to an oscars' party at the p.r. girl's apartment with her coworkers, her new beau, and one of her friends who i found myself previously attracted to who works for armani. we'll see. this wednesday, i had another one of those rhapsodic shopping experiences at ellenton where i only have regrets about not picking up a $20 calvin button down, a $20 polo long sleeve tee shirt (as undergarments), and a $10 green sweatshirt from banana republic that honestly looked balenciaga-esque. but i'll be back. perhaps right before new york. we'll see. which i'm going to for st. patrick's day.

now, with all of that covered, nothing earth shattering, i know, but that's my life right now. it's never really dramatic when it's good, you know? i'm back on my movie buying binge, besides, with recent acquisitions of "the american," "easy a," "please give," "dorian gray," "wall street: money never sleeps," "the kids are all right," "rope," "strangers on a train," and "two moon junction." yes, just like the old days. the only thing that would make this more like old times would come in sunday nights at the resort, a new romantic interest. it's time to make myself into a new man.

( and with the new position on doma, perhaps a romantic interest might evolve into something more, with the new pucci collection, perhaps added flare to my wardrobe, and with all the unrest in the world, spreading from tunisia, egypt, and yemen, into bahrain, libya, and oman. and oddly, wisconsin. more than ever, people have decided that now"s the time to come together as one.Collapse )


---
seeing as i cannot help myself from talking to every single person i know about this situation, i find that i'm quite overdue in posting to my beloved livejournal. seeing as i have traveled to another hemisphere and experienced more of the world in the past month than i have in quite some time, i have done myself quite the disservice in not chronicling it as it happened. but i cannot completely take responsibility for that seeing as i could barely get hot water and consistent water pressure let alone a reliable internet connection. where should i even begin? i suppose the lonestar. is that the moniker i assigned? well, we went on our last date on christmas' eve's eve. we finally went to the movies where i assumed we'd get down when the lights went out. well, not all that whoreishly, but seriously, more than the not even kissing or hand holding that we had embarked on for the several dates we had. yeah. not so much. cute movie. fittingly childish given the courtship. and the longhorn even asked me for coffee afterward. i felt charmed. but then, nothing. nothing. seriously, some under the table leg action or something? i don't know. craziness, i know. because. when i like someone, i never have to do this! there is no ambiguity. i don't have to guess. my sex is on the table from the start. generally. and i got reminded of that just thursday. we have a firefighter/paramedic. we meet at a bar. we have a conversation. within seconds, a question got asked, "don't you remember me?" and of course, i, shocked, had to think to myself, where did we meet? what did i do? oh, right, i got reminded, hotel party at disney two years before where i made my intentions clear and known up front. as i'm wont to do. but you know, i've never caught a relationship doing things like that. so i thought, "maybe there's something to this 'taking it slow' business. doesn't anyone date anymore?" so i played the game. we went to neutral territory. no "do you want to come over and watch a movie?" no "let's go out for drinks." no "let me walk you to your car" or any of that. just courtship. well, i've learned my lesson. perhaps the wrong one, but i've learned it. especially since i found myself SO ATTRACTED TO THE LONGHORN i fantasized about the longhorn. we wouldn't know it. and when i made my feelings known, after the date, i got this pat answer which forbode the end, but hey, i went to peru in between, so by the time i got back, guess what? nothing. i text my sister, she texts me back. i text rob, he texts me back. i text my mother, she texts me back. i text my ex-, he texts me back. i text my boss, she texts me back. i text a motherfuckin' non-profit, they motherfuckin' text me back. i text the longhorn, NOTHING. i'm waiting by my phone like an out-and-out chump. like, who am i? and it puzzles me because in my mind, i thought, well, we just have to see each other one more time to remember whatever and forget whatever, because i'm just that good. once i get in front of you, i can convince you. that's my gift. i can make conversation with a mute. i can dance with a cripple. i can hold court with a turnip. so it just makes me crazy that i couldn't make it work with someone i was THAT attracted to. seriously. so at the end, we were texting, we had one last conversation, and then we were texting. it's fine. i was watching the golden globes -- didn't i say natalie portman would win? -- and the longhorn got immersed in some football game. fine. so we text back and fourth and back and fourth and the longhorn texts, "i'm watching the packers for their package" and i type back somehting funny like "are you talking about what i think your'e talking about?!" and nothing. i call. nothing. i text the next day. nothing. i call AND leave a message. my ultimate act of i'm frustrated. and nothing. so i delete the number out of phone. purge all saved texts. and that's that. now. other things were going on, but moving the story along, i went out on thursday. i needed a healthy dose of the fabulous life to forget about the silliness of this childlike courtship. honestly. they had racier encounters in the motherfuckin' duchess. seriously. so i get dressed up -- corduroy blazer, zara frech cuffed shirt, reiss cufflinks, rich and skinny jeans, and church's brogues -- and walk, yes walk, i knew i would be that drunk, down to cassis. my bartender isn't there. fine. i get the new guy to mix me up a flirtini. fail. i then have three or four espressotinis. i meet these fabulous people including a body double for "mr. big" not really, but honestly, chris noth look a like with a better personality of course. and charming to a fault. and his date, this crazy woman i know from somewhere. and this developer. and then a graphic designer comes and stands next to me. i start to paliptate. the couple buys me another drink. my FAVORITE bartender comes in "off duty" and sits next to me. we chat. i talk up the graphic desginer. i fall in love with the graphic designer despite the wedding band. and then i see myself out because we all get a bit stumbly after five martinis and i make my way home perfectly frustrated, but then, in a minute, i decide, this night isn't over, despite the hour, and i go to the only bar in town. well. this is why it pays to not be seen in three eternities and a half because when you do get seen it's open arms and hugs and best wishes and introductions and as i made nice with this woman i had known through high school friends, this extremely handsome blonde walks up. well cutish blonde, let's not go overboard, but extremely handsome to me, and asks if i remember meeting? i blush, because of course not. i don't remember. or i would say so. but i didn't, but apparently, i had quite fancied two years ago. and, surprise of surprises, this gorgeous blonde is a home-owning paramedic/firefighter. honestly, i might die. and became very handsy. but had a boyfriend. so i'm off trying to be the good old chap with the courtship and i'm back to my role as homewrecker. they were fighting that night anyway, but not before i could exchange facebooks and flirtations so. just like that. another one bites the dust, bring on the next.

but i guess i should have had enough warning about the challenges of compromising oneself in the name of staving off loneliness from my trip to the southern hemisphere to visit peru. i must say that the new year does have a way of clarifying everything. it has a way of pushing life forward. last year it pushed my friend rob into the arms of an old lover. a couple of years before that it pushed another of my friends out of a relationship completely. this year, it steeled my mettle to go somewhere because my friends had determined to make new years all the bore this year with the dreaded staycation that has overwhelmed this country in the grip of a financial plague. so i resisted the urge to do the same and went in on a scheme to go to peru with my old coworker who lives in miami with her peruvian fiance. well. that it took me away from a prospect should've been the first sign. that i only know her fiance through their multiple fights should've been my second sign. but the third sign came in how my life started its upswing financially and otherwise just as the new year should've taken hold. i mean, i could've spent those couple of thousand dollars swilling in the drink at cassis or on a bottle in miami or partying in manhattan. but hey, i needed passport stamps and i'm so glad i forced myself in the end. my life is so much richer for it, despite the drama. but i say that as if i don't have drama every time. eustress after all is still stress, but i had to fall into my life coach role many times and i didn't get to even fulfill my fancy until most of the trip had passed. so i had to leave on christmas day itself and that just sent my sister flying with jealousy as dinner had to be served early and everyone preoccupied themselves with getting me to the airport on time, but it worked out and i flew down to miami just in time and when i got down there, i had to wait forever to get picked up from the fort lauderdale airport. we got back to miami where my friend had to unload twenty pounds of clothes as BOTH of her alotted cases were over. and then her fiance rambled in not started with his packing. and the first of the schemes....to get to the airport without paying a cab. this involved enlisting a friend i met the last time i was in miami but did not get along with well, drunk, it was worse and after being criticized in every way possible, i finally respond with my trademark wit, and this oaf, unable in his state (or any other state for that matter) to come up with a retort, wants to devolve into fisticuffs. we eventually pile into the car and have a tense ride to miami international. and then we have the most treacherous flight to costa rica where we had a layover. after getting on the last plane, we descended into lima where it looked like we were landing onto of sand dunes falling into the sea. when in mexico city, you could tell the city very poor but had very rich parts, but in lima, its jewels didn't shine quite as ostentatiously. you had miraflores and you had everything else. and the first surprise of the trip? we weren't staying in miraflores. the beach condo i had dreamed about for months had fallen victim to squatters and we had to stay in the other family home in san miguel. with the fiance's father. and aunt. in his childhood neighborhood. with his childhood friends. picture me. in my linens and whites in a lower middle class neighborhood where people looked like they might strip the silver from my fingers. so we went to the nearby mall where i felt pleased that they had a faux-macys and a tommy hilfiger, but nothing spectacular: no american apparel and chanel like mexico city. then we went to this market across the street where they had a buffet for less than a dollar. we went back home and headed down to miraflores that night to see how the locals did it at chili's and we saw nothing and did nothing except to drive around maybe getting high and drinking wine out of plastic cups. the next day, we went to park kennedy around midday and then to lacomar for lunch with one of my friend's fiance's local friends who worked for groupon at pardo's chicken -- the first of many outings there -- and then we went down to the coast to sunbathe with the likes of local celebrity peter ferrari. that night, we went back to the miraflores neighborhood to this local american sports bar called "the corner" and i got tanked -- how could i not when top shelf cocktails barely cost three dollars -- and had a good night. the next day, we ventured to the south of lima for their more exclusive beach fronts and enjoyed ourselves at san bartolo and then at asia. we were with yet another of his friends for yet another time, so it was quite stilted, but i had a great time and saw some of the most exhilirating pacific waves of my lifetime. that night, we headed to the ever edgy barranco neighborhood with its chantueses and its hard rock bars and we partook in the local decadences and danced until the wee hours of the morning giddy as all get out. wednesday, we went down to the rock beach early in the day where we roasted good fashion while the fiance surfed and then headed back for lunch and then a sophisticated night out in the miraflores night at a restaurant called bohemia and a thrilling neighborhood walk capped off by some gambling in the casino. i felt that night the closest to seeing the real lima. white table clothes. lomo saltado -- a steak dish most reminiscent of steak fajitas -- and the thrilling night. i could have asked for no more. on thursday, we embarked to the zoo as our day activity and then went shopping that night at plaza san miguel with dinner and drinks at this delightfully trendy place called sofa cafe and then went to see the spanish version of "easy a" which was funny and i'll probably buy since i have a quiet little crush on one of the stars. on friday, we took a tour of downtown that lasted for hours and hours and i bought a painting in the park and some other souvenirs and then we got ready to go out for new years. well. this was an adventure. we went to look for an edgy house club, but none existed, so we went to aura which played eighties favorites for a less-than-full crowd. well. around two the crowd picked up and the music went top 40 and since we were all rolling, it turned out quite well. we didn't sleep that night and i lost my debit card which was unfortunate given we had a flight to catch first thing that morning to cusco. thankfully, my friend could loan me money to sustain me for the trip. i cannot wax on more poetically about a more endearing place than cusco. seriously charming with old world town square and architectural details to die for but with an underbelly of outright devilishness. we checked into the hotel and the fiance went on and on about being sick so we left him in the hotel for lunch and shopping. well. we got back and he still complained so we went to dinner at the MOST perfect wine bar i've ever been to in eons and got buzzing on malbec and then we went nightclubbing at mama africa which was two level affair that had this edgy bar below deck with this dj that would've been at home in miami. easily. and then upstairs for this club that filled itself with brazilian tourists, ucla backpackers, and the likes of us, just drunk and happy to find music we loved half a world away and two miles in the air. we got back that night just glowing with a good night out to return to a still sickly fiance who had not showered for two days at this point. next, we went to ollantaytambo which was just this horrible stop in the road to macchu picchu but we had to spend the night. and we had our final blow up there when the fiance opted to stay in a $6 hostel because he suddenly didn't want to pay for the hotel we had agreed to earlier. so while my friend and i rested in four star luxury, he moped and made the entire time so miserable although he tagged along for our hot water, water pressure, spectacular views, cable tv, and hot breakfast. the next early morning we embarked to macchu picchu and i saw the brazilian who had caught my eye the night before. the park was quite extraordinary. it took my breath away with its history and its scale. we hiked ALL DAY. and with no food, no water, no bathrooms. so after about six hours, you can imagine me. loca, loca, loca. on the train back i sat with a vanderbilt grad who made me feel better about my trip. patrician to a fault, he went on and on about the filthiness i had longed to express and the cheapness etc. i couldn't say these things because it's rude, but more on that later. finally, we made it back to cusco, and went out for one last dinner....at mcdonald's because it was SO LATE once we got back because of a mudslide derailing a train and we had to take a bus from ollantaytambo. the next morning, we took the plane to lima, packed, and had one last dinner with the fiance's family at a chinese restauarant (they obsess over it there), and then slept for a few hours before departing finally. we connected in mexico city. missed our connection (because of some crazy security requirements! but i did get another stamp) and i had to abide iwth them for yet another night until i could catch my own train home from miami back home.

lessons learned? never travel with anyone i haven't traveled with before without access or means to get a hotel room of my own. because we stayed with the fiance's family, i had to bite my tongue and swallow my pride too much for a vacation. i mean, no hot water for days. no water pressure toward the end. not one night for me. not the freedom to just explore on my own. or just lay back and let them have their space. but i did enjoy it. and i would go back to cusco tomorrow. seriously. and when i got back, the lines of communication re-opened with everyone imporant in my life except the longhorn. the exsomeone and i talked and talked and talked. and i even went over eventually although nothing came about. well, at least i didn't. we went to dinner. we went shopping. and while i DID NOT start having any sort of feelings, i missed that feeling. the having someone. for better or worse. and i reconnected with the pr girl though by accident. i went to the only bar in town sober and by myself on a friday and it was boring (although, of course, i saw someone i knew) so i went to detour which was worse but i had a drink anyway, and then went to cafe alma where i had a devil of a time. so wonderful. the best music i had heard since peru. although the cocktail of old wine at home plus two grey goose rocks at the only bar in town plus one nasty vodka cranberry at detour plus two grey goose rocks at cafe alma induced a severe chicago hangover and made me lose all day saturday. sunday, i did nothing, and monday, i reconnected with the exsomeone and the pr girl. and then after the emotional times with the longhorn -- all self-inflicted -- i ended the week as i started this post. new year, new hope, and all that.

Break Out of Ruts!

While a full Moon in sensitive Cancer on January 19 highlights the importance of taking care of yourself this week, the Sun's entrance into Aquarius on January 20 reminds you to add excitement and change to your life. A bit later in the week on January 22, Jupiter's entrance into bold Aries provides plenty of fuel for all your projects and plans!

( and as crazy as i"ve felt lately, it"s actually quite scary to think that we never know what might set someone off. while i joke that my new theme song is the spanish version of a shakira hit, it"s quite remarkable how little it takes to set one man off or how one event can spark outright revolution (in tunisia, in egypt, and in yemen).Collapse )


---
"i can't hate you, though i have tried," sade once crooned on her beautifully haunting ballad "love is stronger than pride," but the words like so many others existed only in a hypothetical space about love and loss, but here i am in that cummulonimbus between the onset of a potentially real relationship and all of the hope and longing that comes with the anticipation. to say that things have not gone as i'd have liked them to would understate the case one million fold. i vacillate between betty page wash-that-man-right-out-of-my-hair resolve to scribbling-our-names-in-a-heart infatuation. at one moment, i'm a jaded divorcee drinking red wine alone in a sports' bar, and the next moment, i'm a teenage girl on a sugar high talking about how dreamy her crush is. it's that bad. to put it in all adult terms, physically, i'm so attracted to the longhorn that i've sexually fantasized about the longhorn. to orgasm. personality wise, i have sent myself both to mountain high and valley low over our conversation. like, i want to jump through the phone and just cuddle. like, i want to wash the longhorn's dishes. and this becomes increasingly problematical because our so-called romance has come about in scheduling fits and starts so epic that i've lost far more promising relationships over so far less. we found ourselves set to have our second second date -- a term my old work friend gave me because the first date is really a first meeting because neither party actually knows whether there's a "there" there -- so the second date is really the first date and the third date the second so the pressure isn't really on until the fourth date which at this rate will not realisitically happen until the third week in january. no joke. after all, i'm going out of the country this weekend and will not return for two weeks. i understand the nature of "shiftwork" and the unpredictability of the retail schedule, so i resolved not to let it become an issue. however, the first time we rescheduled, it came from the longhorn having to fill in for a store manager who fell ill. been there, done that. in fact, that week remains the only week i ever called off from pier 1. so i get it. the second time, however, felt like the sick and/or dead grandmother incident i had with another plentyoffish.com potential suitor: two hours before we were set to meet, the longhorn sent a message stating that a friend's mother died and that the longhorn would go to ocala to console this friend. at this point, i did not know the sex of the friend, but i later learned it's a guy named mike. and now, there's a competition. because i don't know the nature of the relationship between the longhorn and this mike except to say that they've only known each other three months and they talk on the phone which is remarkable given how pulling-of-teeth difficult it is to schedule a conversation between us two. so where we are, and i don't know where we stand but to say that we've texted so much and talked so much that i actually think this re-schedule has pulled us closer. but at the same time, i've resigned to not invest myself anymore in this. whatever will be, will be.

Here is your Daily Single's Horoscope for Saturday, December 18

When that ex invites you out, you're tempted to say yes -- but don't let old feelings trap you in a toxic relationship. You know there's a good reason you're apart, so don't lose sight of it.

and, of course, because this is the way i deal with things, i had this emotional holiday night with the exsomeone about a week and a half ago. we watched the "sex and the city" episodes "are we sluts?" and "drama queens" because they so encapsulated the feelings i have had about my courtship with the longhorn. and, like my sister, i have had diarrhea of the mouth concerning this situation so i've talked to my sister and to rob and to jen and so it spilt out even to the exsomeone. i mean, we talk about everything else. and i couldn't help it, i mean, i was teary during the "drama queens" episode. but, then, that subsided. i ate my two bags of soft batch cookies. we had perfunctory fits-and-starts sex. and we haven't really talked that much since. and that happened after the FIRST re-schedule. after the second reschedule, i really went back to old habits by calling the stock broker. we caught up and i remember every single thing that made me so bonkers in the first place. and, of course, the stock broker has settled down -- the exsomeone is also dating someone somewhat seriously -- and the stockbroker told me that all relationship have drama. that i should know this by now. and as long as it's not something major, to basically, just take the good for the good and the bad for the bad. and largely, that's what i'll have to do. i really feel like this has potential. that's what makes it so tough. i just don't know if we've hit our moment.

Here is your Daily Single's Horoscope for Sunday, December 19

Embrace your existence as it is -- you're in a good place, even if you don't quite appreciate it yet. Your goal should be acceptance, so don't get hung up in what you haven't done yet.

in the interim, i've had quite a streak of good life living. almost two weeks ago, my boss called me into the office to announce an unexpected pay increase. i have three weeks off of work. two weeks ago, i went to cassis and had a racuous night out where i met this crazy katy perry bartender girl and basically had a romp through st. petersburg that started at the only bar in town and ended in a dive bar called "the emerald" with an open bar tab. after that, i went to a christmas party at one of my old pier one coworker's home. it was soaked in red wine for me. and i've been on a red wine streak lately. malbec has become my painkiller of choice. on sunday afternoon, i went to park shore grill for a late lunch of syrah and the best roasted portabella mushroom i've had in years. then i went to the old northeast tavern for a crab-stuffed portabella for dinner. on friday, i went to a late night showing of "black swan" which was AMAZING. on saturday, i went to ceviche with my sister and her boyfriend and then basically drunk myself asleep with a bottle of malbec in thirty minutes (and apparently had designs on going out seeing as i woke up in cheap mondays and a black tee)....that's how i processed the fact that the longhorn re-scheduled on me but somehow found the time to log into pof.com that day. yesterday, i spent the day overdosing on j.crew which will necessitate the purchase of naked and famous skinny guy jeans. also, because of my future boston trip, i need the true religion zach jeans in ultra skinny fit, body wash to wear with j.crew gingham. what else? oh yeah, i may or may not post for quite a while given i don't know how the internet will work in peru, but here's hoping my date tomorrow night doesn't get re-scheduled.

Daily Single's Horoscope for Monday, December 20

As soon as you think you've got it all figured out, the rules change. That's okay, though, because you're flexible and ready for anything. Be sure to keep all your options open -- this could be really fabulous!

( oh yeah, if things don"t work out with the longhorn -- who, in fact, served several years in the united states" navy -- it"s good to know that my pool of eligibles just got that much larger. plus, chanel goes gold, and 90210 shows just how much things have changed since the mid-nineties.Collapse )



http://www.latimes.com/entertainment/news/la-et-adv-dontask-pictures,0,500643.photogallery
Don't Ask, Don't Tell
( Jeff Sheng / Kaycee Olsen Gallery )
Tristan and Zeke are gay members of the Marines who have come out only to a small number of their fellow service members because of the U.S. military's "don't ask, don't tell" policy. Photographer Jeff Sheng has spent almost two years crossing the country to shoot portraits of gay and lesbian military members.
---
Here is your Daily Single's Horoscope for Saturday, November 27

Starting something fresh and new is definitely favored, and other people are likely to appreciate your amazing charm even more than usual today. It's a great time for your love life!

you see, when people tell you not to put all of your eggs into one basket, generally, they mean for you to do some other hackneyed thing like "play the field" or "enjoy being single," but i decided to ward off feeling from coming too quickly and too strongly by simply making myself vulnerable to feelings i once had in the past. but, hey, it's got me writing, and that's something, because otherwise, i'd find myself sitting here freaking out over misinterpreted text messages and half signals instead of taking my own advice and walking into this situation with eyes wide open and addressing the possibilities like an adult. what, you may ask, am i talking about? well, i've met someone. someone who has the potential to replace the exsomeone. it takes me a while to meet someone. seriously. and it's an odd thing for me to meet someone who likes me with anywhere near the same intensity that i like them. can i find someone to have sex with? certainly. i think it's a fascination fuck for some. for others, it's the idea that they're being really bad by being with me. they're "acting out" and they know it. i'm one of those types of freaks. i'm that girl in the bar with her fuck me pumps. they're valentinos most times, or lately, ysl. so, as of my last post, i had some doubts about the realness of this thing. the truth. the re-schedule of the first date freaked me out to the point of emotional eating. and i had lingering doubts about sexual attraction. the longhorn had great pictures, after all, but lots of people do, and the voice could turn me on, but how much could one ascertain from a couple of conversations. well, we met on friday night at midtown sundries which is this non-chain version of chili's/applebee's/tgifriday's that's right down the street from my house (i suggested this place because i thought the longhorn's choice of lucky dill deli would be closed at that hour). i thought i looked tres cute with my peach v-neck date sweater, my first pair of diesels (that's how much invested in this date), and brogues. i wanted to masculine-it up because of the sports and the dogs, etc. little did i know, i didn't even shop in the right stores. we both ran about five minutes late, but the longhorn got their first and when i first laid eyes, i found myself pleasantly surprised that i stood taller as i tend to enjoy in all things, and had an even more trim build than me but in a non-anorexic sort of way. in that i may work out sort of way. but what blew me away completely remained the clothes. green abercrombie polo shirt, plaid shorts, a tampa bay rays shirt in green and blue, and flip flops. noticeable ink around the ankle that turned me on and a smile that made me blush. beneath the ball cap i saw salt and pepper which made me happy, and in fit and form, the longhorn reminded me of a younger, straighter, hotter exsomeone. i have to be that blunt. like, instantly attracted. in fact, i felt out of my league. like, so hot i would've just went home right then and there and let the longhorn do whatever. however. the voice? even more quaking in real life. the sense of humor, on point. we chatted over a veggie burger -- the longhorn's a vegetarian -- and tuna steak -- as i'm a carnivore and felt wierd about ordering outright meat since the longhorn's a vegetarian for moral reasons not dietary. as we talked superficially about our pasts, our eyes met and we laughed. conversation flowed. one of the things that turned me on relatively early on came when the longhorn offered me some of the longhorn's french fries before even trying them. say what you will, but it felt like that indicated something vulnerable or giving or something. or maybe, i'm just fully, and boldy infatuated. so after two cocktails on my part and three pint glasses on the part of the longhorn, we left -- after a very awkward exchange where i said the food didn't matter at certain restaurants if the drinks were good and the longhorn said, "well, okay then," in that we-obviously-have-nothing-in-common way and then stood while i laughed thinking it nothing but sarcasm -- and here's where it got fishy. i could not tell whether or not the longhorn found me physically attractive or what. i mean, i was working it. i have never looked thinner in recent times. and i know how those diesels make my ass look. so we got to the corner where we had to part, and we hugged and resolved to make plans again, and then the longhorn crossed with me again, and then we hugged again. i did not know if we were supposed to kiss there. i would have -- despite the obvious hate crime that would've ensued should the less-than-savory crew crossing the street have chose to intervene -- but i didn't know. i mean, i felt overwhelmed. like so gorgeous. so perfect. so exactly what i described when i talked about that american brand of masculinity that i floated home. seriously. the city lights waxed magical in their whiteness. the street cars went silent. the people faded away. and there was no one in the world, but the longhorn.

so, then, communication sort of dried up. again, i work the craziest schedule possible and the longhorn has a similar situation to what i had when i worked at the newspaper and pier 1 imports simultaneously. the i never have a free moment when i'm not coming or going to work sort of schedule. at least now all i have to wrestle with is sleep, not availability. but i wanted to nail down the second date because i got all the right signs, but we couldn't synch up our schedules right then, but the longhorn indicated on all levels that this would be done again. but thanksgiving fell in the middle of the week and between work and family stuff, it didn't seem like it'd happen. but then my sister parachuted into town suprisingly. and she's going through this crazy situation where she hooked up with basically the man of her dreams although he has a girlfriend and she has a boyfriend. she has racked her brains for eons over the "what would've happened if" conversations for the past two years, but nothing ever came of it, until the thursday before thanksgiving. by the time she got to town, she found herself in this not-wanting-to-text-but-wanting-to-hear-from-him mode and so we had something in common wierdly. so i hadn't texted at all really. but i decided to treat my sister for a night on the town so we started the night at cassis -- which is my new bella brava -- and we split a bottle of wine and the best macaroni and cheese i've had in my life while debating whether or not to text. biting the bullet, i sent a text before we left. and the longhorn and i had texted all the way up to confirming plans on the monday next. well, with that under my belt, i scanned the restaurant to see a facebook friend of mine who i hadn't seen in the flesh since high school although we've known each other since elementary school. then, when i went to the bathroom, i saw my favorite middle eastern dictator who i have hooked up with twice and who i exchanged work flirt-texts with over two years ago now. we then went to the cassis bakery so my sister could nab a quick chocolate covered strawberry and then off to ceviche for scallops and sangria. we then jetted back to my place so i could have a quick change into banana plaids and rogan denim and headed to tampa with a pit stop at the only bar in town where i ran into everyone i know except the p.r. girl who i found out was in the hospital with pancreatitis. so we then went to blue martini but i was absolutely blitzed at this point and remember nothing except leaving relatively quickly. then, we went to the kennedy where i remember nothing. my sister told me i had a good time and i have wanted to hang out there, so. i woke up at home, but without my car. and then, when i noticed that NOTHING found itself open on thanksgiving, had to call her to tote me to breakfast. we did the IHOP thing and had quite a bit of bonding time. we then went to the grocery store and i changed clothes -- for the fifth time in nine or so hours (pre-dinner visit with grandmother, dinner, drinking, breakfast, then thanksgiving dinner) -- and then spent time with the family which went swimmingly with my family including them mentioning that i'm getting too skinny. and after i got back home, finally, i sent a last minute text to the longhorn wishing thanksgiving greetings. no reply. but then again, none from alex either (who, it must be mentioned, fooled me into thinking he had a jonathan adler sculpture when all he had was owl from west elm which i should've figured out since he had a crow from cb2 in his study). so i let it ride.

i suffered through two interminable nights at work and found out i didn't have to work on sunday -- which is why the longhorn and i agree to monday night anyway -- and so i texted such information. nothing in reply. so then around quarter till nine, i called. no answer. i sent a text message asking what time we should meet. no reply. so then the butterflies started up. and i felt myself spiralling emotionally to that ugly place of rejection and hurt. i felt embarrassed that i had went so public with how good of a find. a white unicorn i called the longhorn. the impossible find. my future spouse. plan a, i joked with rob earlier: you see, i went underwear shopping today as is my wont before dates and bought two pairs. i called the first pair of conservative boxers, plan a, just in case the date with the longhorn goes right and i somehow wind up in bed. i'll have boxers which are also cute to sleep in. but then my second were one of those oversexualized pairs of 2xist trunks. so hot, i'd fuck me. just in case i get crushed and need to hook up on the fly or hit the bar. so yeah, if plan a didn't work out, i'd need a plan b and as i swirled in my jilted-ness from no return call or text, i got a text from the exsomeone. well. in other circumstances, i might have begged off or rain checked as the sex has not compared to the random encounters of a couple weeks before. well. i was horny. i was emotional. and i found myself in the car before a half hour had passed. of course, because it's my life, as soon as i found myself in the car on the way to the exsomeone's, the longhorn replied to my text and we decided on lucky dill at half past six o'clock. so that's that, but i went through with seeing the exsoemone anyway and am i glad i did. i had the most mind-blowing, emotional sex i have had since the judge. why? the exsomeone and i kissed again. we haven't done that in at least three or four years. and afterward we cuddled and talked about everything. we haven't talked like that in probably almost two. the exsomeone told me about a sister who has become a drug addict and the niece whose future is in jeopardy, and about a sarasota friend who i always here about who has stage four, and about continued communication with my exsomeone's exsomeone. the entreprenuer. but we got to talking about "walls" and how the exsomeone has always put them up and i said, well, DUH! since it's the entire nature of our ex-relationship, but we got really deep into it and while it did open the door to some of those emotions from so long ago, they found themselves propelled down an ever elongating hallway. so much has changed. and i came clean with the exsomeone that we may have to stop talking here soon if things get serious with the longhorn. i am, after all, doggedly loyal in all things. but yeah, we'll see how it pans out tomorrow.

Set a New Course!
Open yourself to change!

On November 29, when Venus returns to intense Scorpio, the sign where she turned retrograde on October 8, you won't feel lukewarm about anything! Mercury enters serious Capricorn on November 30, a transit that will turn your mind to important matters. Then get ready for the unexpected when Uranus turns direct on December 5!

( now, more on the banana battiness and the fruity fruitiness going around fashion at the moment....Collapse )



http://nymag.com/daily/fashion/2010/09/prada_just_had_a_chiquita_bana.html
---
Here is your Daily Single's Horoscope for Saturday, November 13

Change is vital right now, especially when it comes to your love life. Show your readiness to welcome that change by actively exploring new options, saying hi to new faces and expanding your horizons.

i must say that i'm pretty sure i exceed the average american in that i clearly watch more than five hours of television per day. this began recently, if one can call it that, when writer-driven television came back into the fore with shows like "desperate housewives," "brothers & sisters," "mad men," "gossip girl," "true blood," and others. it's, of course, gotten out of control with many other shows taking their lead from "glee" to "caprica" to "modern family." so it's interesting to me that within that construct that there exist moments within these shows -- even as many of them flail about looking for new story lines -- that send me reeling with shock and awe. and it's further surprising the truthiness of these moments resonated so deeply with me. it started a couple of sundays ago with bob on desperate housewives confessing his stark loneliness to gabrielle solis after a breakup. it continued with the kevin character on brothers and sisters acting out on his hurt after an infidelity in his marriage. but the most shocking moment came from the kurt character on glee. while i do tend to file many of the kurt moments under the "on a very special episode of" category, the "never been kissed" episode paired such outright wish fulfillment the likes of which i haven't seen in any broadcast telelvision program with the shocking reality that i usually can only find in films of the independent or oscar variety. first, there's something to that whole "love that dare not speak its name" (if not the problematic "male gaze" in some ways) that every guy like me so lives for and relates to that so rarely gets aired in mainstream entertainment. sure, it's easy to point out and cherish in films like "the talented mr. ripley" or sometimes "bring it on", but it's never really given the treatment that it had in "glee." for once, in a long time, the gaze assumed that the viewer, the audience, the person, shared the gaze. it wasn't some curiosity on the margins of the film, it was the thrust of the episode. i mean, teenage dream, indeed. how many times did i look with longingly at the object of my affections in high school -- who ironically looks just like the character in question in glee and said as much on facebook -- praying for the second that for just one second that gaze would get returned. yes, girls have had this aired relentlessly since the television got invented, but it's never ever been done this way. and then to have that moment coupled with the most unlikely kiss possible with the unruly, unsavory football bully. i mean, way to elicit a romantic high with a thrilling moment of bravery just to step on it all with the shock and ugliness of this sort of pain and acting out.

yeah, it's novel. this is how good television is today. i don't have to accumulate a million dvds and novels to satisfy my hunger for such unexpected emotional fare, television fits the bill. but, let's be honest, since i've got back from chicago, i've been a bundle of unexorcized emotions and thoughts. while i didn't act out on these emotions the first week i got back, i had quite a full plate when i had a full weekend without work to distract me. my grandmother's closest sister died of cancer so i had a funeral to go to and i still had all of my residual issues from the matrimonial bliss i experienced in alex's apartment, so i went on an online sex binge hooking up with nearly three different people in almost three days. the first, a new york italian who lived in an apartment that made mine look like the taj mahal and so dirty that i didn't even remotely entertain the notion of un-safe sex. like, no condom, no thanks. and yes, i know it's bad considering all of the talk, but it's been so long since i've used one of those that i thought i wasn't even aroused until i came. seriously. i couldn't feel anything. i've been spoiled by my nearly monogamous pairing with the exsomeone over the past year or so. but then i had to go home and get dressed and go to a church funeral where the southern baptist saw fit to deliver the most fire and brimstone eulogy possible seeing as all but the sisters and brothers in the same generation as my grandmother would qualify as heathens in the eyes of those belonging to the church. after that, my dad decided we should exercise our heathenism even more by going to the casino to celebrate his birthday. this resulted in some father-son bonding time the likes of which i haven't experienced in several months if not years. and i didn't have the words for it at the moment, but another television show help me put words to the emotion. ricky martin gave an interview on oprah recently and in the audience sat a man with his mother and he said that he never really realized it, but he knew his mother finally accepted him when she asked him about his love life. sure, she had never made an issue of it before, but it wasn't until she asked him about his life, then, and only then, did he know she actually cared and accepted him for where he was and who he was. and that's what happened with my father, he asked me about whether or not i dated anymoe and why i wasn't in a relationship and if i thought i'd get into a relationship -- the conversation all of my girlfriends have told me their fathers have had with them when they start to think they might become an old maid -- and i started into the speech i give almost everyone about how hard it is for me to meet people. i mean, it's so hard. seriously. so after i basically donated a hundred dollars to slot machines and then forced my dad to take me to ikea where i saw all of the stuff i could've bought with said hundred dollars, i went home and slept. and then, in the wee hours of the morning, went and met someone else. this one a little older, a judge from toronto. a high court judge. i came five times. i mean, this judge started talking marriage after round two. traveling to italy around round four. and "why don't you just move to toronto?" by the end. seriously. as if i didn't have enough issues. i wondered to myself, is this my meal ticket? what if that is my chance? yes, sexual attraction down. personality i can stand. in a city i LOVE. and all of that praise and adoration. but i couldn't be seen with someone like that in public without being regarded as a trophy. well, not even trophy, but gold digger. so then, my phone started blowing up and i started making up excuses and that fizzled because my conscious got the better of me.

so i sort of cooled off after that after some bumbling encounters with the exsomeone and getting stood up by this traveling san franciscan later that week. so i thought, you know, i need to go on a date, not just to fuck although it felt good to know i still had it, and at first, i got all thrilled because someone on the site who i saw in the bars who i KNOW i would love and cherish until death do us part wrote me, but then didn't respond when i responded! that's what i get for getting my hopes up. so then, after many a conversation with jen and my sister and so many others, i went on plentyoffish.com on a serious mission. just like i was about three and a half years ago, right before i met the stock broker, and so i located fifteen profiles of truly eligible goodlooking people and then scaled it back to five people who i felt not only WOULD respond, but SHOULD respond. no fantastically hot people who i wish would. no crazily specific people who i could rationalize would, but those people who honestly, should and would and could write me. well, only two of them wrote back (and that's ongoing), but one of the people i eliminated for being too good looking and frankly encompassing all of those things that i admired alex's partner for just last post, WROTE ME. and we have been talking on the phone ever since. we were supposed to meet on sunday, but i got a text begging off due to a stomach bug. now, you know, i did not buy it especially since just a couple of months ago i didn't buy the dying grandmother excuse (although, it too, was real), but we rescheduled for this friday. the problem, mostly, is our schedules, but i'm trying to make it work. we'll see. the longhorn's so nice on the phone. and the longhorn's cute. i even bought a new outfit for this one. a banana republic outfit, not an express going-to-meet-friends-for-a-drink outfit. like, i bought a date sweater. the type of sweater i'd NEVER EVER wear to a bar. i bought it on a shopping spree with my mother. yes, wierd i know, but she wanted me to go help her shopping for my sister. mind you, we haven't been shopping since i was a junior in high school. so as she marveled that i do, indeed, know how to shop and spend lots of money very quickly and to great effect, she never did ask me about my love life. although i kept dropping hits like, "i'm buying this sweater for this weekend" or "i have plans this sunday" or any of that. that made me sort of have a sideways grin which is exactly the text message i sent back to my newest internet suitor. i guess i should come up with a nickname. the longhorn sounds good, but i don't know it to be true in any way of speaking. the longhorn lives in a cute building across from the baseball stadium and has two dogs and three cats. works in sales and moonlights at a pet shop. raised in pennsylvania and has two brothers and makes it to new york city occassionally. had a partner for years. like harry potter, which could be an issue, and really likes sports, which isn't an issue if passing interest in sports gets me past that test. and because i live in a soap operatically small town, i keep having this fear that i'll run into the longhorn at cvs or publix or tj maxx or wherever because we both live downtown and i honestly do not know how said longhorn looks in the flesh. i mean, if pictures are to be believed, it's one thing, but one never knows. so i felt that my craziness in tj maxx might have been witnessed -- i mean, when i asked for 2xist undershirts, the clerk thought i meant i needed a size 2X which is SO ABSURD if you saw how skinny i've been -- so yeah, and then after the cancellation, i went on a binge that just let up just now with ben and jerry's and gyros with the bread for breakfast. i plan to almost fast for the rest of the week, but i'm still quite slender as my ruehl pjs basically fell off as i went ice cream shopping at three this morning.

Make a Connection!
You get the green light!

There are plenty of shifts this week as both Jupiter and Venus change direction. And while some of your visions for your life have changed over these last few months, you can finally move forward with your revamped aspirations! First, you'll feel more hopeful than you have in a while when Jupiter turns direct on November 18. Plus, with Venus turning direct on the same day, your relationships can get back on track!

( anyways, i wished i could write with more encouraging news, but i"ve been in a holding pattern here with no signs of let up. let"s hope that it, indeed, does "get better"...Collapse )


---