Here is your Daily Single's Horoscope for Friday, July 16

Save the serious work for your on-the-job projects -- when it comes to your love life now, it's best for you to take it as it comes and let things just evolve, rather than out-thinking yourself.

i don't know if it's the ketosis or the lack of sustained stimulating television or the fact that i'm actually living life instead of just writing about it, but i have found it near impossible to post about the last month of my life despite so much to write about. well, ostensibly. it wasn't until i heard erykah badu's "window seat" in my car driving home from work one morning that i found the emotional core to the thing i've felt for quite some time. life is good. i find myself twittering with the energy i haven't had since i last went to new york. seriously, i don't know whether its the second job that drained it or economic hardships i've experienced since then -- between the car crash, the cut in pay, the loss of two jobs -- but honestly my life has lost the patina with which i maintain my sanity. it's a particular type of excessive living that helps me stay focused and keeps me writing and keeps a smile on my face and heads off the lonlieness i might otherwise feel and have felt lately. while i've kept a list for ages -- thankfully, i've been able to keep buying designer jeans with some regularity and flashy shirts and maintain appearances in the community -- i've come for the first time within arm's reach of actually acquiring things on my list. first, the ysl leopard print loafers HAVE FINALLY GONE ON SALE....seriously FIVE YEARS LATER! half off and i do intend to snap them up on august fourth no matter what. further, i think i can acquire my david yurman signature bangle after i've paid for the hawaii trip. perhaps right after i get back from boston next spring. and after my recent trip, i've added a third name to the list, the louis vuitton okapi bag in damier canvas. although, even as i write this post, i'm kind of thinking i might revise that to the louis vuitton bosphore in monogram canvas since i believe cristiano ronaldo has one. yes, i said it. i haven't caught world cup fever, but i cannot say that i'm so detached from the world that his recent exploits -- he even graced the cover of vanity fair -- did not intrigue me. first, the world cup stuff. then, the baby had by surrogacy. finally, the new york shopping trip.

anyways, i digress, but i'm drinking diet coke now and hopefully, that means i can finally finish this post because i leave for new york next week and i doubt i can press two trips into one post without it running over ten thousand words or something. besides, we've seen advancements in a number of arenas lately: first, we had a compelling ruling in the massachusetts case recently although they did not challenge the full faith and credit grounds which would effect the most change, second, argentina made waves by becoming the first south american country to institute marriage equality, making it the tenth country in the world to recognize the issue and the first in south america. and i have wanted to go there for a while -- perhaps this will serve as an impetus. it's partially ironic in my life because during pride this year here, i had a relatively drama-free experience what with barely anyone to go with and no real money to enjoy the occasion. after the parade, and lunch at tijuana flats, and a cursory trip to the only bar in town, my high school friend and i went to this private party where i met the most ideal person possible. a polyglot six times over with a passport stamped with countries in all four hemispheres. yeah. of course, nothing came about from it, but it did give me hope that this region isn't completely barren of hope. this polyglot walked with the outing and adventures group and should i ever get more disposable income, i might just join. to be honest, i had a lot of trepidation about my trip to toronto mainly because it's the first time i've traveled alone in this way. generlly, i'm meeting someone there or traveling with rob or alex, but for some reason none of those things worked out and i needed to go because i can't let my friends determine my life.

i left tampa in a hot pink shirt, pink striped hugo boss tie, dark seven jeans, with a passport, a sookie stackhouse novel, two suitcases, and all the confidence i could muster on my own. i landed in toronto and took a $54 cab ride in astounded by the scale of the city and how many people teemed in the streets and the bridges and at the stadiums and on the street corners. seriously, the city unveiled its size to me in a way that i did not see the first time. after i checked in my bed and breakfast -- formally called a guest house -- i went shopping on bloor for mixers and the like and socks since i forgot all of them at home. after i got home, i walked through the street festival for a bit and found myself slightly intimidated at the size of the pride festival. we're not in kansas anymore. seriously, church street had barricades blocking it off and hundreds of people danced in the street and drank openly like it was a movie set. i ran back to my room after feeling underdressed -- trovata polo and diesels -- because almost every single peer of worth i saw there had a vuitton murse. unlike times past, these were the big camera case that just looked tacky or a messenger bag, but a small compact bag worn on the shoulder blade or across the chest. just small enough for cash, a smart phone, and probably cards. most times matched with the whole tailored shorts, v-neck look. sometimes longer tailored short, short sleeve button up look. i changed into a bright orange and nudie combination that i test drove in miami last year -- "it's a recession!" -- with broges instead of trainers. when i walked into straight, i had one of those pure joy moments that i experience when i'm in the best place i can possibly be in that moment of the universe. the music, the people, the decor, the drinks were all so much better than i remember. so much more real. and while it took me a few minutes to get my drunk bearing, after a while i remember there was an attic edgy-space and i went up and got my dance on. not long after that i met someone and we danced for an hour and talked and i thought we might go home before i realized that this person didn't pass the three second test. after four more drinks, we parted company and i left the bar. after straight, i stumbled down the street to some sushi bar that became a dance club and danced with a couple of asian girls to michael jackson's pyt then went to woody's although i don't know why or when or how and then i made it back to straight i think, but i'm pretty sure i blacked out at this point because the next thing i remember is waking up on saturday afternoon regretful that i missed chaka khan's live concert. i pulled myself together -- balenciaga cardigan and nerd glasses -- and went shopping on bloor, then went to the street festival, then to the sushi store for the most amazing fast food sushi, then came back to the room, vegged out, then fell asleep. i awoke just in time to shower for the cyndi lauper concert in the park. after i got dressed, i had to walk about twenty minutes to get to queens park, and i had to wait for a full hour just to get into the event: the g20 upset from the week prior had increased security concerns and the buzz in the crowd reacted negatively because they thought the troublemakers in the g20 were mostly from quebec. anyway, she sung through a lot of her new material by the time i finally got in, but that's great because i'm pretty sure i didn't like it. by the time i got in and found a great place, she got into her old stuff and in another moment of absolute tear-jerking emotionalism, she started to sing "change of heart" and the words summed up so many things i felt at that moment, i almost had a complete breakdown right then and there. after she got through that and about five other songs, i left because i had plans to go to the restaurant "wish" that night and the kitchen closed at eleven. i made it about five minutes till eleven and ordered enough food and drink for a trio. i came home quite sober despite two paris mojitos and a delilah martini, and watched junk tv until i went to sleep. the next morning, i went down to the cn tower since the tourist in me wanted to see that the last time i went to toronto. after i went to the cn tower, i saw a group of people stnding outside of a hotel and when i inquired, they told me the motorcade of the queen of england should pull up any minute. well, as expected, she drove up with prince phillip and that cemented that this trip stood as one of the best experiences of my lifetime. i rode the subway back uptown to bloor where i went shopping again at zara and fcuk. i dropped my finds back at the hotel room and loaded up with three or four glasses of grey goose and then went to the parade. it was spectacularly edgy -- advocacy for sex workers lead the parade, followed by naked old people, punctuated by near riots over the palestinian-israeli issues. after the parade, i revisted the street festival and the sushi stop and then i hit the room for some good old fashioned canadian television and packing all of my shopping into my suitcases.

when i got back, i felt pretty invigorated mainly because i had pulled it off when i felt like everyone had actually thought i couldn't and i had a good time despite it all. i wished i had people there with me, but in the end, i needed it. after i got back, the exsomeone and i resumed our sex schedule commensurate with the time i had been away and i immediately began planning for new york since i don't really have the money to do it up the way i'd like.

Here is your Daily Single's Horoscope for Saturday, July 17

One romantic avenue may be closed off for now, or a certain possibility suddenly unavailable. Your job is to take it all in stride and recognize any other opportunities you could explore.



http://nymag.com/daily/fashion/2008/07/patrick_dempsey_gets_his_own_f_1.html

Erykah Badu : Window Seat Lyrics

so, presently I'm standing
here right now
you're so demanding
tell me what you want from me
concluding
concentrating on my music, lover and my babies
makes me wanna ask the lady for a ticket outta town...

so can I get a window seat
don't want nobody next to me
I just want a ticket outta town
a look around
and a safe touch down
can I get a window seat
don't want nobody next to me
I just want a chance to fly
a chance to cry
and a long bye bye..

but I need you to want me
I need you to miss me
I need your attention, yes
I need you next me
I need someone to clap for me
I need your direction
somebody say come back
come back baby come back
I want you to need me
come back come back baby come back
come back come back baby come back
come back come back baby come back

so, in my mind I'm tusslin'
back and forth 'tween here and hustlin'
I don't wanna time travel no mo
I wanna be here
I'm thinking
on this porch I'm rockin'
back and forth light lightning hopkins
if anybody speak to scotty
tell him beam me up..

so can I get a window seat
don't want nobody next to me
I just want a ticket outta town
a look around
and a safe touch down
can I get a window seat
don't want nobody next to me
I just want a chance to fly
a chance to cry
and a long bye bye..

but I need you to miss me
I need somebody come get me
I need your attention
I need your energy
I need someone to clap me
I need your direction

somebody say come back
come back baby come back
come back come back baby come back
come back come back baby come back
come back come back baby come back

but can I get a window seat
don't want nobody next to me
I just want a ticket outta town
a look around
and a safe touch down...

I just wanna chance to fly
a chance to cry
and a long bye bye...

###

Yonge packed for 30th annual Pride Parade

ctvtoronto.ca

Updated: Sun. Jul. 4 2010 9:42 PM ET

Yonge Street was packed with revellers as Toronto's 30th annual Pride Parade wound its way down the city's main drag.

The parade spectators and participants enjoyed unseasonably warm temperatures, too, meaning tank tops and squirt guns were once again de riguer after last year's cloudy weather. The temperature in the city core peaked at about 31 C during the midday, according to Environment Canada.

The 10-day Pride event is the third largest of its kind in the world and celebrates Canadian queer communities from across the country.

"It gets bigger every year," said partier Tash Kalvfleish, as she hung out with friends near Yonge Street in Toronto's downtown.

"I've heard that it's better than San Francisco Pride, but I've never been."

For three hours, much of Toronto's downtown was a mass of colour, confetti and flesh as a cornucopia of sexual expression cut through the heart of the city.

The celebratory vibe was also a marked improvement from last weekend's G20-induced mayhem, which led to smashed shop windows and vandalism along the city's most famous street.

This week, the police presence was decidedly lighter. In fact, many officers donned the rainbow colours and took part in the parade.

Mother Nature helped out, too.

"The weather is amazing, it's been a couple of years since we've had a really, sunny amazing day, 'thank you G20,' we got pushed by a week," said Len Henry, who was soaking up some rays near Yonge,

Toronto's Pride festivities have grown since their beginnings as a 1981 street demonstration opposing police raids of bathhouses, with wider community acceptance growing as well.

Still, there was controversy this year after organizers banned – and then reversed the decision – to allow a small group called Queers Against Israeli Apartheid to march.

However, it appeared that most people were there to hang out, enjoy the sun and dance to a soundtrack of Lady Gaga and other high-energy tunes.

Sunday's parade followed Saturday's Dyke March, which was capped off with an evening performance at Queen's Park by eighties pop singer Cyndi Lauper.

© 2010 CTVglobemedia All Rights Reserved.
comscorebeacon

###

Title: Cyndi Lauper - Change Of Heart lyrics

Here I am
Just like I said I would be
I'm your friend
Just like you think it should be
Did you think I would stand here and lie
As our moment was passing us by
Oh I am here

Waiting for your change of heart
It just takes a beat
To turn it around
Yes I'm waiting for you change of heart
At the edge of my seat
Please turn it around

Days go by
Leaving me with a hunger
I could fly
Back to when we were younger
When adventures like cars we would ride
And the years lied ahead still untried
While I stand here

Waiting for your change of heart...

Blind leading blind
Never hear the laughter
Search through time
Nothing reveals the answer
If it's truth that you're looking to find
It is nowhere outside of your mind
I bide my time

Waiting for you change of heart...

###

Judge declares US gay marriage ban is unconstitutional, July 8, 2010 06:55 PM
http://www.boston.com/news/local/breaking_news/2010/07/judge_declares_3.html

By Michael Levenson, Globe Staff

A federal district court judge in Boston today struck down the 1996 federal law that defines marriage as a union exclusively between a man and a woman.

Judge Joseph L. Tauro ruled that the federal Defense of Marriage law violates the Constitutional right of married same-sex couples to equal protection under the law and upends the federal government's long history of allowing states to set their own marriage laws.

"This court has determined that it is clearly within the authority of the Commonwealth to recognize same-sex marriages among its residents, and to afford those individuals in same-sex marriages any benefits, rights, and privileges to which they are entitled by virtue of their marital status," Tauro wrote. "The federal government, by enacting and enforcing DOMA, plainly encroaches upon the firmly entrenched province of the state."

Tauro drew on history in his ruling, writing that the states have set their own marriage since before the American Revolution and that marriage laws were considered "such an essential element of state power" that the subject was even broached at the time of the framing of the Constitution. Tauro noted that laws barring interracial marriage were once at least as contentious as the current battle over gay marriage.

"But even as the debate concerning interracial marriage waxed and waned throughout history, the federal government consistently yielded to marital status determinations established by the states," Tauro wrote. "That says something. And this court is convinced that the federal government's long history of acquiescence in this arena indicates that, indeed, the federal government traditionally regarded marital status determinations as the exclusive province of state government."

Gay rights activists cheered the ruling, saying it affirmed that same-sex couples are entitled to the same federal spousal benefits and protections as other married couples.

The Boston-based group Gay and Lesbian Advocates and Defenders had, in March 2009, brought one of two suits challenging the law, on behalf of seven married same-sex couples and three widowers from Massachusetts who contended that it violated their federal constitutional right to equal protection.

"Today the court simply affirmed that our country won't tolerate second-class marriages," said Mary Bonauto, a lawyer from the group who argued successfully in the 2003 Supreme Judicial Court case that first legalized same-sex marriage in Massachusetts. "This ruling will make a real difference for countless families in Massachusetts."

Attorney General Martha Coakley, who brought the second suit challenging the law, also applauded the ruling. Her office had argued that the federal law, known as DOMA, violates the Constitution by interfering with the state's authority to define and regulate the marital status of its residents.

Coakley's office also contended that DOMA exceeds Congress's authority because it requires Massachusetts to violate the constitutional rights of its residents by treating married same-sex couples differently from other married couples in order to receive federal funds for various programs.

"Today's landmark decision is an important step toward achieving equality for all married couples in Massachusetts and assuring that all of our citizens enjoy the same rights and protections under our Constitution," Coakley said in a statement. "It is unconstitutional for the federal government to discriminate, as it does because of DOMA's restrictive definition of marriage. It is also unconstitutional for the federal government to decide who is married and to create a system of first- and second-class marriages."

Opponents of same-sex marriage condemned the ruling. Kris Mineau, president of Massachusetts Family Institute called it "another blatant example of a judge playing legislator."

"Same-sex marriage activists have tried time and time again to win public approval of their agenda, and they have failed each time," Mineau said in a statement. "This is why their strategy is to force same-sex 'marriage' through judicial fiat, as they did here in Massachusetts and other states."

He said he was "confident that an appeals court, and ultimately the Supreme Court, will uphold the government's right to define marriage, strengthening and protecting children and families."

The law was defended in court by the US Justice Department, even though President Obama supports DOMA's repeal and has called the law discriminatory. In a hearing with Tauro in May, the Justice Department argued that Congress and President Clinton, who signed the law, had a legitimate interest in preserving marriage as a heterosexual institution.

Today, a Justice Department spokeswoman, Tracy Schmaler, declined to comment on Tauro's ruling, saying in a statement, "We're reviewing the decision."

Michael Levenson can be reached at mlevenson@globe.com.

###

Be careful what you wish for
Posted: Monday, July 19, 2010 1:12 pm

By Cokie Roberts and Steven V. Roberts

Supporters of gay rights were naturally thrilled when a judge in Boston ruled recently that same-sex couples — who have been marrying each other in Massachusetts since 2003 — are entitled to the same federal benefits as other legally wed partners.

"I am so happy I can't even put it into words," said Nancy Gill, the postal worker who brought the case. "I just think how life-changing this can be," added her spouse, Marcelle Letourneau, who can now qualify under Gill's healthcare plan (assuming the decision is upheld on appeal). "I mean, it gives us peace of mind."

As supporters of gay marriage, we're happy for them and other same-sex couples that could file joint tax returns or inherit each other's property. But liberals might want to temper their celebrations. District Court Judge Joseph L. Tauro wrote an opinion that could fall smack into that annoying old category: "Be careful what you wish for."

At issue is the Defense of Marriage Act (DOMA), passed in 1996 and signed by President Clinton, which limits marriage to a man and a woman. Judge Tauro ruled that the law violates the Tenth Amendment, a provision beloved by conservatives because it stresses states' rights over federal power.

In using a conservative doctrine to achieve a liberal result, the judge confused just about everyone. Tea Party activists liked his legal reasoning, but as one defensively told the New York Times, "I don't want to come off saying I support gay marriage." Liberals are pleased with the outcome but should be concerned about how the judge reached his conclusion.

Federal power has long been used in this country to promote social reforms and defend individual rights. Just recently, for example, the Justice Department filed suit against Arizona's new immigration law, saying it could lead to racial profiling.

Judge Tauro's affection for states' rights, if adopted by other jurists, could do grave damage to progressive interests. Take the healthcare bill enacted last March. Several states are already trying to stop it in the courts, on the grounds that its federal mandates violate the same Tenth Amendment principle employed by Judge Tauro.

"Judge Tauro has offered a road map to attack a wide range of federal welfare programs, including healthcare reform," warned Yale Law School professor Jack Balkin, a gay-rights advocate. "No matter how much they might like the result in this particular case, this is not a road that liberals want to travel."

The judge actually ruled in two different cases. In the second, he said that DOMA also violated the constitutional guarantee of "equal protection" under the law. Here, too, Balkin suggested, liberals should be wary. As he wrote: "Whether one likes it or not — and I do not — Judge Tauro is way ahead of the national consensus on the equal-protection issue."

That "national consensus" is clearly shifting. When DOMA was passed 14 years ago, only 27 percent of Americans favored gay marriage. Today, that figure has moved up to 39 percent, and among voters under 30, three out of five support it. But still, outside of liberal bastions like Massachusetts, the idea does not yet command popular support. Thirty states have voted on gay marriage in recent years, and every one has defeated it (six jurisdictions have gay marriage resulting from court rulings and legislative action). Even in California, voters overturned a gay-marriage bill enacted by the legislature.

Here's the rub. If Massachusetts can use the 10th Amendment to expand gay rights, Georgia or Idaho can use the same provision to restrict those rights. And history teaches that a "states' rights" doctrine has often been invoked to limit individual liberty, not expand it.

It took the Supreme Court and Congress to overturn local Jim Crow laws, and Presidents Eisenhower and Kennedy to enforce those changes. Gov. George Wallace did not stand "in the schoolhouse door" to welcome black students to the University of Alabama in 1963. Only federal power made him step aside. Only the Supreme Court could overturn state statutes that once banned interracial marriage and gay-sex practices.

The trend favors gay marriage. A generation from now, Americans could well look back at Nancy Gill and Marcelle Letourneau and wonder what all the fuss was about. But Balkin is right — a "national consensus" has not yet formed behind this idea. Judge Tauro might be a brave man, but his opinion could be used against the same progressive forces that now cheer him as a hero.

Steve Roberts' new book, "From Every End of This Earth" (HarperCollins), was published this fall. Steve and Cokie Roberts can be contacted by e-mail at stevecokie@gmail.com.

Posted in Editorial on Monday, July 19, 2010 1:12 pm

Contact us
salamancapress.com
j.ervay@bradfordera.com

The Salamanca Press
Phone number: 716-945-1644
Address: 36 River St
Salamanca, NY 14779

© Copyright 2010, The Salamanca Press, Salamanca, NY. Powered by Blox CMS from TownNews.com.

###

Tea party groups choose to stand mute on same-sex marriage ruling

By Sandhya Somashekhar
Washington Post Staff Writer
Tuesday, July 13, 2010; 6:41 AM

While many conservative organizations immediately decried a federal judge's decision last week to invalidate the federal ban on recognizing gay marriages, tea party groups have been conspicuously silent on the issue.

The silence is by design, activists with the loosely affiliated movement said, because it is held together by an exclusive focus on fiscal matters and its avoidance of divisive social issues such as abortion and gay marriage. Privately, though, many said they back the decision because it emphasizes the legal philosophy of states' rights.

On Thursday, U.S. District Judge Joseph Tauro in Boston struck down parts of the Defense of Marriage Act, or DOMA, which for federal purposes defines a marriage as the union of a man and a woman. Tauro agreed with Massachusetts Attorney General Martha Coakley that marriages should be defined by the state, and that the law violated the Constitution's 10th Amendment, which grants to states jurisdiction over matters not explicitly given to the federal government.

"I do think it's a state's right," said Phillip Dennis, Texas state coordinator for the Tea Party Patriots. The group does not take a position on social issues, he said, but personally, "I believe that if the people in Massachusetts want gay people to get married, then they should allow it, just as people in Utah do not support abortion. They should have the right to vote against that."

Everett Wilkinson, state director for the Florida Tea Party Patriots, agreed: "On the issue [of gay marriage] itself, we have no stance, but any time a state's rights or powers are encouraged over the federal government, it is a good thing."

That view is perhaps not surprising, considering the strong libertarian strains within the tea party movement. One of the nation's best-known libertarians, Bob Barr, has opposed the Defense of Marriage Act over his concern that it violated states' rights -- a notable about-face, considering that Barr wrote the DOMA legislation in 1996 when he was a Republican congressman from Georgia.

Tea party activists have also embraced the 10th Amendment as a symbol of their opposition to what they believe is the outsized role taken on by the federal government.

The large tea party-affiliated organizations, including FreedomWorks and the Tea Party Nation, declined to comment on Tauro's ruling because of their groups' fiscal focus. "That's just not something that's on our radar," said Judson Phillips, founder of the Tea Party Nation. He acknowledged, however, that some in his group -- though not a majority -- are opposed to the Defense of Marriage Act.

The situation is perhaps different in South Florida, where Wilkinson said "several hundred" of the group's supporters are gay. "Our stance might be different than someone who's in Oklahoma," he said.

© 2010 The Washington Post Company

###

H.R.3396 -- Defense of Marriage Act (Enrolled Bill [Final as Passed Both House and Senate] - ENR)
http://thomas.loc.gov/cgi-bin/query/z?c104:H.R.3396.ENR:

--H.R.3396--

H.R.3396

One Hundred Fourth Congress

of the

United States of America

AT THE SECOND SESSION

Begun and held at the City of Washington on Wednesday,

the third day of January, one thousand nine hundred and ninety-six

An Act

To define and protect the institution of marriage.

Be it enacted by the Senate and House of Representatives of the United States of America in Congress assembled,

SECTION 1. SHORT TITLE.

This Act may be cited as the `Defense of Marriage Act'.

SEC. 2. POWERS RESERVED TO THE STATES.

(a) IN GENERAL- Chapter 115 of title 28, United States Code, is amended by adding after section 1738B the following:

`Sec. 1738C. Certain acts, records, and proceedings and the effect thereof

`No State, territory, or possession of the United States, or Indian tribe, shall be required to give effect to any public act, record, or judicial proceeding of any other State, territory, possession, or tribe respecting a relationship between persons of the same sex that is treated as a marriage under the laws of such other State, territory, possession, or tribe, or a right or claim arising from such relationship.'.

(b) CLERICAL AMENDMENT- The table of sections at the beginning of chapter 115 of title 28, United States Code, is amended by inserting after the item relating to section 1738B the following new item:

`1738C. Certain acts, records, and proceedings and the effect thereof.'.

SEC. 3. DEFINITION OF MARRIAGE.

(a) IN GENERAL- Chapter 1 of title 1, United States Code, is amended by adding at the end the following:

`Sec. 7. Definition of `marriage' and `spouse'

`In determining the meaning of any Act of Congress, or of any ruling, regulation, or interpretation of the various administrative bureaus and agencies of the United States, the word `marriage' means only a legal union between one man and one woman as husband and wife, and the word `spouse' refers only to a person of the opposite sex who is a husband or a wife.'.

(b) CLERICAL AMENDMENT- The table of sections at the beginning of chapter 1 of title 1, United States Code, is amended by inserting after the item relating to section 6 the following new item:

`7. Definition of `marriage' and `spouse'.'.

Speaker of the House of Representatives.

Vice President of the United States and

President of the Senate.



July 15, 2010
Argentina Approves Gay Marriage, in a First for Region
By ALEXEI BARRIONUEVO

BUENOS AIRES — Argentina's Senate narrowly approved a law early on Thursday authorizing same-sex marriages, making Argentina the first country in Latin America to allow gay couples to wed.

After 15 hours of debate, the Senate voted 33 to 27 in favor of the measure, which was sponsored by the government of President Cristina Fernández de Kirchner. For weeks, she waged a bitter war of words with the Roman Catholic Church over the issue, saying that it would be a "terrible distortion of democracy" to deny gay couples the right to wed and that it was time for religious leaders to recognize how much more liberal and less discriminatory the nation's social mores had become.

In its race to derail the change, the church organized large protests involving tens of thousands of opponents of the measure, with Cardinal Jorge Bergoglio, the archbishop of Buenos Aires, calling the bill a "destructive attack on God's plan."

Portugal and Iceland also legalized gay marriage this year, adding to the small but steadily expanding list of nations, most of them in Europe, to do so.

But in a region where the separation of church and state is not always so clear, the law demonstrated a rare but increasing willingness by some Latin American nations to confront the church on fundamental issues, like Chile's legalization of divorce and Brazil's public distribution of contraceptives in recent years.

"There is no question that the law is unusual for a country that is not as secular as Western European democracies," said Javier Corrales, a political science professor at Amherst College. "There's a clear conflict with the church. Very seldom do we see presidents willing to fight the church so strongly on this particular issue in Latin America," even in countries led by left-leaning governments.

Argentina's new law will give gay people the same marital rights as heterosexuals, including adoption and inheritance rights, and reflects the broadening legal recognition of same-sex relationships across Latin America.

Last year, Mexico City became the first jurisdiction in the region to legalize gay marriages. The conservative federal government has challenged that move in the Supreme Court, but weddings have continued and the city has married more than 400 couples.

Three other countries in the region — Uruguay, Colombia and Ecuador — have recognized civil unions for same-sex couples in recent years, as have various cities and states.

But the trend is not universal. Honduras barred gay couples from marrying or adopting children in 2005, and refused to recognize same-sex marriages from other countries. The anti-gay atmosphere in Honduras is so intense, human rights groups say, that more than 20 gay and transgender people have been killed there in the past five years.

"This inspires us to fight even more," Óscar Amador, a spokesman for Violet Collective, a gay rights group in Honduras, said of Argentina's law. "Maybe one day, we'll have the same."

In Guatemala, President Álvaro Colom said of gay marriage during his 2007 campaign that "God said 'Adan and Eva,' not 'Adan and Esteban.' "

Once elected, though, Mr. Colom agreed to support civil unions and invited gay leaders to the National Palace. "Esteban," the president said, according to news reports, "I ask you in the name of the Guatemalan state and in my own name to pardon us for centuries of mistreatment and discrimination."

Argentina had a history of granting labor rights in the 20th century, and Mrs. Kirchner and her husband, former President Néstor Kirchner, have sought to satisfy the demand for human rights that has followed the country's return to democracy in 1983. Under the Kirchners, the government has marginalized the military and now the Catholic Church, both of which once held greater political sway here.

The government "committed treason against public opinion by not holding a plebiscite on the issue," said Eduardo Bieule, president of the Corporation of Catholic Lawyers in Buenos Aires, noting that tens of thousands of people demonstrated against the law. "I don't want to think about the legal problems this is going to bring."

Some political observers saw the Kirchners' strident support of same-sex marriage as opportunistic. Mr. Kirchner, now a congressman, hopes to run for president again next year, and the issue gives him a chance to appear more liberal, especially in Buenos Aires, a city where he has lost support and that has become a destination for gay tourism.

"This helps the Kirchners politically," said Michael Shifter, the president of the Inter-American Dialogue in Washington. "But to reduce it to political calculation is not entirely fair. This reflects the socially liberal culture in Argentina today."

The Senate debate stretched into the early morning on Thursday, touching on homosexuality, religion, the composition of families and discrimination. Those against the law said the "rules of nature" needed to be preserved, while others spoke passionately about how times were changing.

"The vote came despite a lot of pressure" from the Catholic Church, said Fortunato Mallimaci, a sociologist at the University of Buenos Aires. "In the past, this would have influenced the votes of the senators. But not now."

Charles Newbery contributed reporting from Buenos Aires, and Marc Lacey and Elisabeth Malkin from Mexico City.

###

Thousands march in gay pride parade in Argentine capital Buenos Aires
Sun Nov 18, 12:34 AM

By The Associated Press

BUENOS AIRES, Argentina - Thousands of Argentines waving rainbow flags marched in the annual Gay pride parade Saturday in Buenos Aires, where some said they still face discrimination in one of the most gay-friendly cities in Latin America.

The capital became the first city in the region to pass same-sex civil union laws in 2002, and this year played host to soccer's "gay world cup" and saw the opening of the first five-star hotel catering to homosexuals.

But activists said more needs to be done to correct discrimination against gay, lesbian and transgender people.

Dancing atop booming sound trucks and waving from rainbow-flag-draped cars, the revellers snaked through downtown Buenos Aires past the capital's

Government House and the iconic Obelisk monument.

Argentina's first gay pride parade was held in 1992.

Copyright © 2007 Canadian Press

###

December 3, 2007
Buenos Aires Journal
In Macho Argentina, a New Beacon for Gay Tourists
By ALEXEI BARRIONUEVO

BUENOS AIRES — Home to the sexy tango and strapping meat-eaters, this South American capital has long been thought of as a bastion of macho attitudes. But a new hotel here is adding to the city's growing image as a bastion of gay-friendliness.

The Axel Hotel, a Spanish import that opened in November, has come to symbolize Buenos Aires's increasingly aggressive effort to court gay dollars and euros. It is Latin America's first luxury hotel built exclusively with gay customers in mind.

That Buenos Aires would be chosen for such a marketing experiment is a result of a marked change over the past several years in the acceptance of gay men and lesbians in Argentine society. This city of three million people has come a long way from the years of military dictatorship, when being openly gay could lead to jail. Five years ago this was the first major Latin American city to legalize same-sex unions, and this summer it was host to a World Cup for gay soccer players, a first in the region.

"There is so much more freedom these days," said Mauricio Urbides, a 28-year-old fashion designer, who sipped red wine with two male friends at the hotel recently. "You see gays on television here, in government. Just 15 years ago it was a completely different situation."

The three friends were among a mixed crowd of homosexuals and heterosexuals who laughed as Kyra and Sharon, drag queens from Barcelona, Spain, poked fun at Argentina's president-elect, Cristina Fernández de Kirchner, and sang a Marilyn Monroe-inspired "Happy Birthday to You" to a male guest.

In other parts of the world, like the Castro district in San Francisco, gay people have struggled recently to maintain a cultural presence in the face of gentrification. Buenos Aires has no traditional gay neighborhood, but acceptance of gay people has slowly grown. The first gay bar here opened in 1983. In 1992 President Carlos Menem signed a decree promising equal legal protection for gay men and women.

Argentine social mores began loosening in the 1990s, when the pegging of the peso to the dollar gave Argentines more spending power, allowing many to travel abroad. "People traveled and found there were other ways of living that were completely different than what they were used to," Mr. Urbides said.

After Argentina plunged into economic chaos in late 2001, discrimination based on sexual orientation seemed to many like a petty concern. "When people are eating out of garbage cans it really doesn't matter if you are gay or not," said Osvaldo Bazán, a journalist and the author of "History of Homosexuality in Argentina From the Conquest of America to the 21st Century."

The devalued currency made Buenos Aires a relative bargain for Western tourists, including many who are gay and like the city's European sophistication. In recent years marketers have more aggressively sought to promote the city as a gay tourist destination. Gay tango bars and wine shops have sprouted up, and a new "friendly card" helps travelers and local residents alike to get discounts at gay-friendly shops and restaurants.

Travel industry experts estimate that about 20 percent of the tourists here are gay — 300,000 a year — and they spend $600 million here annually.

Even as tourism has been flourishing, so, too, has local gay activism. It was young gay rights advocates who successfully pushed to legalize same-sex unions, despite resistance from the Roman Catholic Church. At the end of November the lower house of Congress in Uruguay, Argentina's neighbor, legalized homosexual unions there, too. If the Senate approves the law, Uruguay would be one of only six countries with such a law. Advocates in Argentina, meanwhile, are pushing Congress to extend health benefits to gay couples.

Argentina's more liberal treatment of sexual orientation on television has also stoked acceptance. Florencia de la Vega, who is transsexual, made a splash when she played a transvestite in the 2004 soap opera "Los Roldán." In 2005 the dating show "12 Corazones — Especial" featured gay men who kissed on camera.

Yet some visitors still complain of homophobic treatment, said Marcelo Suntheim, secretary of the Community of Homosexuals in Argentina, an activist group. He said the group received three complaints this year from gay couples who said hotel concierges in Buenos Aires "asked them not to kiss in the lobby because children were present."

So some local residents say they hope that the Axel will offer another place where same-sex couples can feel more comfortable. The hotel, which has billed itself as "hetero-friendly," is the second gay-themed hotel to be built by Juan Juliá, an entrepreneur from Barcelona, where the first Axel opened three years ago.

The 48-room Axel promotes itself as a place for fun, complete with a glass-bottomed rooftop pool, and free condoms. "We provide everything for you to have fun," Mr. Juliá said. "Be safe, but have fun."

He said he hoped the hotel became popular not only with tourists, but also with local Argentines who would see it as a place to socialize.

"The majority of the gay community is looking more and more for hetero-friendly places," instead of exclusively gay places, said Luciano Fus, a 29-year-old translator who watched the drag queen show. "But this will be another after-work spot."

Mr. Urbides said he would "definitely come back." He smiled. "Especially if the hotel brings Madonna back to Buenos Aires, or better yet, if it brings Cher here."

Vinod Sreeharsha contributed reporting.

Copyright 2007 The New York Times Company

###

Argentina's First Lady Wins Presidency by Wide Margin
Fernandez de Kirchner Vows to 'Deepen' Policies

By Monte Reel
Washington Post Foreign Service
Monday, October 29, 2007; A09

BUENOS AIRES, Oct. 28 -- The presidency of Argentina was handed from husband to wife Sunday, as first lady Cristina Fernandez de Kirchner crushed 13 opposition candidates on the promise of adhering to the political principles that made President Nestor Kirchner one of Latin America's most popular leaders.

Multiple exit polls released after Sunday's election indicated that she had received about 46 percent of the vote, enough to outdistance her nearest rival by about 20 percentage points and avoid a second-round runoff. The victory makes her the second woman to be elected president in South America in the past two years, after Chile's Michelle Bachelet.

Fernandez de Kirchner, 54, was a nationally recognized senator before her husband was elected president in 2003. But she pegged her presidential campaign to the successes of his term, in which there were four years of strong growth following the country's 2001 economic collapse and $100 billion debt default. She offered few concrete proposals during the electoral race, but promised to "deepen the change" that her husband's government instituted.

Like her husband, Fernandez de Kirchner is a fiery and often combative orator whose politics are rooted in the brand of populism made famous here by former strongman president Juan Peron and his wife, Eva. Nestor Kirchner's government steered the country away from the free-market policies of the 1990s that the Kirchners -- along with a large percentage of the population -- blame for the economic crisis. Fernandez de Kirchner has vowed to remain defiantly opposed to the advice of global lending institutions such as the International Monetary Fund.

To her supporters, such declarations of economic independence -- together with a long history of holding Argentina's 1976-83 military dictatorship responsible for human rights abuses -- count as the Kirchners' principle strengths. Fernandez de Kirchner's campaign literature drew parallels between her and Eva Peron, who is revered here as a champion of social justice and defender of the poor.

"Cristina will lead a government that represents all of the people, but the rest of the candidates want to govern just for the elites," said Nestor Arevalo, 38, who cast a ballot for Fernandez de Kirchner in the province of Buenos Aires on Sunday. "She has proven herself to be a fighter for human rights, and that is very important in a country with a history like ours."

Raised in the provincial city of La Plata, she was a student activist in the 1970s who supported the Peronist party and opposed a military dictatorship that had no tolerance for dissent. She met her husband while in law school there, and after the two moved together to the Patagonian province of Santa Cruz, they formed an alliance that soon dominated the region's political landscape. He was elected the province's governor, and she became its senator. After he was elected president, she won a third term in the Senate in 2005, this time representing the province of Buenos Aires, the country's largest.

Her initial terms in the legislature established her as an active lawmaker, regularly challenging then-President Carlos Menem and championing reforms calling for more transparent government. But aside from aggressively promoting reforms of the country's Supreme Court, her most recent term has been comparatively inactive and marked by reversals of some of her earlier positions.

"After her husband became the president, something changed in her," said Laura Alonso, executive director of Poder Ciudadano, a Buenos Aires-based organization affiliated with Transparency International. "Before, she was a great defender of the access of information law. And after he became president, she hated that law."

The idea that the Kirchners seek to accumulate power and stifle opposition is a handy dart thrown often by their critics. Nestor Kirchner's administration was led by a tight circle of close advisers, including his wife, and he never held cabinet meetings. When he announced this year that he would not run for reelection and would instead support his wife's bid, many interpreted it as a ploy by the couple to try to alternate terms and occupy the nation's top office for as long as 16 years.

"Nothing concerns them more than just staying in power," said Guillermo Dacini, 47, a banker who voted against Fernandez de Kirchner on Sunday. "She's the same as her husband -- very authoritarian."

But the relative health of the economy -- which during Nestor Kirchner's term grew 8 percent annually, with unemployment dipping to 15-year lows -- was a key factor in preventing the complaints of the opposition candidates from igniting voters' passions. The early exit polls suggested that former congresswoman Elisa Carrio came in second with about 25 percent of the vote, followed by former economy minister Roberto Lavagna with about 15 percent.

The main difference between the outgoing and incoming presidents is one of style, according to political analysts. Whereas Nestor Kirchner is often brusque with world leaders and prone to gaffes of protocol, Fernandez de Kirchner has cultivated a more diplomatic image and appears more concerned with courting foreign investment and polishing Argentina's image abroad.

"He has appeared very domestically oriented, whereas she appears much more prone to talk to the outside world and to engage other people in conversation," said Maria Victoria Murillo, a Latin American political scientist at Columbia University in New York. "She has been willing to meet with employers' associations and entrepreneurs to a much larger extent than he has been."

But when most people here speak about Fernandez de Kirchner's style, they have something more superficial in mind. When she assumes office in December, the glamour quotient behind Argentina's presidential podium will instantly, and unapologetically, soar. Reporters here write often about her generously applied mascara, the prices of her luxurious Hermes Birkin handbags and her shopping trips to designer boutiques in Paris. The apparent contradiction between her populist discourse and her reputation as a fashionista is the same one that defined Eva Peron, and Fernandez de Kirchner appears unconcerned by those who have tried to fault her for it.

She told journalist Olga Wornat, her biographer, who has known her since her university days, that others have no right to expect her to surrender her femininity just because it doesn't conform to political stereotypes.

Since she was 15 years old, Fernandez de Kirchner said, she had used a lot of makeup. "I love being a woman. I make myself up like any other woman, and it was always that way."

###

The World Cup Loves Gay Marriage
by Michael A. Jones July 09, 2010 04:05 PM (PT)
http://gayrights.change.org/blog/view/the_world_cup_loves_gay_marriage

Topics: International Gay Rights, LGBT Sports, Marriage Equality

It's World Cup Final weekend, meaning that soccer will be on almost everyone's mind — and then promptly disappear from everyone's mind for at least the next four years. As you turn on the television this Sunday, will you be rooting for the red shirts of Spain, or the orange shirts of The Netherlands?

Either way, no matter who you'll be rooting for, you'll be rooting for a country that recognizes full marriage equality for all of its citizens. They say God works in mysterious ways, right? Maybe this is her/his way of sending the world (and all of its anti-gay legislators) a nice, subtle message.

Or it could just be that Paul the octopus really likes countries that support gay marriage, given that the eight-tentacled being has predicted every match he's been asked to call this World Cup. (I fully expect the National Organization for Marriage to send out an email blast to their network, alleging that Paul is nothing but an activist octopus.)

Oh, and just when you think it couldn't get more gay-friendly, let's add in the fact that South Africa is the World Cup's host, and they too recognize marriage equality. Gay, gay, and more gay.

So yes, it's a bit of a light-hearted celebration for some fun irony during this year's World Cup Final. That all said, it would be a shame to let the World Cup pass without mentioning at least two things related to LGBT rights.

The first, as our own Women's Rights blog noted, is that FIFA really missed an opportunity (flubbed a kick?) to take a strong stand against a disgusting and pervasive problem in South Africa — corrective rape. As we've seen from stories like that of Eudy Simelane, corrective rape is the horrific phenomenon of raping someone who is (or is believed to be) LGBT, to try and cure them of their sexual orientation or gender identity. The problem is epidemic in South Africa, with at least 10 new cases reported each week. Hey, maybe FIFA won't take a stand, but it doesn't mean that we all have to be quiet. If you haven't yet, send a message to South African authorities urging them to focus on this human rights violation.

The second note is that while this World Cup certainly brings with it some LGBT fun, there's still quite the problem of homophobia in sports culture, particularly soccer. Soccer players have been urged to stay in the closet so that they would be "safer," and just last month, a UK journalist said that soccer has created "a dangerous taboo" surrounding the issue of homosexuality, making it darn near impossible for someone to come out of the closet and expect to have a soccer career.

That's definitely a culture worth tearing down. And perhaps no organization is working to fight homophobia in soccer more than The Justin Campaign. The group takes its name from Justin Fashanu, who became famous for becoming the world's first professional openly gay soccer player ... and then committing suicide, in some measure because of the discrimination and stress he faced as a queer athlete. Their work now is to dismantle the culture of homophobia in sports that leads athletes to stay in the closet, or fear for their safety or mental health.

"Justin Fashanu forced the world of football to acknowledge that you can love men, whilst at the same time be a world-class footballer," says The Justin Campaign's director, Jason Hall. "His bravery has created inroads for our community in the football world and has inspired a generation of gay and bisexual men, who now believe that we to, can be part of the beautiful game."

Inspiring stuff. So spend this weekend celebrating soccer, and celebrating the fact that two countries that recognize equal rights for all of their citizens made it into the World Cup Final, whether it's a cosmic message or just plain luck of the draw.

And here's hoping that by the time the 2014 World Cup rolls around, more countries in the tournament recognize same-sex marriage, and more LGBT athletes feel safe to come out, and that not only their teammates, but also us fans, have their back.

And since you made it this far ... go Netherlands!

Michael Jones is a Change.org Editor. He has worked in the field of human rights communications for a decade, most recently for Harvard Law School.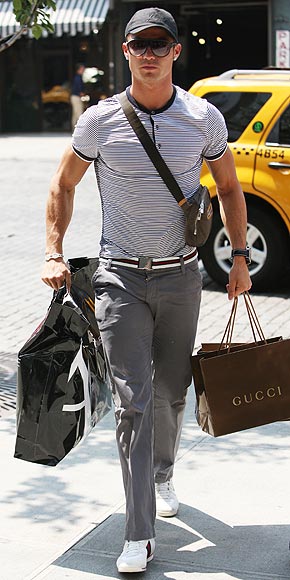 http://www.people.com/people/gallery/0,,20399768_14,00.html

Updated: Fri., Jul. 9, 2010, 4:26 AM home
Cristiano Ronaldo mistaken for 'The Situation'

Last Updated: 4:26 AM, July 9, 2010
Posted: 12:49 AM, July 9, 2010

Gelled hair? Check. Dark tan? Check. Abs of steel? Check. Easy to see how patrons at Kenmare mistook Portuguese soccer star Cristiano Ronaldo for a "Jersey Shore" castmate. As he walked into the dining room Wednesday, decked in a snug black shirt and pale slacks, one diner exclaimed, "Oh, my God, it's The Situation!" -- referring to Mike "The Situation" Sorrentino, the beefy reality star known for his toned midsection and aggressive pursuit of women. But Rolling Stone Keith Richards was recognized immediately when he stopped in later.

Copyright 2010 NYP Holdings, Inc. All rights reserved. Privacy | Terms of Use

###

Tue, 06 July 2010 at 7:20 pm
Cristiano Ronaldo: Big Apple Shopping Spree

Cristiano Ronaldo ignores the scorching summer heat as he takes care of some shopping in New York City on Tuesday (July 6).

The 25-year-old Portuguese soccer star shopped at Prada, Gucci, and Armani before heading back to his hotel to escape the 100-degree weather.

Cristiano, who arrived on Saturday, spent most of the 4th of July holiday in New York. He was most recently spotted at the SoHo house shirtless yesterday cooling off at the pool.

10+ pictures inside of Cristiano Ronaldo going on a shopping spree in New York City…

Posted to: Cristiano Ronaldo

Read more: http://justjared.buzznet.com/2010/07/06/cristiano-ronaldo-big-apple-shopping-spree/#ixzz0tpo08gxs

###

Sunday, July 18th 2010
Did Cristiano Ronaldo Buy His Baby For $15 Million?
http://dlisted.com/node/38073#comments

If you ever ask Cristiano Ronaldo who the mother of his love child is, he'll pull out his tube of MAC Lip Glass and seal the secret of her identity in his precious mouth forever. Crispy isn't saying shit, but the Daily Mirror is! They claim that Crispy's baby mama is a broke ass American waitress who got knocked up after a one-night fuck with him. Actually, she WAS a broke ass American waitress, because apparently Crispy gave her $15 million to give him their son before going away FOREVER.

Becoming a cocktail waitress who fucks celebrities has officially become the new American dream! Parents and school guidance counselors should adjust their lessons accordingly.

A friend of Crispy's says that his son was conceived in Los Angeles last summer. The friend also gave the truly romantic details of the magical night Crispy spread his charm all over the future mother of his child. May the theme from the Thorn Birds fill your head as you read this:

"Ronni looked the girl in the eye and said extremely directly: 'Me, you, f*** f***.'

"She was taken aback and just said: 'What!' She didn't actually understand what he meant. She was totally nonplussed

"The window by his table was steamed up, so he drew a love heart on it with his finger. Then he said, 'Me, you, kiss,' and the penny dropped.

"That's typical Ronni – he pretends his English is terrible when it suits him, and he comes straight to the point. It was just yet another one-night stand and Ronnie assumed he would never see her again."

"Me, you, fuck fuck" is my new pick-up line. Crispy has the right idea. We need to all go back to the cave man days when shit was simple. When a bitch sees a hot piece they want to break off, they should just hobble up to that ho and grunt "ME, YOU, FUCK FUCK" before clubbing them over the head with a dildo to drag them up to their tree house. Caveman love is the truest!

A couple of months after Crispy seduced the trick as though they were starring in the porn version of Tarzan and Jane, she found out she was pregnant. The saga continues:

It was agreed that Ronaldo would give DNA for a paternity test once the baby was born and provide support for the mother and child if it proved to be his.The friend revealed: "Cristiano was told the result while he was away at the World Cup."

And then Dolores stepped in. The friend said: "Ronni is a multi-millionaire playboy, but when it comes to family, he's very much his mother's son.

"They are a close-knit, traditional ­Roman Catholic family and the minute paternity was established there was absolutely no doubt that Ronni would be doing the right thing.

What in the hell kind of GD Roman Catholic is Dolores? Any self-respecting strict Roman Catholic mother would force the couple to marry in a church wedding! Then they would all hide the baby for the next 9 months while the American waitress pretended to be pregnant. After her fake birth, they'd present the 9-month-old baby as a newborn and explain that he's bigger than normal due to a thyroid problem or something. How does Dolores not know this?! Doesn't she watch telenovelas (aka daily mass)?! My abuelita is throwing her a "Ay Dios Mio" side-eye of judgment as I type this.

Posted by: Michael K
Tags: BABIES!!! • Cristiano Ronaldo

###

Cristiano Ronaldo Names His Baby … Cristiano

By Simon Perry

Thursday July 08, 2010 10:55 AM EDT

Hello, Junior: Cristiano Ronaldo has named his his nearly month-old son – after himself.

The family of the hunky Portuguese soccer superstar tells the weekly Expresso that the baby, born June 17, is named Cristiano.

Ronaldo, 25, and his girlfriend, Russian model Irina Shayk, have been vacationing in New York as word has spread about the birth. The athlete announced the baby's arrival via Facebook and Twitter, neglecting to offer any word about the mother. His management company had no comment.

Expresso reports that little Cristiano weighed 9 lbs., 8 oz., and measured 21 in. at birth.

As the parents spend much of their holiday in such downtown Manhattan hotspots as SoHo House and the Gansevoort Hotel, the baby is in Portugal, being cared for by Ronaldo's mother Dolores, 55, and sister Kátia Aveira – who's been quoted as saying the infant "looks like his father and like me. He has the same eyes."

She also tells Correia da Manha,, "We're very happy. The baby is well, it's healthy and that's what matters."

Copyright © 2010 Time Inc. All rights reserved. Reproduction in whole or in part without permission is prohibited.


###

|| News ||
Posted on Advocate.com June 02, 2010 07:18:42 PM

Cristiano Ronaldo Supports Gay Marriage

By Advocate.com Editors

Soccer superstar Cristiano Ronaldo typically talks sports with reporters. But in an interview for the upcoming World Cup, Ronaldo got serious when he was asked for his opinion on the legalization of same-sex marriage in Portugal.

"The Portuguese man that I am, I try to keep informed about what is happening in my country," he told reporters. "I know the law was passed and the comment it deserves is that we must respect the choices made by anyone, because, after all, all citizens should have the exact same rights and responsibilities."

One of the most respected and highly talked-about footballers in Europe, Ronaldo in 2009 signed a contract with Real Madrid reportedly worth more than $130 million.

Advocate.com © 2010 Here Media Inc. All Rights Reserved.


http://www.vanityfair.com/online/beauty/2010/05/dont-call-it-soccer---how-to-look-like-a-football-phenomenon