Here is your Daily Single's Horoscope for Saturday, December 3

Lavish some attention on the most important person in your love life -- you. Treat yourself to a matinee, buy yourself a little treat you've had your eye on or just veg out luxuriously.

well, one could say that i've found myself utterly neglectful but truly i haven't had the words to express all the feelings that have rushed through my mind over the past two months. i suppose it started with alex' wedding: my friend alex, the one person in my life most adept at creating iconography of the quintessential -- from his moment on the bus in the mexico countryside clapping for the spanish guitarist after too many glasses of vino to the moment at this wedding where he fell against the ice rink in chicago's millenium park with his husband against the star-filled night of the chicago skyline -- held an event at the park grill in chicago that truly will stand as the end of one of the best years of my life. my time in chicago stands as the first time i came to the city completely under my own steam. no group trip. no couch surfing. no bottles of grey goose stashed away in my suitcase. and the weather could not have charmed me more and even the hotel -- in its expected disrepair -- stroked that part of myself that finds such joy in the experience of travel. after a short flight with the real housewives of tampa, a group of women swathed in furs coming to chicago for a weekend of outright -- "last year, i got my burberry boots with the mink cuffs for a song" -- conspicuous consumption, and i took the train in and ingested sleeping pills as i had literally worked until four in the morning, drove to the park and ride bus stop for the airport where i got left, then drove to the airport to waste forty dollars for no reason on parking, and then raced to the red eye, raced on the train, and then, lost in downtown chicago, product, again, of being there on my own steam, and eventually made it to the hotel where i settled the bill in cash. that evening, i took a bath in my room and then readied myself for the welcome dinner where alex wore white tuxedo pants, again, iconic -- we arrived at alex' home for cheese and cocktails -- and upon seeing my outfit -- topman blazer, zara button down, prada brooch, black skinny jeans, and bally trainers -- quickly ruled out any naughtiness after the dinner. we watched a quick run through of the ceremony and then headed up to giordano's for the dinner itself. we had loads of fun over several cocktails and loads of chicago-style comfort food. we eventually decamped to sidetrack and i proceeded to fall in love with each and every one of the cousins from the in-law's side. but you know me with good old fashioned midwesterners. they're like catnip. afterward, rob and i went to south loop club, this diner near our respective hotels, and over calamari and long conversation, it occurred to me that i had not taken my blood pressure medication as i found myself nearly about to pass out. i had room service in the room once rob nearly carried me back to my room and the alcohol procured tears over my own carelessness and my old age. the next day, i found myself immersed in the pleasures of hotel living with restful sleep in a well made bed and room service brought to me at the crack of dawn while i recuperated with hours of msnbc and plans for shopping later. eventually, i staked out in the cold with my military greens, my trench, my hat, feeling oh-so-cosmopolitan -- one woman grabbed her daughter upon seeing me and said, "those are tom fords," as i passed -- and i met with rob and tim at the tiffany on michigan avenue and rob and tim blew about a thousand bucks on their gift. yes, making me feel shamed, but i'm the broke friend, i hope that's clear: i have no spouse to pick up the tab on a set of elsa perretti thumb bowls in gorgeous blue. although i might have to snag one of those oh-too-phallic elsa perretti bone candlesticks. after tim had a back issue, i found myself stranded on michigan avenue and raided all of the finery that it had to offer between topman, filene's closing sale, and the spectacular sights of all those holiday windows lit to perfection rivaled only by new york itself. in my daze, i lost track of time, and had to speed to the train back to the hotel to change and make it to milennium park for the ceremony. to say the ceremony started perfectly understates the case. the bride wore a dolce and gabbana tuxedo with a lanvin bowtie while the bridegroom floated around so strapping that i found myself happy before the ceremony even started. we all flitted around during the cocktail hour with goat cheese lollipop and beef carpaccio and so many other great aperitifs and appetizers. upon the ceremony, i felt the tears again well as the judge recited the ceremonials and afterward i rushed up after the parents to hug them both and welcome the newest member into our circle of friendship. after the ceremony, i imbibed so much that much of the reception dinner remains a blur, but i do recall rurnning into one of alex's best friends who finds herself the best friend of the columbus prospect and after my lovely time with rob's husband and alex's photographer friends and an ediatrix at harlequin, i began a conversation with this friend that spanned too many drinks, our exit from park grill, and rushing off to a bar aptly named "downtown." at the bar, i waxed absolutely rhapsodic about the columbus prospect and who knows what may happen, but we have been texting, but when i suggested i call, that got shut down. and the phone works two ways and it's only worked one way so far. further, i've been quite busy of late, but we'll get to that later.

after the wedding, rob and i had another friendship summit at the south loop club and i didn't pass out this time and we hugged it off -- wrapping it up around five or six -- and i left my wallet so i had to walk back in the dawn -- race to the hotel to take a disco nap and then get dressed for my plane. on the train, my friend jen from new york called to tell me that my friend sara had separated -- legally for she has been physically separated for years -- from her husband. she cried on the phone even as i wrestled with my hastily packed luggage. back home, i went directly from the airport to downtown tampa for the janet jackson concert. well. i spent about a half hour on the phone with sara and found out the details of her separation and i agreed to come down to miami for new year's and then walked over to fly bar for a few drinks and a small snack. well. i ran into this p.r. girl i know and i walked with them to the concert before taking my seats in row x. yeah. far. and for two hundred dollars at that. the concert blew my mind but i wasn't drunk enough to make a scene. both janet and i got the black denim call. so. truly a fitting end to a great year. after the concert, i settled into a hermit like existence with my biggest outing occurring in the days before chistmas with hastily procured gifts. on christmas eve, the exsomeone reprised our yearly tradition although i had no gifts this year outside of my company. and while i haven't had feelings for the exsomeone since the brazilian, it felt good not to pine away alone on yet another holiday -- cue "no happy holidays" by mary j. blige -- and after christmas (one marred by three separate emotinal breakdowns from my mother and sister), and after unsatisfactory text messages from my thanksgiving dalliance and my columbus prospect, i sprinted down to miami. i watched shame with sara in ft. lauderdale and we had great pizza from whole foods and vegged out. on new year's eve, we went down to the village at merrick park so i could scope out my etro pony hair lace ups, which they didn't have, and the girl at nordstrom talked me into the bulgari green tea fragrance. after that, we went to brickell for a well-made dinner and gobs of champagne. we went to club fifty around half past eleven and found a malay at the door. well. we eventually got in and did not have a table, didn't have drinks, and didn't have a good time. not until about maybe half past one. yeah. worst new year's ever. but you know, at least it's a story. and you know, better than most for most people. my friend sara met a strapping youngster and i hit on every eligible and not eligible in the bar to no end. the next day, we brunched it out at balans and toured daytime brickell which made me miss south beach and my old favorite coworker, but it wasn't in the cards for us this trip. we sort of dozed away the afternoon and eventually went for sushi later that night and eventually wound up back at her condo watching downton abbey and unearthing photographs from our college days.

well, when i got back to town, i found myself embarrassingly rotund in my new year's eve pictures and resolved to diet with a big carby kiss off at cassis and a resolution to do something big for my birthday. well, that really brings us to present as i've been slowly rebuilding my finances after one trip followed by another, and finally, two weeks ago, i decided, i'm going to take an "eat pray love" trip to buenos aires for my birthday because i just could not stand staying here depressed and i did not want to find myself longing for things past without pushing into the future. i started a regimen of classes at school to sharpen my pen and even as i got into the new routine, and well, as soon as i thought i'd settle into that, at work, they announced a round of lay offs that would affect my department by three to four positions: and of course, i thought i should batton down the hatches (and call off any adventures abroad), but quickly received assurances from my boss that i shouldn't count myself in danger, and after i put pen to paper, i realized i should be able to survive until september even if the worse happened and just when i thought i could deal with no more change: the p.r. girl texted me two nights ago to tell me she's moving to fort lauderdale and we need one last send off. so we went to hiro's -- i had spent my last disposable penny on my planes and hotels and such -- and i got kind of tipsy and we caught each other up on our love lives -- or lack thereof -- and then i went to the only bar in town -- which had a sad showing for a friday night (even at two o clock in the morning) -- and i came home in a mood to connect and wrote to this twenty four year old i've always fancied but never had the guts, this english professor, and the brazilian on facebook. well. turns out the brazilian has moved back to brazil to take care of an invalid father and i suspect a mentally unwell mother and we chatted all day today on facebook. every pang of attraction and pain came back and we hashed the issue of our demise: apparently, on that final night, the brazilian suffered the loss of a patient at work. and i guess when i called angry about not receiving a response and going off, the brazilian just wrote me off because the brazilian couldn't deal with both. well, if that didn't set my mind soaring with possibility and if mutually exchanged i-miss-yous didn't have me looking to see if i could take a detour to brasilia, i found that both prospects messaged in drunkeness and one -- the twenty four year old psychology student -- began texting me. i don't know why i always start these things when i'm about to go somewhere, but i always find it best to have something to leave behind, i suppose.

Invest in Your Spiritual Life!

The planet of love, Venus, opposes Mars on February 1, offering a terrific opportunity to address past relationship difficulties. Then on February 3, Neptune enters its home sign, Pisces, when cultivating your spirituality becomes an important ingredient in attaining success.



Psalm 19:1-6

1The heavens declare the glory of God; and the firmament sheweth his handywork.

2Day unto day uttereth speech, and night unto night sheweth knowledge.

3There is no speech nor language, where their voice is not heard.

4Their line is gone out through all the earth, and their words to the end of the world. In them hath he set a tabernacle for the sun,

5Which is as a bridegroom coming out of his chamber, and rejoiceth as a strong man to run a race.

6His going forth is from the end of the heaven, and his circuit unto the ends of it: and there is nothing hid from the heat thereof.

###

Isaiah 14:12-15

12How art thou fallen from heaven, O Lucifer, son of the morning! how art thou cut down to the ground, which didst weaken the nations!

13For thou hast said in thine heart, I will ascend into heaven, I will exalt my throne above the stars of God: I will sit also upon the mount of the congregation, in the sides of the north:

14I will ascend above the heights of the clouds; I will be like the most High.

15Yet thou shalt be brought down to hell, to the sides of the pit.

###

Ephesians 2:1-7

1And you hath he quickened, who were dead in trespasses and sins;

2Wherein in time past ye walked according to the course of this world, according to the prince of the power of the air, the spirit that now worketh in the children of disobedience:

3Among whom also we all had our conversation in times past in the lusts of our flesh, fulfilling the desires of the flesh and of the mind; and were by nature the children of wrath, even as others.

4But God, who is rich in mercy, for his great love wherewith he loved us,

5Even when we were dead in sins, hath quickened us together with Christ, (by grace ye are saved;)

6And hath raised us up together, and made us sit together in heavenly places in Christ Jesus:

7That in the ages to come he might shew the exceeding riches of his grace in his kindness toward us through Christ Jesus.

###

Revelation 1:7

7Behold, he cometh with clouds; and every eye shall see him, and they also which pierced him: and all kindreds of the earth shall wail because of him. Even so, Amen.



http://insidetv.ew.com/2011/05/17/abc-christina-ricci/

'Pan Am' Proves It: 'Mad Men' Knockoffs Just Don't Work
http://www.theatlanticwire.com/entertainment/2011/11/pan-am-proves-it-mad-men-ripoffs-just-dont-work/45525/

RICHARD LAWSON | NOV 29, 2011

Word comes today that Pan Am, ABC's big, gaudy Mad Men of the skies, has been canceled had its episode order reduced, which does not bode well for its second season prospects. Please put your tray tables up, because this thing looks to be coming in for a landing. So can we declare it once and for all now? Mad Men ripoffs just don't work.

Pan Am is the third such retro period show to struggle and die, after CBS' trashy 2008 summer series Swingtown and NBC's terrifically bungled The Playboy Club from earlier this fall. All three shows lamely tried to capture a little of the zip and spark that Mad Men's cool cat costumes and other period details have in spades, and all proved that without the basis of what makes Mad Men so good, namely smart and penetrating writing, all the pretty period gloss in the world can't make a show work.

As we've grumbled about before, the onslaught of Mad Men-esque shows is all a little silly, as if the simple formula for success is to just find something, anything, that people like and then cheaply roll out an inferior version of it. We saw the same dull thinking a few years ago after Lost hit big, as the networks rushed to slap together and throw at us like monkey poop such mystery shows as Surface, Invasion, Flashforward, and The Event. They all came out hasty, undercooked, and cynical in their crass attempts to capitalize on a popular thing. It's not that easy, guys! It's really not.

The '70s-set Swingtown tried to recreate the tingle of sexual revolution that plays at Mad Men's saucier edges. But instead of mining the confusion and sadness and fear that, unfortunately, comes as part of that new territory, as Mad Men often does, Swingtown just stuck with the surface sex stuff and tossed a series of basic, blockish "insights" into sexuality and relationships at us. Similarly, The Playboy Club attempted to tap into the swinging vibe, but ended up garish and cheap, seemingly completely misunderstanding that the accepted sexism shown on Mad Men should be unacceptable to us now. In trying to say that Playboy Bunnies in the '60s were secretly symbols of feminist empowerment, The Playboy Club came across as an embarrassingly misguided and uninformed school history paper. And Pan Am went for the workplace intrigue that Mad Men obviously thrives on, but it seemed to entirely forget, or not get at all, that lots of what happens at Don Draper's ad agency is allegory for bigger, much heavier themes. Pan Am was quite literally just about high-flying stewardesses, and while that's a fun concept and certainly not every show can or should swing for the philosophical fences just because Mad Men does, soapy shows are great after all, Pan Am fatally committed the crime of thinking we wouldn't notice or mind tired old cookie-cutter plotlines and characters so long as they were all dumped onto an old airplane. That was, obviously, not the case! We do notice things like lack of depth or originality. Mad Men is largely about deeply nuanced people who just happen to live in an interesting modern past. These three ripoffs started backwards and never got their way to anything more substantial. Dressing up a cliche-ridden show in a cute retro outfit doesn't mean it's not still a cliche-ridden show.

At least with Lost the networks had the excuse that, hey, Lost was a network show too and it had crazy good ratings, so why not try to duplicate that. But with Mad Men, the jump from relatively little-watched cable prestige project to bright and gummy network series is so far a distance as to not make sense. If Mad Men itself was on a network it probably would have been canceled after only a few episodes. So why then did the networks all scramble to try to get their own piece of this single-serving pie? Who's spearheading these ideas? Do the manatees that write Family Guy have cousins that run TV networks? These ripoff shows just seems so dense and ill-considered that it begins to seem like there must be some shocking, secret reason behind them. Anyway, sorry for the crash and burn, Pan Am. At least the real airline is still going strong. Oh. Wait. Never mind. Sigh.

Want to add to this story? Let us know in comments or send an email to the author at rlawson@theatlantic.com. You can share ideas for stories on the Open Wire.
Richard Lawson

Topics: TV, Mad Men, Pan Am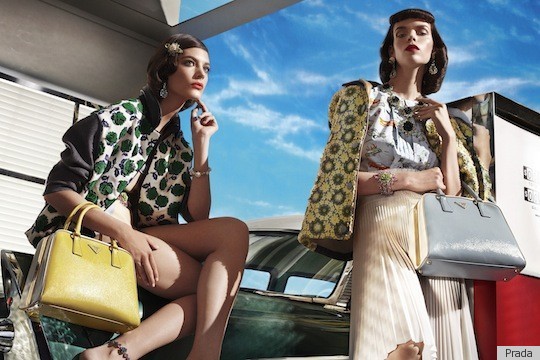 http://www.styleite.com/media/prada-spring-ad-campaign/

Prada Runway Review Spring/Summer 2012 Ready-to-Wear
http://www.style.com/fashionshows/review/S2012RTW-PRADA

MILAN, September 22, 2011
By Tim Blanks

"Sweetness." Miuccia Prada's summation of her new collection was surprisingly direct. But only she could add a contrary gloss to an idea that, on the surface at least, seemed entirely benign. She'd been trying to wrap her head around this paradox: Why should a quality that the world at large considers such an asset to womanhood be so shunned by the fashion industry? That state of affairs is unlikely to prevail for much longer, given the crazy level of influence Miuccia wields over fashion (her dropped waists from Fall are other designers' big statement for Spring). So better ready yourself to Celebrate the Sweet.

Except no one else will be able to do it quite like this. Italian men have two meaningful relationships in their lives: women and cars. Miuccia put the two together—women in cars—and situated them in a moment in time (maybe the last such) when the world was awash with unambiguous hope for the future. That would be the 1950's. If the Prada men's collection for Spring was haunted by the ghost of Elvis, its female counterpart paraded echoes of Marilyn in her accordion-pleated dress from The Seven Year Itch. The models did walk over a subway grate, but it was unfortunately technically impossible to provide the updraft that would have gusted skirts skyward in a re-creation of one of Hollywood's most iconic movie moments.

There were, however, other, equally resonant ways for Miuccia to make her point. The celluloid iconography was irresistible: B-movie roadhouse gals in bandeau tops and leather pencil skirts that had been customized by their spray-painting mechanic boyfriends; David Lynch heroines in varsity jackets and sunray pleats; rhinestone cowgirls in studded Baracutas. If the sweetness in such tough cookies was a little elusive, Miuccia also offered coats in lace or crochet in palest pink and blue and bathing suits that begged for pinup poses round the pool at the Beverly Hills Hotel. Plus, the adorable print theme from the men's collection took an automotive turn. At the very least, Italian manhood will be happy. But the rest of the world should feel just as uplifted when the double whammy of Prada menswear and womenswear hits stores next spring. Dare you not to smile.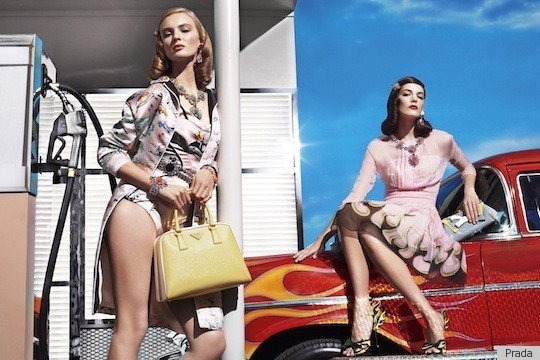 http://www.styleite.com/media/prada-spring-ad-campaign/

Prada Spring 2012 Ads Make A Gas Station Chic
The Huffington Post | Ellie Krupnick
First Posted: 12/19/11 04:02 PM ET
Updated: 12/19/11 04:02 PM ET

Miuccia Prada is known for her bright colors and retro prints and both are out in full force in Prada's latest ads.

The Spring/Summer 2012 campaign, just one of the many to drop in the past few days (Givenchy, Versace, Donna Karan), features a slew of brightly clad models photographed against a vivid blue sky by Steven Meisel.

The girls, including Elise Crombez and Natasha Poly, are strewn around a vintage-looking gas station, posing against hot rod cars and lacquered gas pumps exuding a '50s vibe -- sans pants (that's more of a 2011 thing, but we'll let it slide).

Not that Miuccia needed to worry about making a gas station seem chic. Those dirty gasoline repositories have been a favorite of the fashion set for a while now, as the site of Alexander Wang's epic Fashion Week party in 2009 and the location for a playful Kate Hudson shoot in the January 2010 issue of Harper's Bazaar.

Check out the Prada spots below -- don't they make you want to do the hand jive, hop in a hot rod and head on over to the drive-in?




Chanel Runway Review Spring Couture

PARIS, January 24, 2012
By Tim Blanks

One hundred fifty shades of blue. Obviously, everyone is going to jump on that extraordinary stat from Chanel's Couture show today. Why blue? Karl Lagerfeld is too much of a polymath to nail any one reason for anything he does, but he's a wicked player of word association games. Elvis' "Blue Moon," Miles' Kind of Blue, blue-sky optimism…"Anything but the blues," he said post-show. "I don't have the blues."

Hardly. The vision presented by the Chanel show was streamlined, upbeat, and forward-looking, quite the contrast with the decadent-Raj, drowned-world, and scorched-earth scenarios that Lagerfeld arranged around his most recent collections. Today's guests took their seats in a simulacrum of a commercial space shuttle flight that, during the course of the show, left the Earth's atmosphere and headed for space. Toward the finale, the Earth actually passed overhead, across the clear dome that allowed passengers a view of the starry sky outside.

But the collection was scarcely the futurist extravaganza that such a setup promised. The key point in the presentation was a new fashion attitude. It's the sort of lip service notion to which designers often tip their caps, but in Lagerfeld's case, he delivered. How? By elongating his proportion even lower than dropped waist to thigh-top, so that when the models walked with their hands tucked in slash pockets, they looked, the designer said, "like boys whose jeans are slipping off." The boy/girl thing is a Chanel staple, and Lagerfeld has found a contemporary exemplar in Alice Dellal, who today was placed in the peculiar position of watching dozens of women styled to look just like her parading past her front-row perch. Think of stretched-out necks and pushed-up sleeves on sweatshirts and you've got other key components of the silhouette.

The youthful slouchiness of the attitude was a counterpoint to the byzantine complexity of the techniques that created the clothes. "A lot of it isn't even fabric," Lagerfeld said. "It's embroidery." And if it wasn't that, it was cellophane. Or something else unlikely. And yet, there was a classic elegance about the result. The stretched-out neck was a portrait neckline, the pushed-up sleeves were a perfect bell. The long, lean length that ended just above the ankle was culture incarnate. And the cellophane shimmered like the finest silk.



http://purple.fr/diary/entry/chanel-couture-s-s-2012-show-paris

Chanel Runway Review / Spring 2012 Couture
http://www.vogue.com/collections/spring-2012-couture/chanel/review/

by Sarah Mower

Karl Lagerfeld was in the cockpit. The passengers were seated in the flight simulator, a futuristic cabin constructed in a room somewhere under the roof of the Grand Palais. Cue takeoff for Chanel's spring haute couture: a collection made in blue—154 shades of it, to be precise. Why blue? The sky, of course, in all its infinite changeability. "It's the color of air, no?" announced Captain Karl, once the "flight" had landed and the audience was disembarking. "It's the most becoming color. And I'm bored with the red carpet—so why not a blue carpet?" Karl has a new blue-eyed Burmese cat, too. And recently, he said, he's been looking at the jewels the artist Suzanne Valadon owned, studded with blue chalcedony.

But this wasn't a collection that needed any explanation to validate it or, truth be told, even such an elaborately (and wittily) constructed set to put it in context. The clothes—from the simple, chic color-blocked dresses, to the treatments of Chanel tweeds, to the long, skinny dresses—simply spoke for themselves, with no too-obvious puns or tropes about air travel to obscure the beautiful view.

The show opened with clean, supple day dresses bisected with deep bands as stand-away collars and, at the hip, a second inset band at the hip, containing pockets into which the girls thrust their hands as they walked. It was a gesture of ease which called to mind Coco Chanel's own habitual stance, creating a long-waisted framework for Lagerfeld to work variations in the proportions throughout. To begin, shorter dresses sometimes picked up a flippy volume in the skirt, like a lovely swing of pale-blue duchesse satin beneath a beaded navy dress and short jacket. Then the silhouettes became longer and slimmer: rigorous ankle-length coatdresses, a sequence of narrow skirts slit at the side, the attenuated proportions all emphasized by airy, ballooning sleeves on cropped jackets.

Cohesive and rigorous as the theme was, this was also a collection that demonstrated Chanel haute couture decoration and embellishment to the fullest extent, running from winking crystals and glints of Lurex in chic evening suits, to chunky crystalline embroidery on cocktail dresses with "winged" organza wraps, to slithery all-over paillettes. The variety encompassed something for every age and multiple tastes, from the pretty ingénue dress to the grown-up evening suit for the sophisticate. Karl is one couturier fully in control of every calibration of eveningwear imaginable. Chanel may be flying at the most rarefied of heights at this level, but the very sight of it was truly uplifting.



http://purple.fr/diary/entry/chanel-couture-s-s-2012-show-paris

Karl Lagerfeld, Chanel Go Jet-Set With Pan Am-Inspired Show (PHOTOS)
http://www.huffingtonpost.com/2012/01/24/chanel-goes-jet-set-with-lagerfeld-show_n_1228878.html#s636069&title=Chanel_Runway_

By THOMAS ADAMSON 01/24/12 03:16 PM ET

PARIS -- It was blue-sky thinking for Karl Lagerfeld, as he treated guests to a luxury jet-set experience in Chanel's spring-summer collection on the second day Tuesday of haute couture week.

The wet Paris morning failed to dampen the mood outside the imperial Grand Palais, as guests waited excitedly to see the inside theme – always a closely-guarded secret. The "Cocos" – as one fashionista called Chanel followers – were led nervously down a space-age passage.

There were gasps as they reached the catwalk: a life-size jumbo-jet reconstructed complete with luggage lockers, walkways and even a Champagne trolley.

"Are we jetting to New York?" one woman asked.

On the runway, signature Chanel skirt-suits were given a retro airhostess makeover with wide bateau collars in pastel colors. There was a distinct feel of the 1960s – the glamour days for air travel – with one embroidered silk short dress in pale blue with geometric band features on the collar, sleeves and low waist.

It was as if stiff-suited Karl Lagerfeld had finally decided to relax into the flight as soft, floaty floor-length silhouettes replaced last season's more fitted, shorter and architectural look.

But the artistry behind the clothes proved the mile-high couturier had not put his feet up for long: a palette of over 150 different shades was used, with meticulously embroidered silk in dazzling blues and grays – the colors of the sky.

Raglan balloon sleeves complemented hourglass party dresses in sparkling petrol blue. It provided a much-welcome dash of glamour in a collection watched by cocktail-sipping guests quite obviously enjoying themselves.

Speaking backstage in the reconstructed cockpit, Lagerfeld, in his traditional shades and powdered hair, said that blue was used because it's an optimistic color.

Revolutionary the show was not, but the Chanel brand is definitely flying steady with reason to be excited about the future. A strong clientele, and robust business mean that like other couture-producing labels, they are bucking the downtrend in a gloomy financial climate.

Some watching the show called the collection bold but respecting Coco Chanel's iconic codes.



http://purple.fr/diary/entry/chanel-couture-s-s-2012-show-paris

DEBATE: Was it inappropriate for Chanel to splash the couture cash?

Oh, the Puritans were out in force this morning as we made our way across the gravel path to the entrance of the Chanel Couture show in the Grand Palais. There were two shows: one at 10am and ours, which was at 12. As we arrived, word was out that Chanel had built the fuselage of a luxury jumbo jet inside the cavernous space (quite appropriate really given that the huge space was originally built as a show space for France's aeronautical industry). 'Tsk tsk', they said. 'Spending all this money in this economy. It's disGUSTting!'

Le tout Paree is divided on the issue. When the European and American economy teeters on the brink of meltdown, some think it is downright unseemly for anyone to be splashing the cash around. I happen to take the view that if you have the cash it's unseemly NOT to splash it around.

Increases of luxury goods sales increases are spiking with many companies reporting 'outstanding' figures last year. Chanel is a private company and so doesn't have to report sales figures, but by all accounts are leading the luxury pack into booming new markets of China, India and Brazil. Why should the rest of the world get a season of sackcloth and ashes just because we are having a tough time? We shouldn't take the ball away just because we can't afford to play at the moment.

Many new markets are for the first time experiencing the inexplicable thrill of a new Chanel nail colour (let alone the gilded few who get to buy couture each season) and they relish the razzamatazz. Take it from me, my Twitter feedback suggests that many at home in rainy grey Britain relish the razzamatazz too: no one has been begging for less. All are asking for more. And as for those visiting editors and buyers from the all important new markets: I reckon no one comes half way around the world in search of understatement at the Paris couture.

I admit I know nothing about economics. But surely a company that re-invests their increased profits; boosts domestic and foreign sales; makes dynamic eye catching statements; secures the employment of thousands of people around the world; protects and supports dying crafts; increases European exports; attracts tourism; burnishes the European image abroad, by showing that there are things at which we can't be bettered, and gives us something to smile about, is doing a good thing.

Calvinists, go back to your cave and sit on your bed of nails. Back in the depressed 1930's, people found escapism in Busby Berkeley movies. For 21th century depression, I prescribe regular doses of pure gorgeousness at Chanel and the Paris couture. Does the trick for me.


http://www.graziadaily.co.uk/WardrobeWhispers/archive/2012/01/25/debate--was-it-inappropriate-of-chanel-to-splash-the-couture-cash.htm